We are here to help.
COVID-19 pandemic has affected all of us in many ways. We are deeply concerned with the situation and we do hope it will get better soon.
As the COVID-19 situation evolves, your safety and wellbeing remain our utmost priority and we always strive to fulfill your needs. We are committed to providing you features and services to help with your concerns regarding your travel plans, either to book or to adjust/cancel your stay. Please find the related information below:
At times, something came up and nothing we can do about it. If it's absolutely necessary to travel and you need to book accommodation, here are the best flexible options we can offer:
Free Cancellation Rooms
With the uncertainty of COVID-19 situation, choose a room with a longer Free Cancellation period (up to 1 day before check-in date). Check out how you can find free cancellation rooms:
Search Filter
You can find 'Free Cancellation' in our search filter to ease you in finding accommodations that offer free cancellation policy.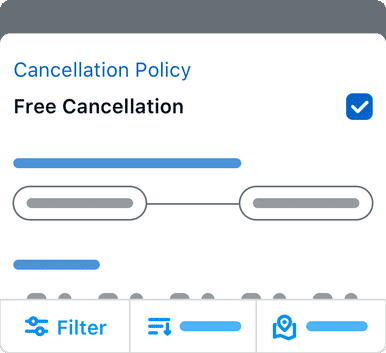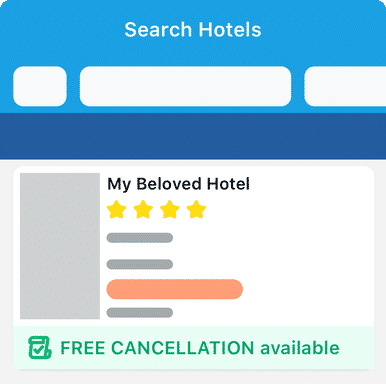 Search Results Page
Look for 'Free Cancellation available' label highlighted in green color. The label will be displayed in all accommodations with free cancellation.
Accommodation Details Page
On the accommodation details page, scroll down the page until you find list of rooms. You will find 'Free Cancellation' filter on top of the page.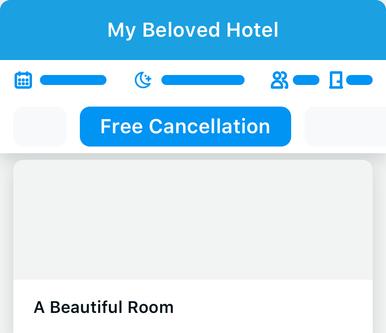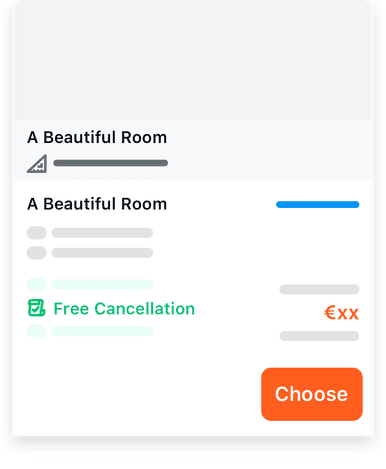 Room Options List
You can also find 'Free Cancellation' label in the room type that offers free cancellation.
Pay upon Check-in Rooms
Flexibility at its best. If you don't want to deal with requesting a refund, choose Pay upon Check-in room, either regular Pay upon Check-in or Pay upon Check-in (Book Without Confirmation) type. It allows you to book a room and pay during check-in. Here are the how-to-book steps: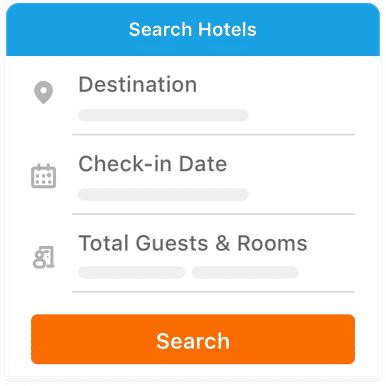 Search Hotel
Start your search by filling in the destination, number of guests, and your duration of stay.
Select "Pay upon Check-in" Accommodations
On the search results page, find accommodations with the "Pay upon Check-in available" label, or click on the Pay upon Check-in filter located on top of the search results page to show only Pay upon Check-in accommodations.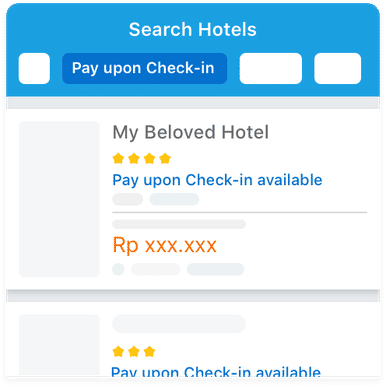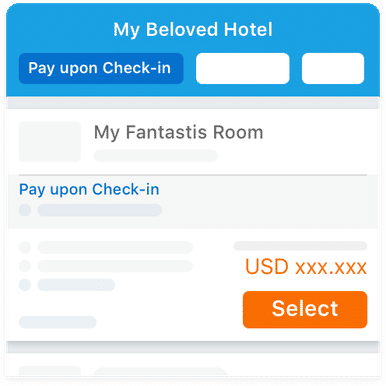 Book Accommodation
Not all rooms are available for Pay upon Check-in bookings. To show the available rooms, use the 'Pay upon Check-in filter or check out the rooms with 'Pay upon Check-in' label in the accommodation page.
Note: If you choose Pay upon Check-in (Book Without Confirmation Method) type, you only need to fill in contact & guest details, set the check-in time, and just wait for your voucher issuance.
Select Booking Confirmation Method
To book Pay upon Check-in rooms, choose from the following booking confirmation methods: credit card, debit* card, or PayLater**. These methods are only needed to confirm the room you book and not as a means of payment. However, some accommodations may pre-authorize your card prior to your arrival for security purposes.

Please note that if you prefer to confirm with PayLater, your limit will be deducted temporarily in the amount of your booking. Your limit will be restored within 5 days after check-out.

* Thailand and Vietnam only
** Indonesia-only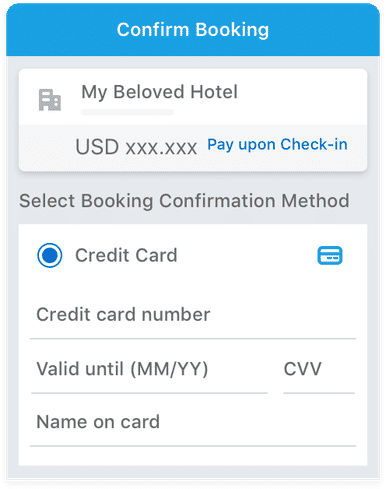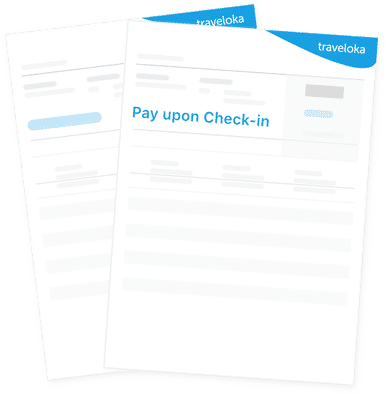 Done! Wait for Voucher Issuance
Within 60 minutes after your booking is confirmed, we will send your booking voucher to your email.
What to do upon check-in?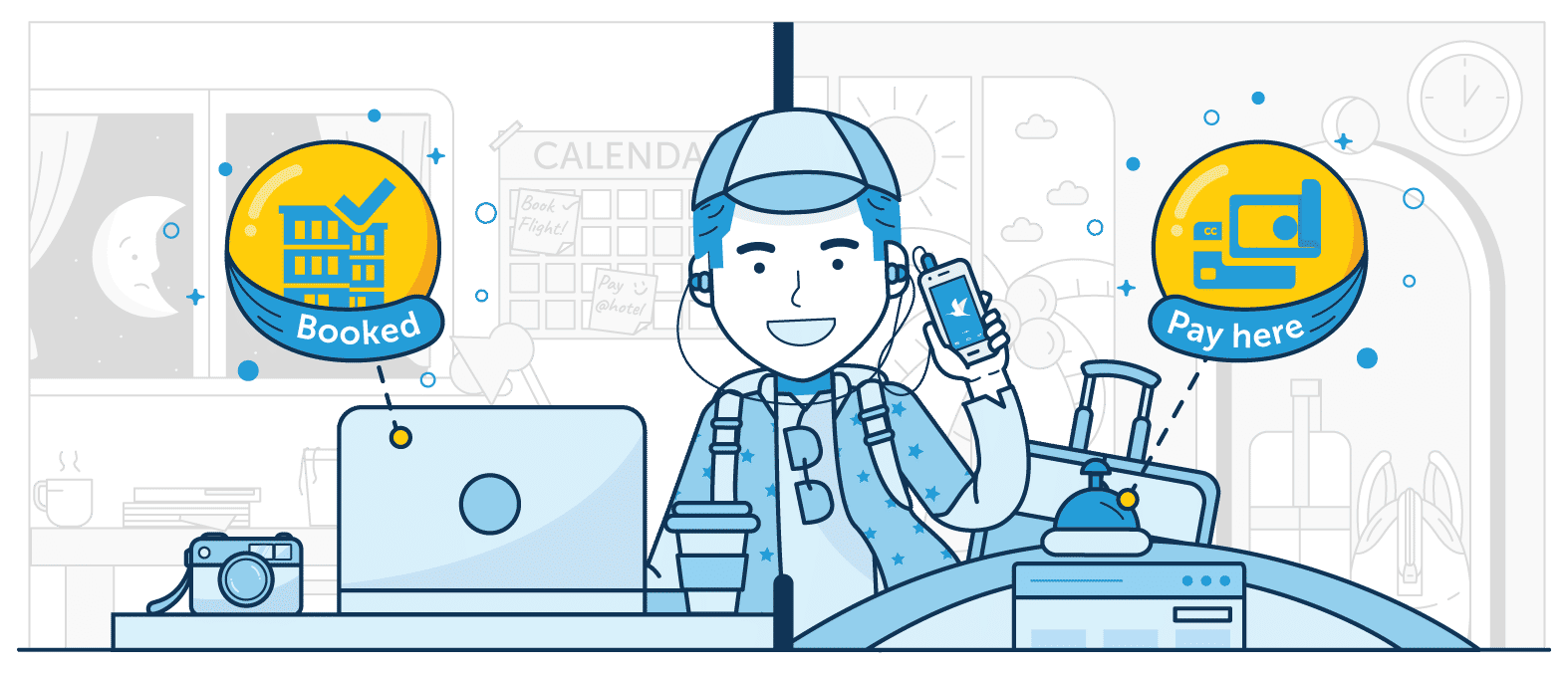 To check in, show your accommodation voucher to the hotel's front desk staff. Then pay the full amount in local currency either by cash or by card. 
The accepted payment methods may vary, so check your voucher to see which payment methods the accommodation prefers. If you need the receipt, please ask the front desk to issue the receipt of your payment.