Jakarta - Yogyakarta (Jogja) Buses & Shuttles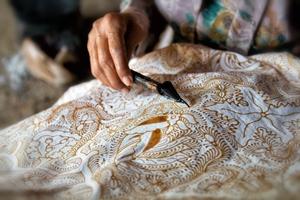 Yogyakarta has always been a special city, thanks to its ability to preserve its local culture. This ability has made Yogyakarta considered to be the soul of Java. Cultural heritage such as batik and the variety of authentic dishes are two of the many reasons why people come back to this city. The living cost in Yogyakarta is very affordable, and the local people are known for their kindness. These what make Yogyakarta earned a range of nicknames, from Kota Wisata (the City of Tourism), Kota Gudeg (the City of Gudeg), Kota Pelajar (the City of Students), to Kota Budaya (the City of Culture).
For those who are tired of Jakarta's metropolitan hustle and bustle, Yogyakarta has become a refreshing oasis. It is no wonder that many travelers from Jakarta packed the city during the holiday seasons.
The distance between Jakarta and Yogyakarta is about 540 kilometers. By land, travelers can reach Yogyakarta using public buses and shuttles, with a duration of about 13 hours in normal traffic conditions.
The bus has become one of the most common transportation for this route. Some of the most popular bus operators for this route include Rosalia Indah, Pahala Kencana, DAMRI, Sumber Alam, Gunung Harta Solutions, and Rejeki Baru. There are also shuttle services, such as Agung Trans, that usually takes 14 –15 hours on a single trip.
Bus and shuttle tickets for the Jakarta – Yogyakarta route are now available at Traveloka. The ticket price range is very affordable, starting from Rp124.875 – Rp231.250 per seat.
Tips During Traveling from Jakarta to Jogja by Bus and Travel

Traveling by bus and travel from Jakarta to Jogja has now become an alternative not only in terms of cost efficiency, but also bus and travel tickets that can be ordered at any time even just before departure. The many choices of travel and buses from Jakarta to Jogja will help you travel from Jakarta to Jogja without worrying about not getting a ticket. For those of you who have just traveled by bus and traveled from Jakarta to Jogja, check out these tips that might be useful for your trip.
Keep the Health Protocols
The spread of COVID-19 is still happening in various regions, including Yogyakarta. Therefore, during the trip you must maintain health protocols such as always wearing a mask, choosing bus and travel agents who implement physical distancing, often using hand sanitizers and also cleaning the seats around you regularly with water sanitizer. Don't forget to include your vaccine certificate or rapid antigen test before departure.
Choose a Comfortable Seating
Everyone has their own preferences in choosing a seat when traveling by bus and travel. Choose a seat that will make you less tired, for example leaning against a window. Because the distance from Jakarta to Jogja is quite far, which is 565 km and takes 6 to 15 hours, then you need to think about the most comfortable place during your trip. You can also choose your bus or travel seat via the Traveloka Lifestyle SuperApp.
Use PO Discounts and Travel Agents
Don't forget when you want to order bus and travel tickets through Traveloka, check the various promos offered. Sometimes, there are promos for certain routes, for example only for the Jakarta Jogja route or other routes, and also discounts for certain POs and travel, for example discounts for bus tickets for Pahala Kencana, Sumber Alam and others. Make sure you get the best price for your trip from Jakarta to Jogja.
Things to Do in Yogyakarta
A visit to Yogyakarta will always be unforgettable because of the varied destinations and activities that one can enjoy. Travelers will encounter many spiritual experiences, especially when visiting historical sites and cultural centers. Still not sure of what to do in Yogyakarta? Check out the featured list below.
Discover the Best Culinary Delights in Yogyakarta
See More
Explore Local Cultures and Attractions in Yogyakarta
See More