Surabaya Denpasar Bus and Travel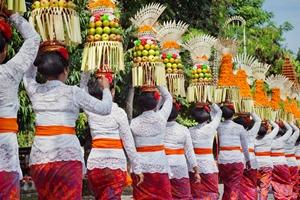 Since a long time ago, Denpasar has been known as a multi-cultural city with a very high level of tolerance between people. The capital city of Bali Province is home to various historical and cultural sites. The city, which is said to be being prepared as a new metropolis in Indonesia, is the center of government as well as the economic wheel on the island of Bali.
Surabaya is one of the biggest cities closest to Bali. These two cities have a distance of approximately 420 kilometers and are separated by the Bali Strait. One of the ways that people often choose to travel from Surabaya to Denpasar is by bus.
Tourists who want to travel from Surabaya to Denpasar can now order bus tickets from Traveloka. To date, Traveloka has collaborated with various popular bus companies, such as PO Pahala Kencana, PO Gunung Harta, PO Wisata Komodo, PO Restu Mulya, PO Tiara Mas, PO Rasa Sayang and many more.
Not only that, Traveloka also offers more affordable ticket rates, starting from IDR 200,000 - 250,000 per seat. This intercity-interprovincial journey takes approximately 13 – 15 hours, depending on traffic conditions and the bus operator selected.
Things to Do in Denpasar
Denpasar is the cultural center of the island of Bali. The city is ready to welcome tourists with a variety of cultural beauties, through museums, squares, and historical sites. In addition, tourists can also pamper themselves with culinary tours and shopping. Some of the most popular beaches in Bali are also in the city of Denpasar. For more details, see the list of interesting activities below.
Explore Local Cultures and Attractions in Denpasar
See More
Discover the Best Culinary Delights in Bandung
See More
Travel Tips and Information from Surabaya to Denpasar
Travel Duration
The journey from Surabaya to Denpasar, Bali will usually take approximately 8 to 12 hours. Don't forget, during this trip you will pass various cities in East Java such as Sidoarjo, Ngopak, Nguling, Kraksaan, Paiton, Situbondo, and many more until finally on the island of Bali, passing Jimbaran and Nusa Dua. Enjoy a trip by travel or bus from Surabaya to Denpasar with various activities you can do, such as watching movies, listening to music, or finishing the books you read.
There are various options for travel and buses from Surabaya to Denpasar. But you don't need to worry, even with different travel brands, all travel and buses from Surabaya to Denpasar have the same standard of facilities. Usually all Surabaya to Denpasar travel must be equipped with air conditioning, reclining chairs, multimedia, cell phone chargers, and luggage. Even with different prices, your comfort will still be prioritized by all travel agents and buses from Surabaya to Denpasar.
Surabaya Denpasar Travel Pick Up
The departure time is written on your Surabaya Denpasar bus and the travel booking voucher is the departure time when the travel exits the garage. So those of you who have chosen a particular departure is expected to arrive on time to avoid missing out on the trip.
Travel Baggage Surabaya Denpasar
Each passenger is expected to bring reasonable luggage in order to be able to share luggage space with other passengers' luggage. Usually, the items allowed are 1 small box or 1 medium-sized backpack or medium-sized suitcase. If passengers carry luggage that exceeds the maximum capacity, usually an additional fee will be charged by the travel agent.
Tips for Riding Surabaya Denpasar Travel
Book your travel and bus tickets for the Surabaya Denpasar route in advance to avoid running out of tickets. Don't forget to always bring your identity card (KTP, SIM, or Passport), because there are often inspections, especially when crossing the Ferry.