Surabaya - Semarang Bus & Travel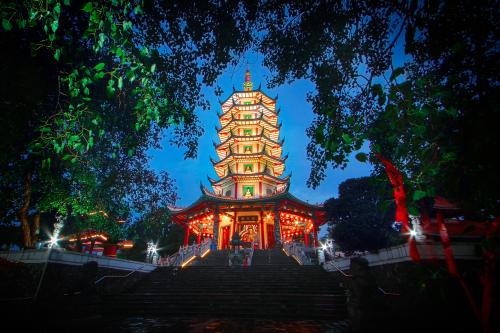 When you hear the name of Semarang City, most of you will probably think of Lumpia, Lawang Sewu or its role as the capital city of Central Java. The name Semarang, which actually comes from the word "rare acid", is indeed one of the cities that has a lot of visitor attractions. Not only culinary, Semarang also has many interesting historical tours to visit and learn. Semarang also has some of the best universities in Indonesia, one of which is Diponegoro University. In addition, Semarang is also often referred to as Venice on the island of Java. When visiting Semarang, don't miss the most famous tourist attractions, such as the Sam Poo Kong Temple, the Great Mosque of Semarang, and Pasar Johar, the market that was once the largest market in Southeast Asia in 1955. Although Pasar Johar was burned down once, in 2019 this market has been built and is operating again.
For culinary delights in Semarang, not only Lumpia, don't forget to taste Roti Ganjel Rel. Bread whose texture is similar to Roti Gambang from Jakarta. This bread is one of the foods that are usually served during the month of Ramadan by the people of Semarang. Semarang has many attractions that make many people need a visit to Semarang. Apart from traveling, the need for school or work is also the reason most people visit Semarang. Access to Semarang is also very easy and convenient, there are many transportation options for areas in Java and outside Java. One of the popular routes is Surabaya to Semarang. Visiting Semarang from Surabaya at this time can also use land transportation in the form of buses and travel. Now you can order bus and travel tickets from Surabaya to Semarang via Traveloka. Customize your needs with the various bus and travel options available at Traveloka.
Things to Do in Semarang
Tourist attractions in Semarang emphasize its cultural and historical charms. The city is dominated by historical, cultural, and religious sites. In addition, a visit to this city will provide a very memorable cultural experience, especially if you explore its various culinary destinations. Make sure to visit some of our recommendations below the next time you're in Semarang
Explore Top Attractions in Semarang
See More
Spend Your Free Time in Semarang
See More