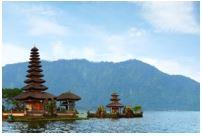 Boracay is one of the most well-known holiday destinations in the Philippines and caters to many different types of travelers from the backpackers, families. Located 2km off the northwest tip of Panay Island in the Visayas. Boracay is an award-winning island with awards such as 'Best Island' and 'Best Beach' as part of its accolades. With a stunning world-famous 4km long White Beach, numerous beaches and coves, and hundreds of bars and restaurants, Boracay is well deserving of all its awards. After a short closure to ensure that the island returns to its former pristine condition and also to improve on its current infrastructure, the island has now reopened with better policies in order the island remains protected.
Best time to fly from Calbayog City to Caticlan - Boracay
In terms of climate, the months of February to May are the driest, which means there's very little chance that unexpected showers would ruin your itinerary. However, it is also considered high season (peaking during Holy Week), so prepare to share the island with thousands of tourists. If you don't like big crowds, but you also want relatively pleasant weather, November to January is an ideal time to visit as long as you stay away from the days leading to Christmas and New Year as the island will be crowded with tourists and part-goers.
Main airports available in Calbayog City and Caticlan - Boracay
Calbayog Airport – This airport serves the general area of Calbayog and is located in the province of Samar in the Philippines. Both Philippine Airlines (PAL) and Cebu Pacific Air (CEB) provides services to this airport with daily flights to and from Manila.
Caticlan Airport – This airport was previously known as Godofredo P. Ramos Airport but was recently renamed Caticlan-Boracay Airport. It serves the general area of the municipality of Malay. It is located in the province of Aklan in the Philippines and is one of the two gateways to Boracay. Generally, plane tickets to Caticlan Airport are more expensive, probably because of its shorter distance to Boracay. It only takes 10 minutes to get to the island port from this airport using a local tricycle at a minimal fee of PHP 50. At the port, all visitors will need to pay a terminal fee of PHP 100, an environmental fee of PHP 80 and the boat fare of PHP 100. You'll arrive at Cagban Jetty Port in Boracay
Climate pattern in Calbayog City and Caticlan - Boracay
If you're planning to experience the ultimate Boracay holiday with cloudless blue skies and a calm, glassy sea, then you'll want to time your trip during the dry season which typically runs from November to May. If cooler temperatures are also preferable, then stick with the months closer to the beginning of the dry season. By March, temperatures often reach the high 30˚ Celsius. However, keep in mind that even in the dry season, it's not uncommon to experience some rain. Heavy all-day rain showers like what you might experience during the rainy season are unlikely, though.
Highlights attractions in Caticlan - Boracay
White Beach – Despite being the busiest and most crowded beach in Boracay, it is still the most stunning beach on the island. It is a long beach (4km) with powdery sand and azure blue waters, split into three stations. Stations 1 and two are located in Barangay Balabag, while most of Station 3 is in Manoc-Manoc. Many of the island's key attractions like D'Mall, the cavern, and most popular restaurants can be found in station 3. Station 1 is tucked on the northernmost end of the beach, which makes it relatively quiet. Stations 2 and 3 are where most shops and bars are located. Filling the island's western coast, White Beach is also the best and most accessible place to watch Boracay's glorious sunset.
Ariel Point – Thrill seekers and adventure lovers should not miss the opportunity to visit Ariel Point while in Boracay. Leap off a cliff and make a big splash into the sapphire waters below. Ariel's Point has five cliff diving platforms, with the highest at 13 meters. For those who prefer to play it safe can dive from the lower platforms at a height of 7 meters, 6 meters, 5 meters, and 3 meters. Visitors can also use the floating dock to enter the water. Those interested to visit Ariel point will be required to pay PHP2,800 per person, which is actually a package that is inclusive of a round-trip outrigger ride, BBQ lunch buffet, merienda (afternoon snacks), unlimited drinks, full use of Ariel's Point amenities and services (cliff-diving, canoes, kayaks, snorkeling gear, and floating raft), and coverage of local environmental and snorkeling fees.
Crystal Cove - Crystal Cove is a private island, featuring mini coves, statues and novel photo opportunities which continue to be popular with visitors to Boracay. Located 20 minutes from the main shore, Crystal Cove is a small island with pristine white beaches and quirky huts, play places and sculptures scattered all around. When you first set foot on the island, it will feel like you're in an abandoned jungle camp of sorts as the structures are rickety and falling apart. This is what gives Crystal Island its curious charm. While you're there, you can snorkel or explore some of the island's caves where collections of crystals have formed. Some of these caves are dead ends, but some of them are passageways through to the other side of the island. It's a strange experience that is surely worth a visit.