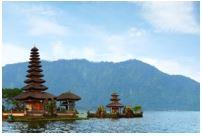 Jakarta is the capital of Indonesia. It is the biggest city in Indonesia. Jakarta is a metropolitan city and it is the second-most populous city with Tokyo being the first. The word "Jakarta" means "complete victory". The city's population is filled with Javanese, Betasi, Chinese, and Malays. The main religion is Islam.
Best time to fly from Caticlan - Boracay to Jakarta
The best time to visit Jakarta will be between June and September where the temperature is between 24 degrees Celsius to 32 degrees Celsius. If you prefer a lesser crowd, visit Jakarta during Ramadan, where the Muslims are observing fasting this month. It is usually in April, May or June. Wet season happens from October to January. After Ramadan, the Muslims will celebrate Idul Fitri for another month as a celebration for fasting for 30 days. During this time, it is always very lively and you will see people of other religions celebrate it too. There will be so many open houses and so many foods for you to try.
Main airports available in Caticlan - Boracay, and Jakarta
Caticlan Airport - This airport is the closest one to the Boracay Island with a short ten minutes boat ride. However, the flight ticket here is a little more expensive than Kalibo Airport. Please bear in mind that you are only allowed to bring in 10 kg of check-in baggage. You can choose either to fly with Cebu Pacific or Philippines Airlines. This is one of the busiest airports in the Philippines.
Jakarta International Airport - This is the main airport in Jakarta and is also known as Soekarno Hatta Airport. The name comes from the First Vice President, Mohammad Hatta. It is only 20 km away from the city. In 2018, the airport has catered more than 75 million passengers. There are four terminals available. Terminal 2 has three sub-terminals labeled as D, E and F. It caters umrah flights and is currently being converted into a low-cost carrier terminal.
Climate pattern in Caticlan - Boracay and Jakarta
Jakarta's climate is a tropical monsoon. It is a hot and dry city. The wettest month is January. The warmest month is September, the average temperature is 26 degrees Celsius. The highest temperature is 31 degrees Celsius.
Highlights in Jakarta
Jakarta has a lot of interesting places to visit. Here are some suggestions.
Museum Tekstil - Learn more about the Indonesian Batik and textiles here. You can witness yourself how they were weaved and the techniques they used to create such a masterpiece. There are over 200o different kinds of Batik artwork awaits you. You can learn how to make them too.
Dunia Fantasi - Bring your kids here for some fun. There is a large Ferris wheel available for you. Get a clear view of the theme park while you are on top of the Ferris wheel. Try out the Niagara Flume or the Halilintar rides. The ticket price starts from PHP 902.00 and the annual ticket price is PHP 1174.00.
The Bali Swing Ubud - This place is very Instagram-worthy. It gets busy as early as 9 AM. So it is best for you to book it in advance. The price starts from PHP 1809.00. You can also take photos at the Bali Nest. If you are traveling around, you can use their photography service which costs around PHP 620.00.