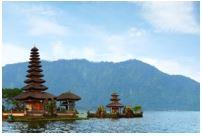 Frankfurt is the most diverse city in Germany that occupies over 248 square kilometres of land area. It is the business and financial centre of Germany and Continental Europe and the largest city in the German state of Hesse. Other than local inhabitants, Frankfurt has recorded the highest percentage of foreigners in the country. About 28% of Frankfurt's residents have no German passport and another 20% are naturalized, German citizens. In addition, it is also a home of the European Central Bank and the German Stock Exchange and widely known for its futuristic skyline and the busiest German airport.
Besides that, this city also acts as the transportation centre of Germany as many autobahns and railways intersect. There are around 350,000 people commute to the city daily with an additional 710, 000 residents at Frankfurt itself. Besides that, the international airport also is the third-largest in Europe and the airport is known as a prime hub for interconnections within Europe and for intercontinental flights. Moreover, Frankfurt is the banking centre of Germany and hosts numerous international trade fairs. As for the attractions, Frankfurt is comprised of many museums, theatres and a world-class opera.
Best time to fly from Cebu to Frankfurt
The best time to go to Frankfurt is from late spring to early autumn. The summers are usually sunny and warm around 25 °C as well as less rainfall. For those who love hotter days, the hot summer days are around 35° C. The winters can be cold alongside more rainfalls with snowfalls. It rarely snows in Frankfurt. There are visitors who love to go during the hot summer as the weather is suitable for visiting various attractions and less packing.
Frankfurt is also widely known to host trade fairs such as the Frankfurt Motor Show (Automobil-Ausstellung) every two years in mid-September and the Book Fair (Buchmesse) yearly in mid-October. Visitors are not encouraged to visit during this time as finding affordable accommodation can be a challenging task.
Main airports available in Cebu and Frankfurt
Mactan–Cebu International Airport – The Mactan–Cebu International Airport is an international airport located in Lapu-Lapu City on Mactan Island, a part of Metro Cebu. It is the second busiest international airport in the Philippines that serves Cebu. AirAsia Philippines, Cebgo, PAL Express and Philippine Airlines as well as Cebu Pacific are among the airlines that operate in this airport.
Frankfurt International Airport- Frankfurt Airport is among the busiest airport in Europe with third in passenger traffic after London Heathrow and Paris Charles de Gaulle Airport and the ninth busiest airport in the world. Besides that, Frankfurt Airport serves more than 300 destinations in 5 continents, making it the airport with the most direct routes in the world. The airport is also the 13th busiest worldwide by a total number of passengers in 2016. In 2017, Frankfurt Airport handled 64.500 million passengers and nearly 70 million in 2018. It also had a freight throughput of 2.076 million metric tonnes in 2015 and is the busiest airport in Europe by cargo traffic. Therefore, all major airlines and all airline alliances frequently fly to Frankfurt and connect it to every continent and major city in the world. The main airline in Frankfurt that offers the best connections is The German flag carrier Lufthansa.
Climate pattern in Cebu and Frankfurt
The climate in Frankfurt is characterized as slightly continental with pleasantly warm summers and cold winters. Frankfurt is the warmest from May to September. Occasionally, the warm weather also comes with thunderstorms. After summer, autumn season occurs from September to November with cold and foggy weather at night. From December to February, the temperature can drop to 0 °C. Snow can accumulate on the ground and last for many days. Spring happens from March to May with a slight cold and possible snowfalls still in March. The daily average temperature ranges from 1.5 °C in January to 20 °C in July.
Highlights attractions in Frankfurt
Matilda's Kitchen - Located in the upscale West End neighbourhood, this small café is a favourite neighbourhood brunch spot for locals. Situated just a few blocks away from the Palmengarten botanical garden, it has two cosy dining spaces with four to five tables each and the café offers brunch of all-you-can-eat buffet and you also can order à la carte. It is a nice spot to spend time with family and friends during breakfast and brunch.
Dialog Museum - Dialog Museum is located at the centre of the city centre and showcases the new way to see artefacts. The concept behind Dialog Museum has given inspiration to other people on how guests can experience the daily life of blind or visually impaired people by joining a one-hour guided tour that moves through four rooms in absolute darkness.
Staedal Museum - This museum is a 200-year-old institution that houses one of the world's most impressive and important collections. It documents over 700 years of art history and artworks. There are various works of art, such as Edgar Degas' "Orchestra Musicians," Claude Monet's "The Luncheon," and Rembrandt's "The Blinding of Samson." Among the famous and notable artists include Vincent Van Gogh, Edvard Munch, and Picasso which has inspired and contributed in various art exhibitions.