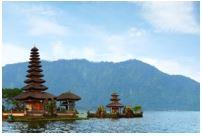 Siem Reap is the capital of Siem Reap Province in Cambodia. It is located in the northwestern part of the country. It is a famous tourist and cultural centre in Cambodia as it is the gateway to the ancient city of Angkor. The city has a tropical climate. In 2006, the city had a population of 139,458 inhabitants. Siem Reap has old colonial buildings and China architecture around the French surroundings and around the Old Market. In the city, there is a showroom featuring traditional Apsara dance performances, souvenir centres, silk artisans, rural fields, fishing villages and bird shelters near Tonle Sap lake. The airport in the city is Siem Reap International Airport. Today, Siem Reap is the fastest growing city in Cambodia. It is a charming little town before visiting the famous sites of temples in Angkor. Thanks to Angkor's attractiveness, Siem Reap has grown into a major tourism hub in the region. It is also a vibrant city filled with hotels and other tourist facilities.
Best time to fly from Clark - Pampanga to Siem Reap
The peak and busiest times of Siem Reap are in January followed by July and May. Hotel prices, as well as flight tickets, will be higher than any other months. However, you can still get great deals if you book a flight or accommodation ticket earlier. The lesser month with travellers is in August. You can get cheap flight tickets and hotels if you are visiting Siem Reap that month.
Main airports available in Clark - Pampanga and Siem Reap
Clark International Airport – is a Pampanga Province International Airport. It is the Philippines' primary international airport within the Angeles and Mabalacat Clark Freeport Zone. Located 80 km northwest of Manila, is where Clark International Airport located. The Subic-Clark-Tarlac Expressway provides access to Clark International Airport. Clark International Airport serves the main and northern Luzon. Clark International Airport Corporation (CIAC) is managing and operating the airport. However, the Philippine Air Force is using the Southern portion of the airport. International and national airlines operate at Clark International Airport. A new terminal building for passengers is under construction and is anticipated to be completed by 2020.
Siem Reap International Airport – is an airport that serves the Siem Reap region of Cambodia. It is a popular tourist destination near Angkor Wat. The airport is the busiest airport in Cambodia.
Climate pattern in Clark - Pampanga and Siem Reap
According to the climate classification by Koppen, Siem Reap has a tropical wet and dry climate. Siem Reap usually experiences hot weather all the time. The hottest months in Siem Reap are in April, May and March. However, the warmest month among all is in April where the temperature can be as high as 36.1 °C during day time while the temperature at night is around 26.6 °C.
Highlights in Siem Reap
Wat Damnak - Located on Wat Bo Road, Krong Siem Reap, Wat Damnak is a place of worship and temple site that can be visited free of charge in Siem Reap.
Angkor Wat - this tourist spot is a historical site built in the 12th century. This temple is classified as a Hindu temple that is currently used for Buddhist worship. The tourist area is approximately 40 hectares.
Tonle Sap Lake - Tonle Sap Lake is one of the famous tourist attractions in Siem Reap. This lake is interesting because it is the largest freshwater lake in Southeast Asia. Around the lake, there are also several villages on the water.