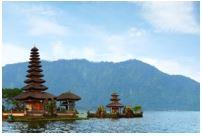 Balikpapan is a seaport city that is one of Indonesia's wealthiest regions for its petroleum product. To the locals, Balikpapan is sometimes usually called as the "Oil City". Thanks to the oil industry, Balikpapan now is booming to be metropolitan municipality from a remote fishing village. Despite being a metropolis, Balikpapan still is preserving its pristine beaches, splendid mountainous range and virgin forests.
Best time to fly from Davao to Balikpapan
Exploring Balikpapan will be best in September and October due to the clear sky and ideal weather. If you are looking for a month that has more deals and discounts, you might want to check December. Because of heavy rain, most tourists will less likely visit in that month, which resulted in better deals and plunged prices. May, August and July are the peak season in Balikpapan, which means there are a huge crowd of tourists on those months. Purchase your airline tickets and hotel way ahead of time to avoid spending more than you need.
Main airports available in Davao and Balikpapan
Francisco Bangoy International Airport – The Francisco Bangoy International Airport located in Catitipan, which is 32 kilometres away from Davao's city centre. Works to serve both Davao City and nearby regions, Franciso Bangoy International Airport is the third busiest airport in the Philippines. The airlines that operate here are PAL Express, Cebu Pacific, Philippines AirAsia and Philippines Airlines. The airport provides all the necessary facilities for its visitors. The management also has provided jeepneys and taxis outside of the airport to ease the travelling journey for its visitors.
Sultan Aji Muhammad Sulaiman Sepinggan Airport – The Sultan Aji Muhammad Sulaiman Sepinggan Airport serves Balikpapan and the surrounding areas of East Kalimantan, Indonesia. It is the busiest airport in that regency. Sultan Aji Muhammad Sulaiman Sepinggan Airport is also the sixth busiest airport in entire Indonesia. The central airways that operate here are Garuda Indonesia and Lion Air. The management has provided the necessary facilities and means of transportations to cater to visitors' needs.
Climate pattern in Davao and Balikpapan
Just like any other states southeastern countries, Balikpapan has a tropical rainforest climate, but it does not have a separate dry and wet season. The city does not show any significant drier or more humid periods, whereas the weather and temperature more or less similar across the year. The average temperature in Balikpapan ranges 26 to 27 degree Celsius. The precipitation also spreads evenly throughout the year. You will be most likely to experience some rainy days in every month, check your weather forecast before you go outside!
Highlights attractions in Balikpapan
Melawai Beach – Melawai Beach is a tourism icon and even a famous spot for locals. The beach is close to the city makes you are at the beach but not too far from the development. Best visited during the sunrise or sunset, to witness the ombre red bathe the entire beach. If you would like to relax by the beach while looking at a beautiful view, you can do café-hopping near Melawai Beach. Take a sip of your daily caffeine while enjoying the sound of the crashing waves and the sight of a picturesque beach.
Wain River Protected Forest – Go for a jungle-trekking at Wain River Protected Forest, to discover the beauty of flora and fauna. Sits only 15 kilometres away from Balikpapan city, this natural wonder flaunts the beauty of nature that you have never seen before. There is a picturesque mangrove forest by the Wain River which flows 18.3 kilometres long. Many rare animals can be found here such as leopard, Orangutans, Sun Bear and different species of monkeys.
Crocodile Barnacle Farm – The Crocodile Barnacle Farm is a farm that breeds crocodile in Balikpapan. Located in East Kalimantan, this farm regularly visited by locals and international tourists. What you can see there are various species of crocodiles that you have never seen before. If you visit Crocodile Barnacle Farm, you will see the process of how the feed the crocodiles directly.