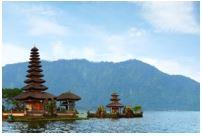 Japan is one of the popular holiday destinations in the world. There are many beautiful cities in Japan and one of them is Kumamoto. It is the capital of the wider Kumamoto Prefecture and part of the island of Kyushu. It is known for having many beautiful castles and it is also close to the mighty Mount Aso, a still-active volcano that has led to the city being known as Hi No Kuni, which means' Fire Country' in Japanese. As well as the castle and the mountains, Kumamoto is also a place where you can explore several interesting museums, galleries, and shopping arcades or take a leisurely afternoon stroll in the beautiful Japanese gardens that adorn the city. One thing to note is that a 2016 earthquake hit Kumamoto quite hard and damaged many of his renowned structures. Some of these will require comprehensive repair job and will reopen at various times, so you need to check with the city's main tourist office to find out which locations are presently open. In the autumn months, Kumamoto is particularly brilliant, so attempt and visit at that moment if you can coincide with the annual Autumn Festival in the town as well.
Best time to fly from Manila to Kumamoto

In Kumamoto, Japan, the biggest month for tourism is in February, followed by March and July. Hotel and flight prices during these months will be the most costly, although you can save if you buy well in advance. It is doubtful that tourists will visit Kumamoto in October. It is probable to be the least costly month for those ready to travel at these moments.
Main airports available in Manila and Kumamoto
Manila Ninoy Aquino International Airport (NAIA) - Manila Ninoy Aquino International Airport is also known as Manila International Airport, is one of the two international airports located in Manila. It is also known as NAIA by the locals. It serves the city of Manila and it is the main international gateway to the Philippines. It also connects Manila with other cities and islands around the Philippines as well as the rest of the world. It is located approximately 7 kilometres south of the city and southwest of Makati City's Central Business District. Many airlines operate here include AirAsia, Air China, Cebu Pacific and Emirates. It has four terminals that serve domestic and international flight routes. There is also a shuttle bus service that connects all terminals for passengers who have connections on flights departing from another terminal. Besides, it has many facilities like restaurants, money changer counter, free Wi-Fi and shops inside the airport. Hence, you can dine-in or shop while waiting for your flight. Besides, there are many public transportations available in this airport for everyone to use here daily.
Kumamoto Airport (KMJ) - Kumamoto Airport (KMJ) is a mid-sized airport in Japan. You can fly to 14 destinations with 13 airlines in scheduled passenger traffic. The most departing path is a path to Tokyo with 125 flights per week, averaging 46% of daily departures from the Kumamoto Airport (HND). Seoul (ICN) and Kaohsiung (KHH) are the top leading global resorts. ANA is the largest airline here by counting the number of departures with around 138 scheduled take-offs every week. The second-largest operator from Kumamoto Airport is JAL. The route with the longest flight time from Kumamoto (KMJ) is to Hong Kong (HKG) and takes about 3 hours 55 minutes. However, there is no direct flight from Manila Ninoy Aquino International Airport to this airport.
Climate pattern in Kumamoto
Kumamoto's average temperatures differ dramatically. Temperatures are lovely some of the year considering humidity, but often too warm in the summer and cold in the winter with a possibility of rain or snow all year long. If you are searching for the best moment to visit Kumamoto, August, July, and then September are the best months. If dry weather is what you are after, January, October, and then December are the months with the least possibility of important precipitation in Kumamoto. Weather stations report a very tiny quantity of seasonal snow that is probable to be heaviest around January, particularly near the beginning of January. The best time to ski in Kumamoto is often around January 1st when fresh powder is deepest. The best times to visit Kumamoto for ideal weather are 9 April to 17 June.
Highlights in Kumamoto
Kumamoto Castle – Kumamoto Castle is one of the most impressive castles in Japan. The preservation of the castle and most other houses are contemporary reconstructions, but most of the reconstructions are of high quality and fresh houses are being introduced continuously. The castle becomes a famous cherry blossom place with about 800 cherry trees, generally in late March and early April.
Suizenji Garden – Suizenji Garden is a beautiful, Japanese-style landscaped park in Kumamoto, best-loved walking along a linear route. It was constructed in the 17th century by the family of Hosokawa. The garden reproduces in miniature shape the Tokaido's 53 post stations, the significant route that linked Edo to Kyoto during the Edo Period, including a tiny Mt. Fuji.
Hanaokayama Hill – Hanaokayama is a mountain that provides excellent opinions of the town and it's especially nice to walk here at night when you can capture the twinkling lamps across the town. If the climate is pleasant, you can even see Mount Aso steaming back from Kumamoto. Trekking to the edge of the mountain requires about 15 minutes, or you can also drive by vehicle there. Still, it's more than worth the attempt to get to the edge as you can also try out a tiny hilltop temple overlooking a shrine door recognized in Japanese as a torii.