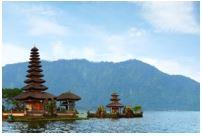 The Philippines is one of the popular holiday destinations among the traveler. One of the most popular tourist destinations in the Philippines is Camiguin Island. Compare Camiguin Island with other islands around the Philippines, Camiguin is one of the tiniest islands yet packed with lots of attractions to be explored by the visitors. Surrounded by white-sand beaches, crystal blue sea and spectacular diving area, Camiguin is the best getaway for those who want a little space from the bustling big metropolises.
Best time to fly from Siargao to Camiguin-Mambajao
The climate in Camiguin is tropical year-round with an average temperature of 28-34 degrees Celsius. Camiguin or Philippines has only two main seasons, which is dry and wet seasons where rainfall can be heavy during the monsoon or wet season and humidity during the hotter months can reach almost high. The best time to visit Camiguin would be in between December until February when the weather is warmer with light rain. During this season, the sun shines bright, resulting in clear open skies with the winds blow mildly suitable for outdoor activities at Camiguin. The off-peak season is in between July until September where the climate during that season cannot be predictable and typhoons can sometimes occur anytime. Visitors should update the weather reports before going to this island. During this season you will find cheaper flight tickets and hotel deals. It is best to plan your trip well so you may enjoy travel in the best environment.
Main airports available in Siargao to Bacolod
Sayak - Siargao Airport - Sayak Airport also well known as Siargao Airport. This airport is serving the public area of Siargao Island, located in the province of Surigao del Norte in the Philippines. The airport situated in Barangay Sayak in the city of Del Carmen, where the airport derives its name from. There are direct flights to Siargao Island from Cebu four times a week on Cebu Pacific. Flight time is approximately 50 minutes depends on your destination. To go in and out of the airport is easy because there are many types of light public transportation available in Sayak Airport for the visitors to use.
Camiguin Airport - Camiguin Airport is a domestic airport that joins the island of Camiguin with the outside world. The airport situated on Mambajao City on Camiguin Island, and it serves the general area of Mambajao. It is the only airport in this island. The airlines that operate in this airport is Cebu Pacific, SkyJet Airlines, and Philippine Airlines. The airport has many interesting shops within the airport so you can shop or eat while waiting for the plane to arrive or depart. To go in and out of the airport is easy because there are many types of public transportation available in Camiguin International Airport for the visitors. There is no direct flight from Siargao Airport to Camiguin-Mambajao Airport.
Climate pattern in Siargao to Camiguin-Mambajao
Camiguin-Mambajao climate is under the heat of the sun for most of the time. Usually, it will be warm and sunny throughout the years with little rains except for typhoon season which the weather cannot be predictable with heavy rains and thunderstorm. The average maximum temperature in Camiguin-Mambajao is around 25 and 31 degree Celsius, while the average minimum is about 19 and 22 degree Celsius. While around December until February will be crowded of seasons because it will be the warm and enjoyable season of the year. If you plan to visit Camiguin-Mambajao during this season, make sure you book your flight and hotel early as two months in advance for a lower price.
Highlights attractions in Camiguin-Mambajao
Kabila Giant Clam Sanctuary - Camiguin is blessed to be located along the magnificent beaches. One of the famous beaches in this island is Kabila Beach. It is a famous attraction for locals or tourist to gather and have a picnic. The main attractions for the beach are the Kabila Giant Clam Sanctuary. Kabila Giant Clam Conservation has a collection of over 2,510 colorful giant clams and it is the biggest clam sanctuary in the Philippines. You will be astonished by these beautiful and enormous clams from underwater. There are also smaller pools in this reservation where smaller clams are placed so they can reproduce.
Mantigue Island - Mantigue Island is one of the islands situated in Camiguin. It is a must place to visit if you are looking for a new adventure. The island is walled by a sugar-white beach and crystal blue sea. If you love diving and snorkeling, this island is the best spot for you to do it. This island is home to more than 110 different species of fish and sea creatures including the multicolored corals. Mantigue Island also has many best restaurants. It is a food lover's paradise where you will be dinner with a selection of seafood like crabs, clams and lobsters on this island.
Katibawasan Falls - If you like adventure and trekking activity, you must come to visit Katibawasan Falls. It is one of the popular attractions in Camiguin and to reach the Katibawasan Falls. You need to walk through the exciting track that consist of dirt, slippery rocks and stony rivers. The seconds after you reach the falls is truly satisfying as you can see the stunning waterfalls and naturally round pool surrounded by the bedrocks and green forest. It is also the best swimming location among the locals and tourist, and it is best to submerge your body into the cold and refreshing water after a long day of trekking. For adventurers out there, Katibawasan Falls is an attractive place that you cannot miss!