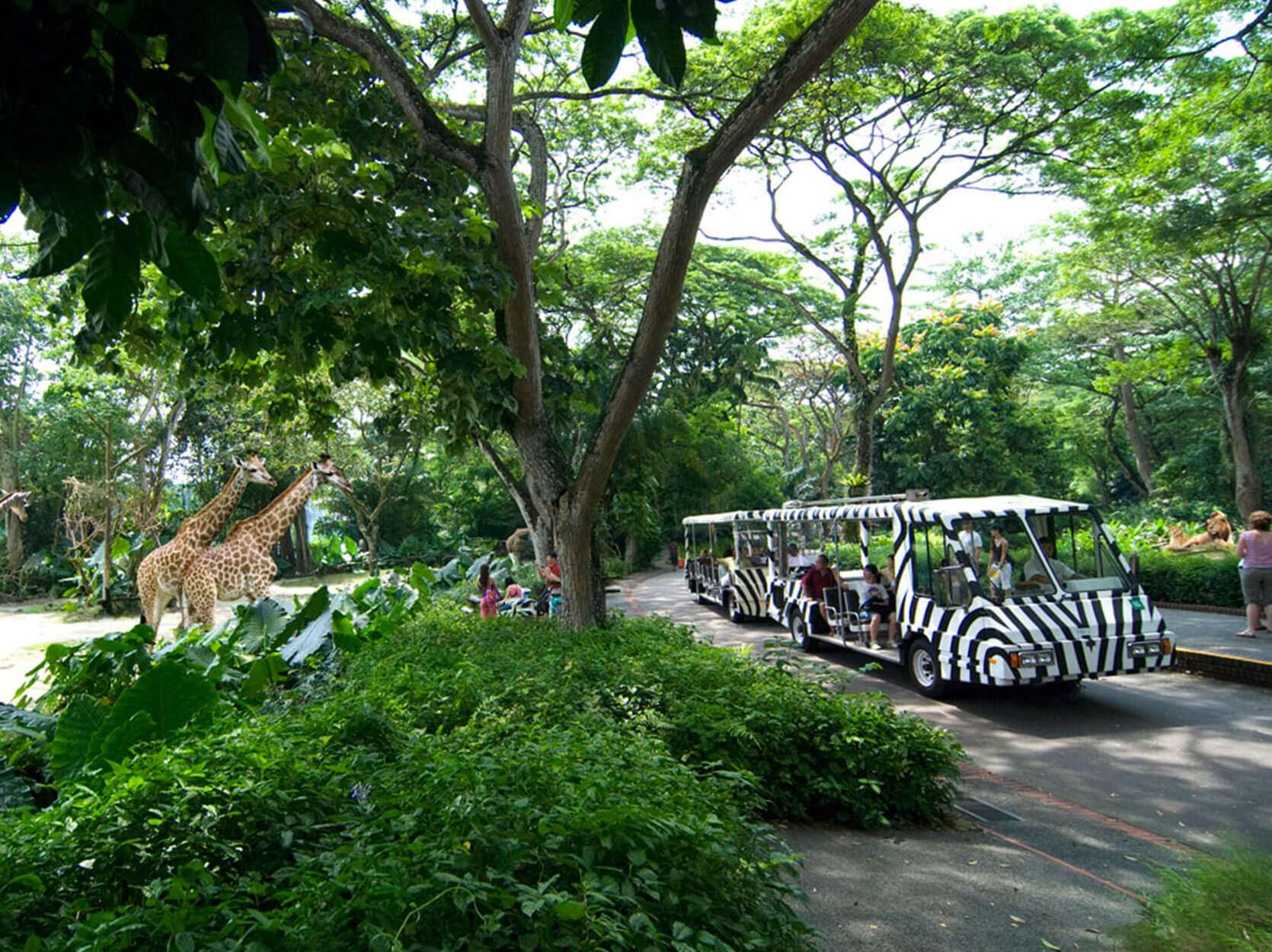 Spend hours of adventure and fun at the award-wining Singapore Zoo, where animals roam freely in open and naturalistic habitats! Set in one of the most beautiful wildlife environments in the world, Singapore Zoo houses more than 2,400 specimens from over 300 species of mammals, birds and reptiles, 34 per cent of which are threatened. At the zoo, animals wander around openly in their near-natural habitats, only separated from visitors by moats and wooden fencing. Aside from that, the zoo is part of Wildlife Reserves Singapore and is a designated rescued wildlife centre. 
Operating Hours
8:30 AM - 6 PM (Daily)
Activities & Shows
Visitors can enjoy empirical learning journeys at the 26-hectare award-winning Zoo with full exhibits devoted to orangutans, proboscis monkeys, white tigers and pygmy hippos.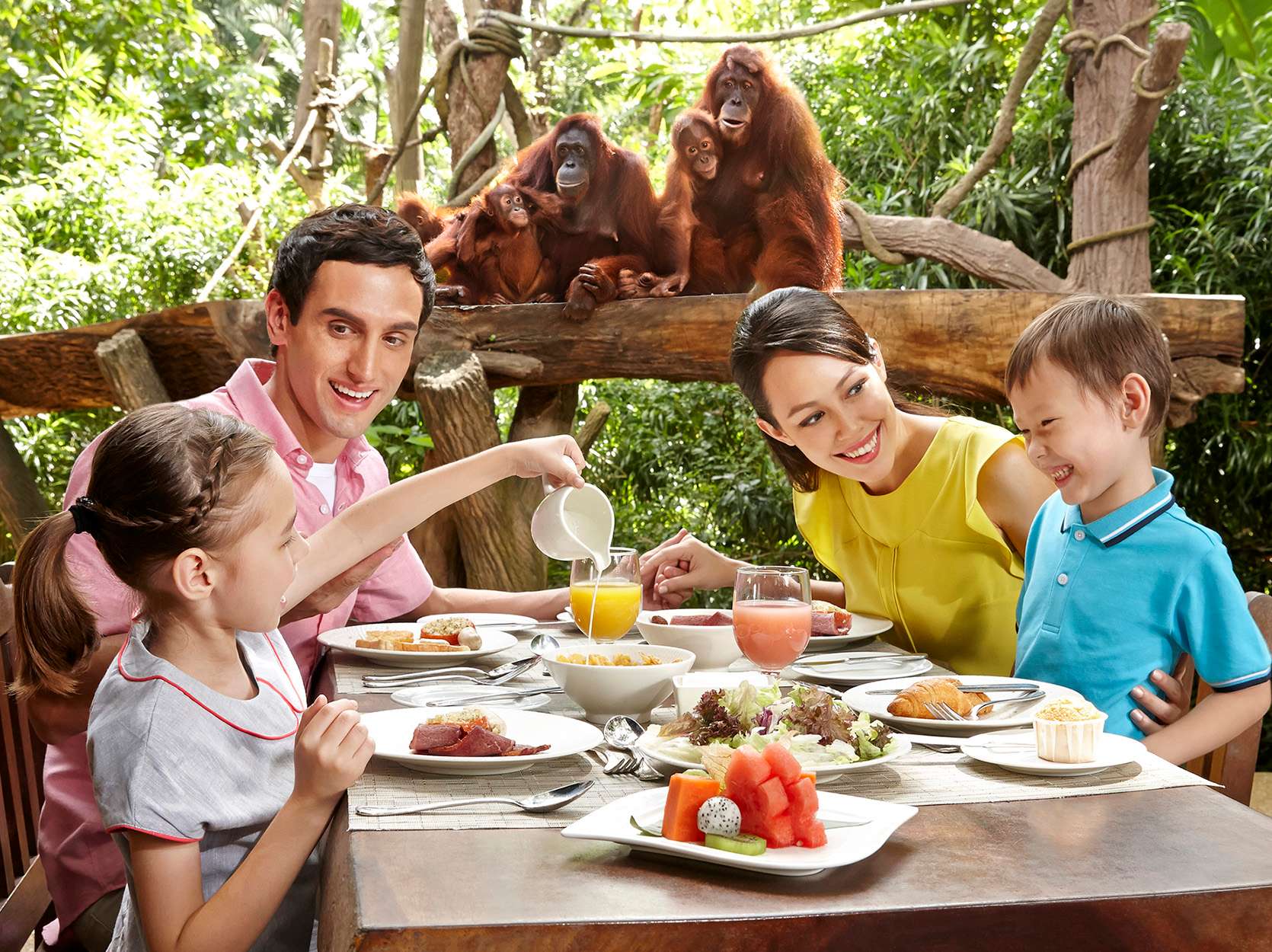 One of the most exciting and pleasant way of interacting with the animals is the Jungle Breakfast. Dine among the great apes while enjoying local and western food on the jungled terrace of Ah Meng Restaurant to get your day off to a swinging start! If you prefer a more hands on experience, you could feed the animals yourself. For a small fee, animal token feeding is held throughout the day at the animal exhibits. Not only do you get to have giraffes feeding off your hands with their long, blue tongues, but a keeper will also share information about the animals. What a great way to learn about the animals and their habitats!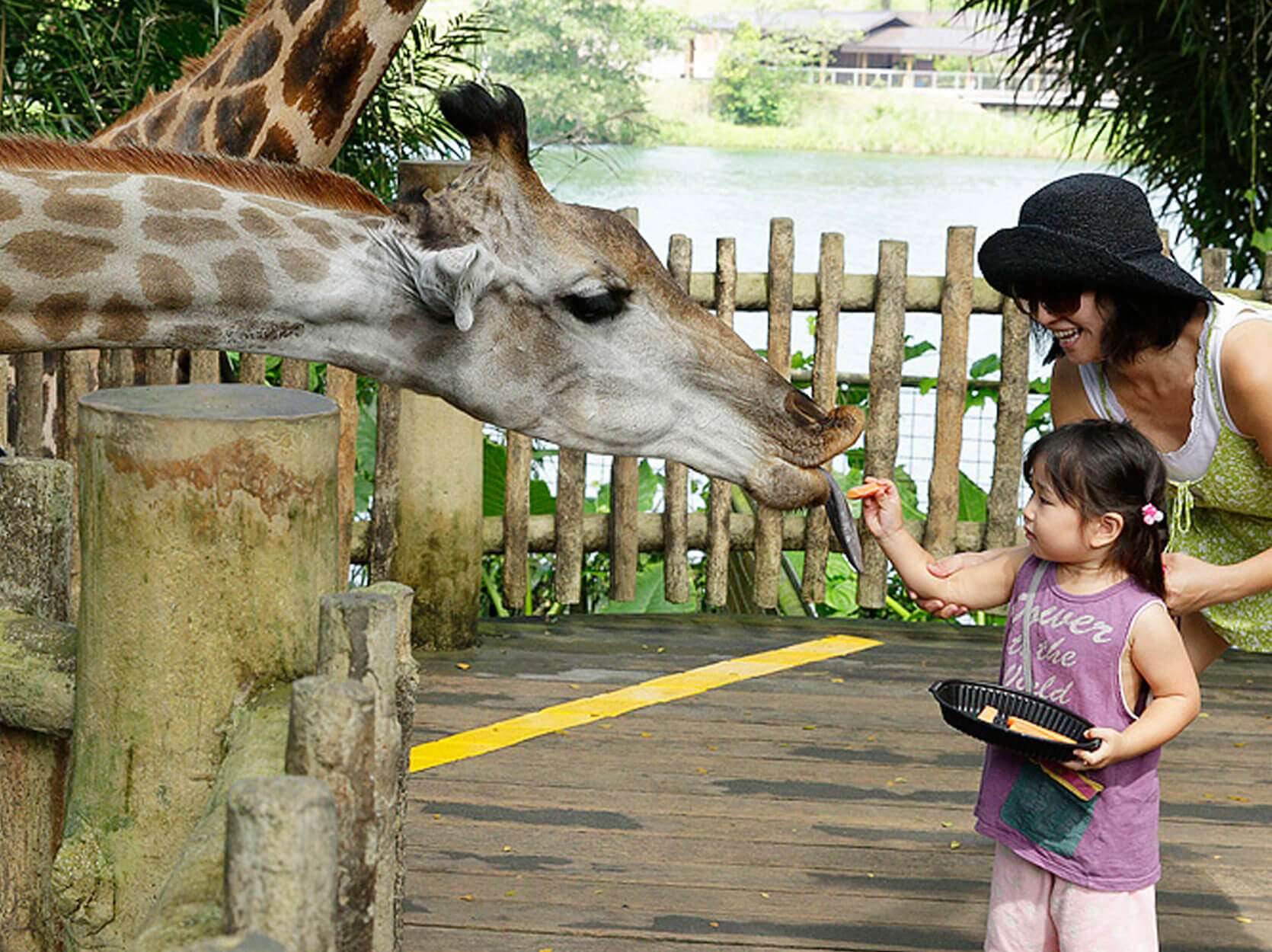 If all the exhibits start to make you miss your own furry friends at home, find a seat in the Rainforest Kidzworld Amphitheatre for the Animal Friends Show. With plenty of laughs guaranteed, open your eyes to the special skills and important roles that domesticated animals play in our lives. If it's larger-scale entertainment you're after, head over to the Elephants at Work and Play Show to watch 5 Asian gentle giants, Komali, Jati, Gambir, Intan and Aprila, interact with one other and the keepers. You may just be one of the lucky visitors to enjoy a close encounter with them! Or if you love a little (or a lot of) wet fun, the quirky antics of the California sea lions at Splash Safari Show are sure to delight.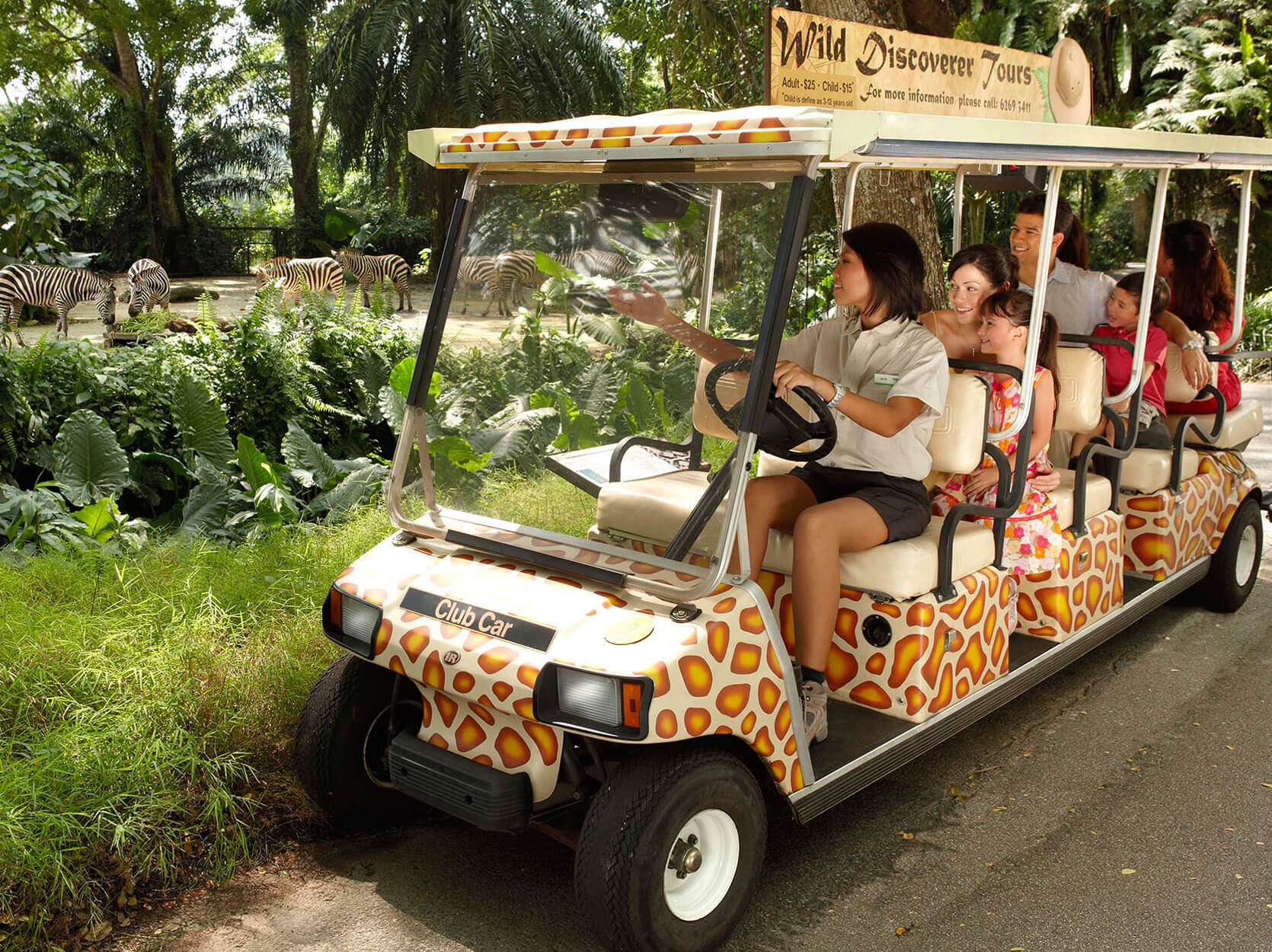 When you're tired, hop on-board the tram on the Wild Discoverer Tour! You'll get inside information on how to care for the animals and feed the rhinos and giant tortoise too. And parents, don't forget your kids' bathing suits! There's a water play area in the Rainforest Kidzworld section of the Singapore Zoo.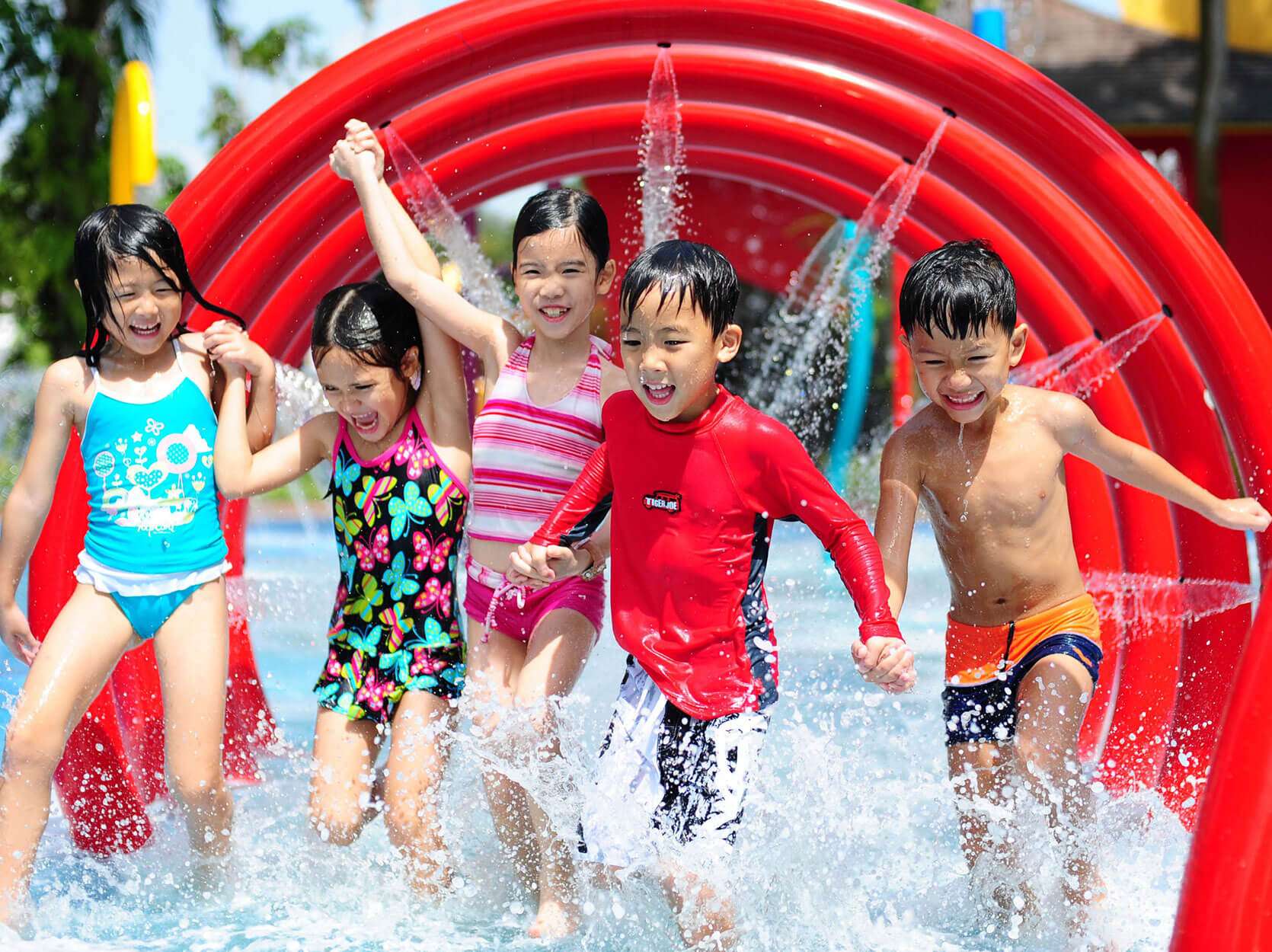 A great way for the kids to have fun and escape the heat! All these shows and activities are sure to amount to thirst and hunger, which is catered for with the multiple bistros, cafés, and restaurants in the complex ranging from sweet to savoury, Asian to Western and meat to vegetarian options. If you're still going strong after all that, keep an eye out for the half-day and overnight camps online registration. Kids can spend the night sleeping among the animals, as well as be junior zookeepers! 
So, whether or not you're an animal lover, Singapore Zoo is a fun-filled attraction that is not to be missed. Visit the award-winning zoo now for an exciting and educational rainforest experience!
How To Get To Singapore Zoo?
By MRT/Bus:
Take the North South Line (Red) to Choa Chu Kang (NS1) Station.
Board bus number 927. Alight outside Singapore Zoo.
    OR
Take the North South Line (Red) to Ang Mo Kio (NS16) Station.
Board bus number 138. Alight outside Singapore Zoo.
    OR
Take the North South Line (Red) to Woodlands (NS9) Station or Marsiling (NS8) Station.
Board bus number 926 (Operates: Sundays & Public Holidays only).
       Alight outside Singapore Zoo. 
    OR
Take the North South Line (Red) to Khatib (NS14) Station.
Board Mandai Khatib Shuttle (Operates: 8am - 10:40pm daily). 
By Mandai Express:
Bedok Point Shopping Centre near Bedok MRT (Operates: 8:45am & 10:15am daily).
Sengkang Square: Exit C pick-up point at Sengkang MRT 
       (Operates: 8:45am & 10:15am daily).
Our Tampines Hub coach pick-up point at South Plaza 
       (Operates: 8:45am & 10:15am daily).
By Shuttle Bus:
Safari Gate
Pick-up location: Suntec City
Times: 8:30am, 9:30am, 10:30am, 11:30am, 12:30pm, 2pm, 3pm, 4pm.
The Singapore Attractions Express Bus service has pick up points around most major hotels and various locations in the city. For the specific roads and bus stops, please see here.
By Car:
Parking is available for cars, passenger vans/buses and motorcycles.