If you're the kind of person who wants to visit places that's a bit off the beaten track for tourists then Catbalogan, Samar is the place for you. Catbalogan is the main city in the province of Samar located in the Visayas region. It's home to vast stretches of white sand, amazing hikes, and exciting caves.
Referred to as the "Caving Capital of the Philippines", there are several caves you can traverse when you visit. It's perfect for those who want a relaxing escape, but also for the adrenaline seekers.
How to Get There
Samar is accessible through many modes of transportation. While direct flights are heading there from Manila, they tend to be irregular and more expensive. You can instead head to Daniel Z. Romualdez Airport in Tacloban City. From there, you can head to Catbalogan by taking a bus.
Getting Around
Like most places in the country, the city is interconnected through jeeps, buses, and tricycles. You can get around through this or you can hire a car to take you around too. This should be the most convenient way to get around.
Top Things to Do and See
Samar is a great trip for those who want to change things up for a vacation! Catbalogan is one of the oldest cities in the Philippines. A city tour would be perfect if you want to get to know its history and culture more. The tour will take you to places like the public market where you can haggle and prepare your Filipino dishes, the Obelisk, and St. Bartholomew Church.
In August, you'll see the city gearing up for the month-long Manaragat Festival. It's a colourful festival filled with games and dancing in honour of the Patron Saint, St. Bartholomew.
Catbalogan is also the perfect place to treat as your base when you go exploring in neighbouring areas like the town of Paranas. The town would be heaven for thrill-seekers and adrenaline junkies. You'll find unique activities here, but the main attraction is the white-water rapids. The twist is it's done using a wooden motorized boat instead of a raft. It's affordable and exciting, but best of all, you can enjoy this with your friends!
A dip in Deni's Point is what awaits you at the end. What makes this place so special is the exciting option of swimming with or against the river current. Calmer parts of the river are also around so you can just sit back and relax with your friends while admiring the lush forest.
The city of Calbayog is also a short trip away and it's perfect if you want to see the waterfalls that the city is known for. The most famous one is Bangon Falls that has four layers of streams falling. You can stop by for a swim here so make sure to pack light and take plenty of photos.
Where to Eat
If you're after places that would offer Filipino delicacies, then you won't run short in Samar. In the neighbouring city of Calbayog, you'll find Rebelito's Refreshments. It has been around since 1963 and this family restaurant is a staple in the city. They have various local dishes like ginataan, dinuguan, and batchoy. They also have desserts like puto and the ever-popular halo-halo.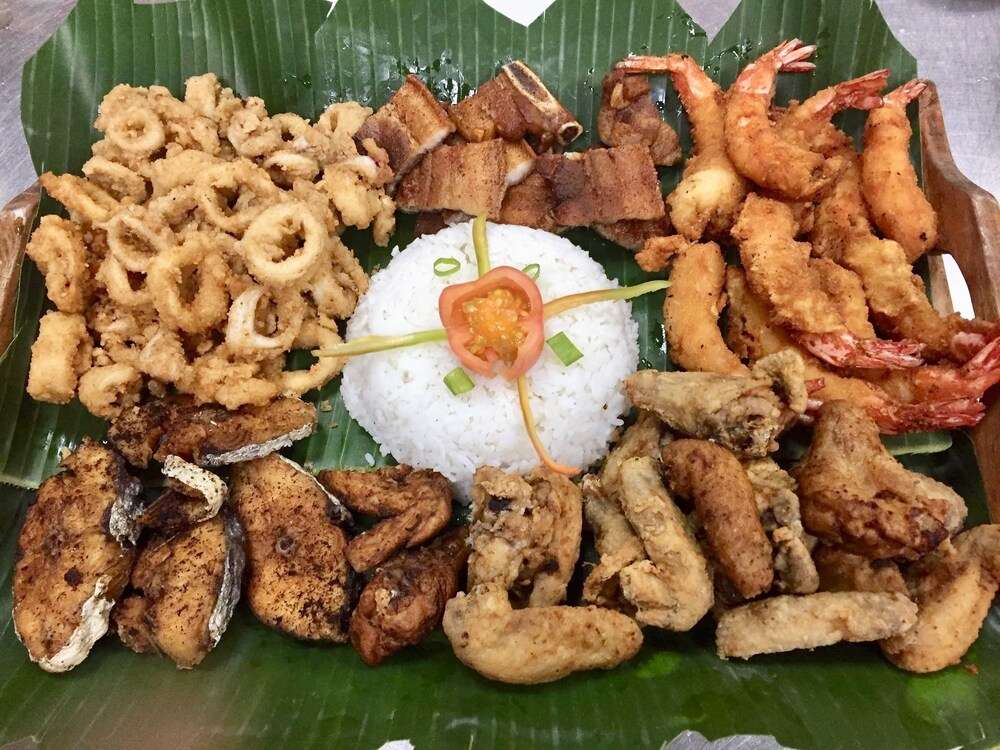 Street food is also widely popular in the province and what sets it apart is the fact that most of them are seafood. You'll find people grilling fish in the streets and you can simply eat it there too.
For something sweet, the salukara is a must for first-time visitors. It's a local dessert that resembles a pancake and it makes use of tuba or coconut wine as a rising agent. Tambis-tambis is another dessert that is deep-fried and topped with sugar. You can find this all over the city.
Where to Stay
Catbalogan is the center of the province so finding an inn or hotel to stay in would be easy. You'll be near all of the historical sights and you'll find it easier to find a guide to take you to all the neighbouring areas.
Travel Tips
Bug spray is key! If you intend to go exploring different nature sights then make sure to bring one with you to avoid unnecessary bites.
Make sure you research the activity and bring the necessary gear and figure out what outfit is best to use.
Bringing bottled water will be for the best if you're eating outside.