It's hard to ignore the allure that Ayala has for many visitors. With its many first-class hotels, fancy restaurants, and popular bars, there are plenty of ways to kill time within the most popular part of Makati. But if you've run out of places to hang out along Ayala, fear not. There are plenty of great places to visit in San Antonio Village (also known as Barangay San Antonio) in Makati. You might be surprised at the hidden gems you can find in this area.
Barangay San Antonio is part of the Westside Cluster (also known as Cluster 2), which is made up of seven barangays. It is bound by barangays Pio Del Pilar, San Lorenzo, Sta. Cruz, Bel-Air, Palanan, and La Paz. Back in the day, the barangay used to go by the name Barrio Camachile and was considered part of Barrio Pio Del Pilar. In 1959, the Municipal Council of Makati declared Barangay San Antonio as an independent area of its own. The name 'San Antonio' is inspired by the name of the patron saint of the barrio, who locals believe had lived there in the past.
How to Go
By land transportation
Hop onto the MRT-3 and get off at Magallanes station. Then, take a jeepney that will take the route PRC, Washington, or Pasong Tamo. Ask the driver to drop you off at San Antonio Village. Where you'll get off will depend on the specific place you're going to. If you're not sure where to go, you could get off at Yakal St. or Gil Puyat Ave. and ask for directions.
Getting Around
Your main mode of transportation will be the numerous jeepneys, all of which take very different routes. They can take you to places inside the village, as well as to various other areas of Makati, such as Ayala Avenue. But if you're looking for convenience, your best bet is to take a tricycle. It may cost a little more, but you might be able to save some money if you flag one down with a buddy.
Tourist Attractions
For those who love shopping sprees, you'll spend hours browsing the various stores and stalls inside of the nearby Cash & Carry Mall. You can find it across the Philippine National Railways' Buendia Station. If you'll be in the area for quite a while, you may want to visit The City Club at Alphaland Makati Place. They have tons of first-class amenities, including a pool, a tennis court, a basketball court, a gym, and even a spa. You'll need to become a member in order to use their facilities, though. Also not too far from the village is Repertory Philippines, well-known for its high-quality plays and musicals.
Top Things to Do
There are lots of things to do, not just within the village, but in the areas around it, too. Not too far from San Antonio Village is the RCBC Plaza. Besides housing lots of restaurants, you can occasionally watch some live musicals and plays on the fourth floor, which houses the Carlos P. Romulo Auditorium. If you're in the mood to play some golf, you might want to head on over to the Makati Golf Club Driving Range. You can also head on over to the nearby Chino Roces Ave. to pamper yourself at Mont Albo Massage Hut located at the JAKA Center.
Where to Eat
Are you craving to eat tons of barbecue? With its unlimited soup, drinks, and rice, you can't go wrong with a trip to Charaptor. If you're on a vegan diet, then you'll love the many dishes over at Satinka Naturals. Are you in the mood for some affordable Vietnamese food? Drop by Bon Banhmi for some fantastic traditional banhmi.
Nightlife
Looking for a cool place to drink? Why not visit Escobar, which is also known for its delicious Latin American food? If you're craving for something more Mediterranean, head on over to Dweet Bar and Restaurant. For those looking for an interesting experience, try out their many shisha flavors. If you're looking for some great live music, then pay a visit to the B-Side bar along Malugay Street.
Where to Stay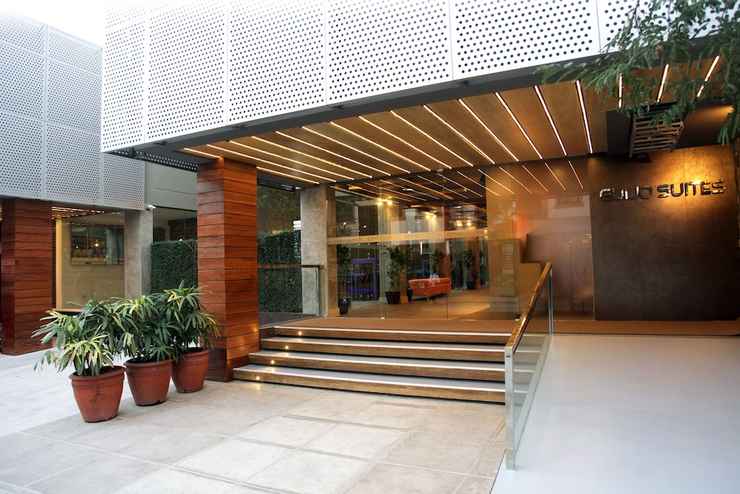 If you want to go on an affordable staycation, try the Solace Hotel. It's located close to many malls and restaurants, making it a convenient option. You could also try checking into Guijo Suites Makati. They offer great customer service and value for money. If you're on a budget, another great place to stay is West Makati Hotel. It's located quite far from the usual business establishments, which makes it a nice and quiet place to work and get some hard-earned sleep.
Travel Tips
Make sure to bring around coins and smaller bills. It's generally frowned upon to hand over big bills for your fare or when buying goods at small local shops. This is especially true in barangays like San Antonio, where most store owners don't have much change in the mornings. If you really can't find loose change, try buying something cheap at larger establishments, such as malls or fast food restaurants. They will most likely have enough change for you.

Bring a fan to keep yourself cool during your commute. There are not that many trees around the barangay, and the cemented areas add to the overall heat, especially during summer. Plus, you might find yourself stuck in some heavy traffic, and the heat from the engines of so many cars only makes things worse. It's a good idea to bring a bottle full of water. If you don't drink enough water, you might end up getting a heat stroke in the middle of the day.

Keep your bag in front of you as much as possible. Though there are many friendly locals in the barangay, it is better to be safe than sorry regarding your belongings. You might want to get a waist bag so that you can easily access your items while securing them at the same time. You should also read up on common tactics so as to keep yourself aware in case you unknowingly become a target yourself.