Singapore tour – Explore the "Lion Island"
There are thousands of reasons attracting afar visitors to Singapore. This 720 sq.km island country is Southeast Asia's most developed nation which makes it an alluring travel spot.
Singapore is convenient in all aspects from public transportation to high-tech infrastructure but most importantly, it is just 1-hour flight away from Vietnam. Singapore Changi Airport is one of the world's most advanced airport with efficient services and is most commonly known as a shopping heaven with international brands ranging from high-class to budget ones.
Although Singapore is a young nation, it is diverse in culture. "Where the land is good, the birds will perch", many foreigners settle here. Singapore is home to 3 main ethnics including Chinese, Indian, and Malay. Hence, there exist some culturally different areas besides those with cultural-crossing values, which can only be found in Singapore.
Flights to Singapore
The simplest way is to book a flight to Singapore. From big cities like Hanoi or Ho Chi Minh City, there are many direct flights, both international and domestic airlines. It only takes less than 2 hours on board.
Vietjet Air's flights to Singapore are mostly searched for their variety and affordability. Furthermore, there are other international low-cost airlines namely Scoot, Tiger Airways, or AirAsia offering frequent promotions.
From Changi Airport, two most common ways to get to the city center are by MRT and by buses. These means of transport are usually suggested to self-funded visitors because of their convenience and cost-effectiveness compared to caps.
You can buy EZ-link card (for MRT and buses) at the airport. If you travel at high frequency, you should choose Singapore Tourist Pass at SGD 10/ day; SGD 16/ 2 days or SGD 20/ 3 days.
Hotels in Singapore
Singapore is a not-so-big island with divided culture areas. Tourists usually base on this to choose the best hotel in Singapore for their trips.
If you are a shopaholic, a place near Orchard road is for you. This is absolutely a heaven on earth for shoppers with a long road of biggest shopping malls in the country.
Areas like Chinatown, Kampong Glam, or Little India are good options for those who love to explore local culture or want to find a budget-friendly hotel.
For a luxurious vacation in a world-class hotel, Clarke Quay and Marina Bay Sands are for you. These are downtown areas for you to enjoy the Singaporean vibe to the fullest.
Things to do in Singapore: Places you cannot miss
Singapore certainly has an endless list of must-do things. This seem-to-be-small country has numerous famous destinations and exciting corners waiting to be explored.
If you fall for urban charms, you couldn't be more satisfied with this Southeast Asia's busiest country. You will drop your jaw at Marina Bay, Clark Quay, Sentosa Island or shopping heaven Orchard Road while admiring their extraordinary architecture, their mass investment, and their busyness.
If you are into diverse culture, you won't be able to resist a cross-cultural Singapore. Your bucket list includes Chinatown, Little India, Kampong Glam (Arabian area), and Bugis, etc.
If you are a nature lover, don't ever think Singapore is not for you. It's unforgettable to visit Singapore Botanic Garden, Garden by the bay, Jurong Bird Park, and Singapore zoo.
Finally, Singapore's most luring magic is an endless list of Singapore's cuisines which you cannot leave without trying. The best known of the list are Singapore's Frog Porridge, Chilly Crab, Hainanese Chicken Rice, and Kaya Toast, etc.
All these Singapore attractions are just 1-hour flight away from Vietnam. If you are searching travel ideas for your next trip, don't hesitate, book Traveloka's Singapore package – Flight and Hotel combo and ready to pack your back and go!
Marina Bay Area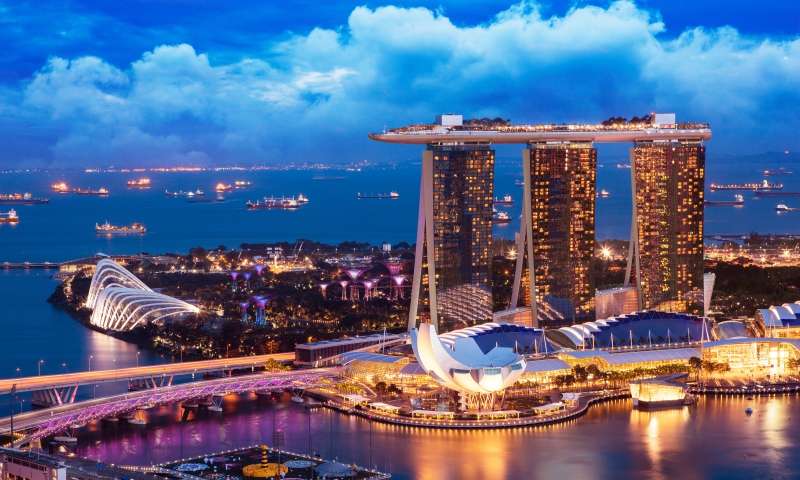 Standing at the top of Singapore travel guide is Marina Bay. First of all is Merlion Park where stands the official mascot of Singapore, a mythical creature with a lion's head and fish's body.
Other parts of the list comprise the durian shape Esplanade Theater, Helix Bridge with spiral design linking Singapore Flyer with Marina Bay Sands and ArtScience Museum. These are tourist's favorite's check-in spots with some "virtual living" photos.
Garden By The Bay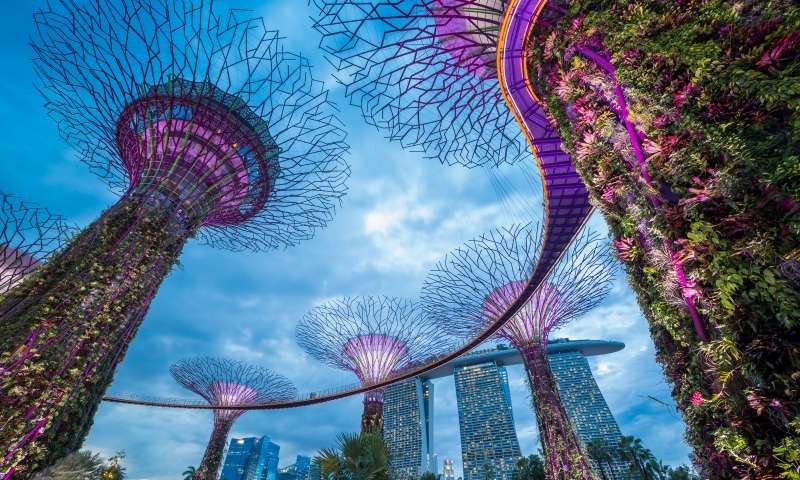 In spite of limited natural resources, Singapore significantly invests in green growth in the city center. The garden area consists of 101 hectares and is home to hundreds of flora species, most special one is the supertree at 50m high, which is shone with lights and can become so mysterious during the night.
Chinatown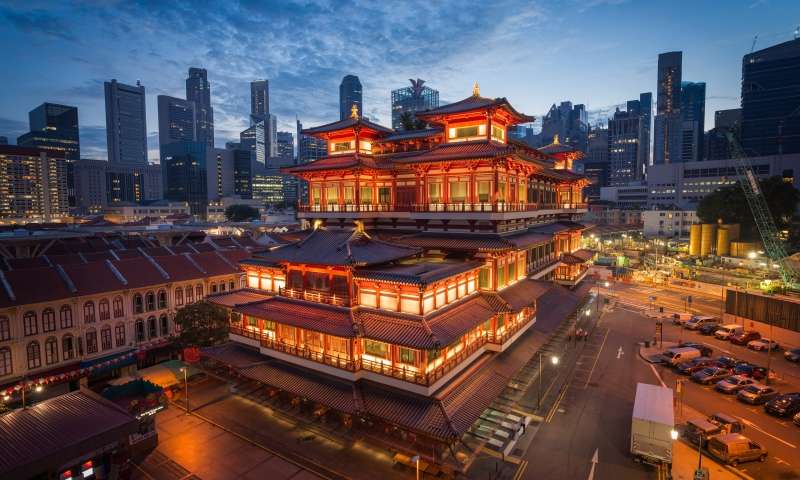 Your Singapore trip will not be completed without visiting Chinatown. Chinese accounts for 75% of this country's population creating a crowd and busy community. Tourists can walk through streets among iconic red lantern, explore historic temples and enjoy delicious Chinese food.
Little India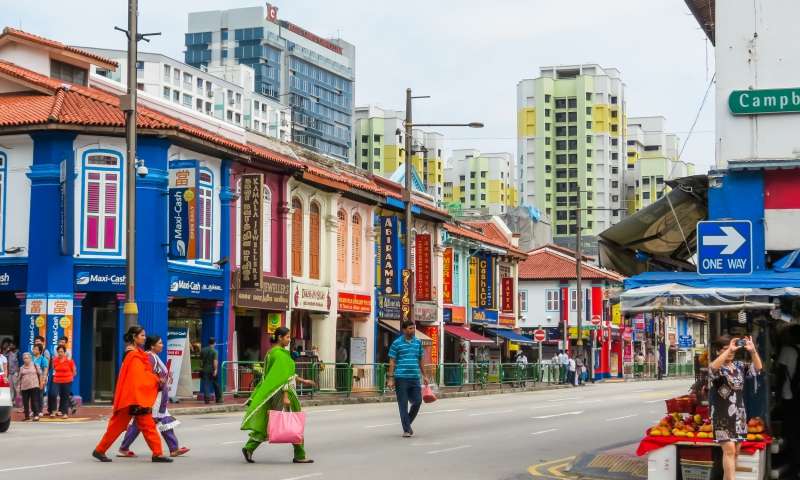 Just like a vibrant oasis, you will love Little India at first sight by its colorful houses presenting the personalities of people living here. Stop by Little India, don't forget to visit Hindu temples, spice shops, Sari shop and take home some little souvenirs while blending yourself in this special culture.
Kampong Glam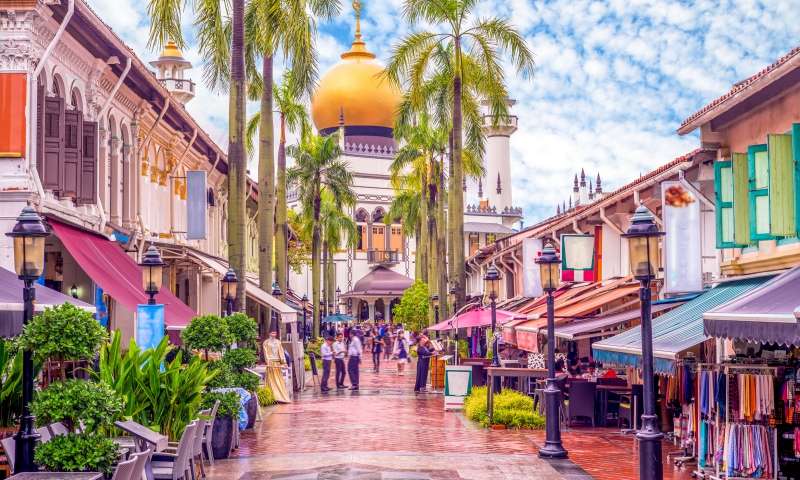 Along with Chinatown and Little India is Arab street which is also shimmering in its own way. Places to visit in Kampong Glam include Islamic mosques, Haji Lane, and Malay Culture Center.
Sentosa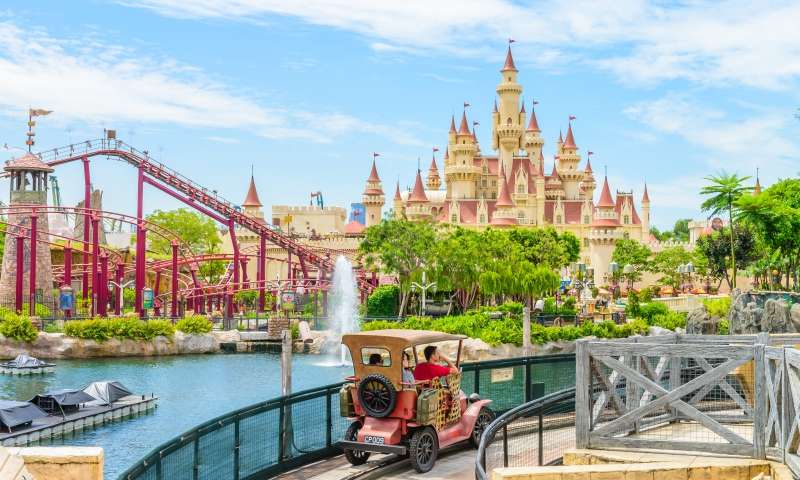 Your Singapore tour will not be fulfilled without Sentosa – the most well-known tourist island in this country. Sentosa is a leisure and tourism complex which was invested at large-scale with Universal Studios Singapore, SEA Aquarium, Trick Eye Museum, and Water Park.
Singapore Package - Flight and Hotel combo
With this active schedule, you will never get bored in this lion country. You only need a Traveloka's Singapore package which offers you a combo of both air tickets and accommodation with promotion up to 15%.
Now, hunting suitable, cost-effective air tickets and hotel bothers you no more, freely draft your own itinerary without restrictions, unlike traditional tours.
Singapore travel guide: Recommended itinerary by Traveloka
Those who have never set foot on the lion country may wonder how to experience all the "hot spots" in just a few-day trip. This question will be answered right below in Singapore 5-day 4-night itinerary with "must visit" destinations. With these recommendations and a flight + hotel package from Traveloka, you are ready for the trip.
Singapore 5-day itinerary
| Day | Destination |
| --- | --- |
| Day 1 | Marina Bay Area, Merlion Park, Esplanade Theater, Helix Bridge, Garden by The Bay |
| Day 2 | Singapore Botanic Garden, Little India, Kampong Glam, Bugis Street Market |
| Day 3 | Tiong Bahru, Chinatown (Buda Tooth Relic Temple, Thian Hock Keng Temple), Clarke Quay |
| Day 4 | Sentosa |
| Day 5 | Shopping in Orchard Road and flying back |
Day 1
After safely touching down Singapore, you can drop your luggage in the hotel and start exploring Marina Bay Area.
Your first stop may be ArtScience Museum. The museum not only displays outstanding scientific works of art, but it also possesses countless "virtual living" corners.
Since Marina Bay is the busiest area, you can enjoy your first-class lunch here.
Next, drop by Merlion Park to check in with the well-known statue spouting water from its mouth. From the park, you can take photos of the special durian shape Esplanade Theater.
From Marina Bay Sands, you can walk through the one and only Helix Bridge to the other side and experience Singapore Flyer, one of the highest flyers in the world at 165m high.
In the evening, don't go too far or you will miss the Spectra Show in Marina Bay Sands. This is one of the most spectacular lights and water shows which no one wants to miss.
Tips:
Because of short flying time, you should choose morning flight so that you still have a full day to hang out. There are plenty of flight options with flexible time for you.
Spectra Show is performed every evening at 8 p.m. and 9 p.m. (Sunday-Thursday) and 8 p.m., 9 p.m., and 10 p.m. (Friday – Saturday)
Day 2
Begin your morning with a breath of fresh air in Singapore Botanic Garden which showcases the best and most spectacular tropical flora set in a stunning verdant landscape.
Then, it's high time you visited Little culture areas like Little India or Kampong Glam, especially Kampong Glam, remember to take "virtual living" photos in vibrant Haji Lane and get yourself some cool stuff there as well.
At the end of the day, pay a visit to Bugis Street Market, one of the biggest and busiest markets that offer you budget-friendly goods in Singapore. You can buy all sorts of things from clothes, shoes, CDs, jewelry to souvenirs.
Tips:
Bugis market opens every day from 11 a.m. to 11 p.m.so take your time!
Little India and the Arab Area attract many Muslim so there is a long list of Halal restaurants. Do not look for beer or alcoholic drinks here.
Day 3
After exploring Little India, make sure you won't skip Chinatown. With more than half of Singapore's population are Chinese, the culture here is definitely exceptional.
Your checklist in Chinatown includes Buda Tooth Relic Temple, Thian Hock Keng Temple…and many luscious dishes bearing Hokkien, or Hainan flavors such as different kinds of noodles, chicken rice, and roasted duck.
After touring around Chinatown, spare some more time to wander around Tiong Bahru and track yourself back in time through those ancient streets, apartments, cafes and little CDs shops.
When night falls, Clarke Quay lights on. What are you waiting for? Explore Singapore's most crowded port. Spend time walking along riversides and having dinner in a restaurant with a scenic overlook and enjoy Singapore by night.
Day 4
The most expected day has come, let's rock Sentosa! Well, don't you ask what Sentosa has to offer because the obvious answer is loads of things. Most talked about is Universal Studios which reminds you of all those fancy Hollywood movies.
Freely check-in Universal Studios then check out SEA Aquarium, Trick Eye Museum, and Skyline Luge…
If you stay in Sentosa until nightfall, don't forget to enjoy the amazing Wings of Time water show which is only showcased twice a day, at 7:40 p.m. and at 8:40 p.m.
Tips:
There are 2 ways coming to Sentosa. Fist is catching Sentosa Express connecting the island and HabourFront station. Second is taking Singapore Cable from Mount Faber.
Sentosa is huge so get ready, set and go early if you only stay within a day!
Each service and game in Sentosa charges separately. You should by Sentosa Full Pass to play different games. There are 3-game-tickets, 5-game tickets, and all-game tickets.
Day 5
Singapore is shopping heaven and therefore, you can't go home without visiting these high-class malls.
Come by Orchard Road where world luxurious brands converge and then swing by Paragon, ION Orchard, Tangs Plaza, and 313@Somerset Mall...
Tips:
Orchard Road Area is enormous. If you need to purchase anything of any brand, you should look up its location and come there first.
Shopping malls usually open at 10 a.m. or 11 a.m. so no need to rush in the morning.
Despite being a small island country, Singapore has it all to keep you busy and entertained. Above is just Traveloka's suggestions for you, you can easily rearrange the itinerary to fit your own Singapore 5-day 4-night tour. That is it, you only need one Singapore package – a full combo of flight and hotel and be ready to go!