Nha Trang – Four seasons of fun
Nha Trang, one of the most attractive beach in Việt Nam, is an indispensable part of your travel to the country. Located in the Southern coastal region and about 4 hours driving from Ho Chi Minh City, Nha Trang offers a wonderful getaway anytime you need some vitamin sea.
With the diversity of sea and islands, Nha Trang owns all the treasures that surely make beach lovers crazy. Nha Trang Bay embraces the total area of 500sq.m with 19 islands and the diverse marine ecosystem. You will definitely resist an adventure to explore local pristine islands.
Special culture is another charm of Nha Trang. Belonged to Champa Empire in the past, Nha Trang still preserves important relics that become symbols of the flourished civilization.
Stopping by the beach city, prepare yourself for delicious seafood feasts. No need no fancy restaurants, you can still enjoy simple yet irresistible food at every corner of the city.
It will take infinity to show Nha Trang's beauty. However, we believe mentioned bullet points are enough to excite you. What are you waiting for? Choose a Nha Trang package and get ready for your lusty trip ahead!
Flights to Nha Trang
If you want to save time, a flight to Nha Trang is the ultimate choice. Cam Ranh Airport is about 35km from the city center. There are two common routes from the two biggest cities:
From Cam Ranh Airport, you can ride a taxi or bus to go to the city center. If time doesn't matter, you can choose to travel by train or coach to Nha Trang.
It's the most comfortable to wander around the city on a motorbike. You can easily hire a scooter at VND 60,000 - 150,000 for a day. All hotels offer this service.
Hotels in Nha Trang
On top of the "most favorite hotels in Nha Trang" list are hotels on Tran Phu and Pham Van Dong street. Only a walking distance from the beach, these streets have a wide variety of hotels, resorts, as well as budget homestays which can satisfy every traveler's need.
On the other hand, hotels in the city center are the best option for those who want to experience local vibe. Wards such as Phuoc Tien, Tan Lap, Loc Tho are the busiest areas with lots of interesting activities.
With Traveloka's Nha Trang packages, you can easily choose your favorite hotel that suits your itinerary well without being limited to a few options.
Things to do in Nha Trang
Some people spend their heydays in Da Lat, the other choose a hotel in Nha Trang for their getaways. You can never get bored in Nha Trang as there are many places waiting for you to explore.
The first best thing about Nha Trang is a long season in the sun, from January to September, the average temperature is not too high, perfect for adventures on islands.
Ranked first in the "things to do in Nha Trang" list are breathtaking beaches along the city center and charming islands on the bay. Nha Trang's islands have a wide range of amusement activities for tourists to experiences.
If culture and history is your cup of team, you cannot miss Po Nagar Cham Towers, Nha Trang Institute of Oceanography and Alexandre Yersin Museum.
And it will be a big loss if we forget to mention a banquet of local cuisine. Jellyfish with vermicelli, thick noodle soup with fish pie, braised squids with tamarind sauce or pancakes, Nha Trang food is a real maze that you can't help exploring.
A lazy ocean hugs the shore – checked
Wild islands – checked
And irresistible dishes – checked
The only thing you need is a Nha Trang package from Traveloka. Don't forget to save the top 5 must-see attractions and you're ready to go!
Nha Trang beach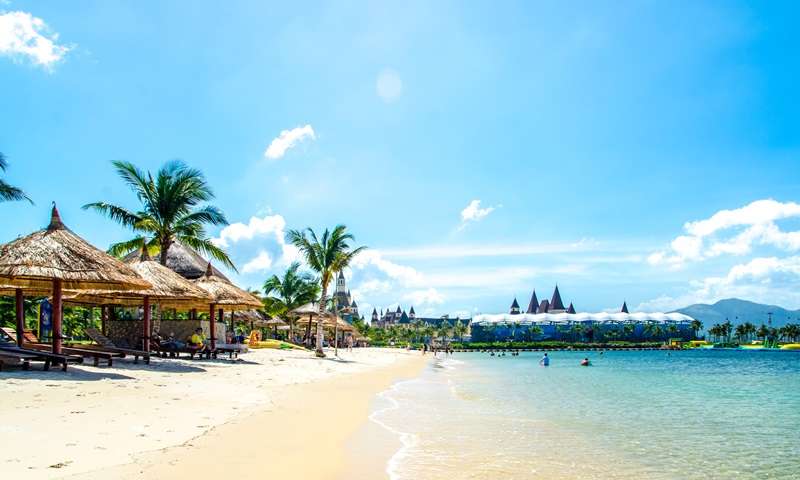 In Nha Trang, you do not need to ride far to enjoy the beach as the 7km coastal line running along the city center. Here, you can experience many water sports such as parasailing, surfing or water motor. This is also the hub of hotels, luxurious resorts, and homestays.
Nha Trang Islands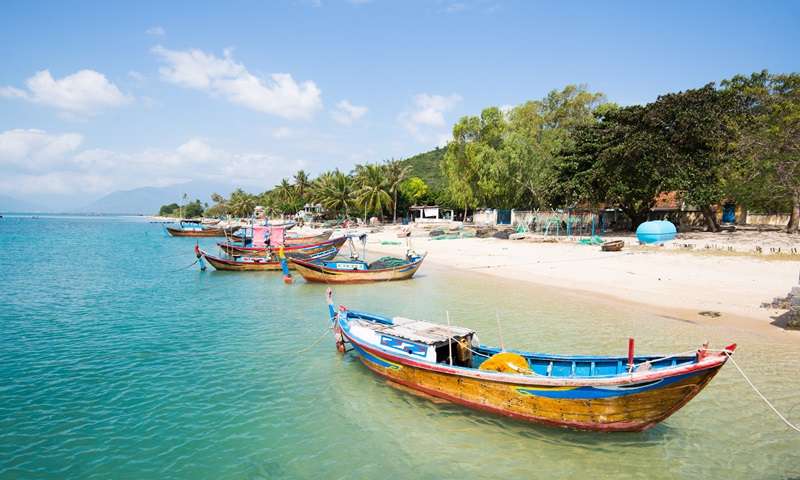 Nha Trang Bay alone is the home of 20 big and small islands including Chong Island (Hon Chong), Mun Island (Hon Mun), Mieu Island (Hon Mieu - Tri Nguyen Aquarium) or Noi Island (Hon Noi - also known as Canary Island). You can book Nha Trang day tour to visit 3 to 4 islands or buy a ship ticket and head to your favorite one.
Ninh Van Bay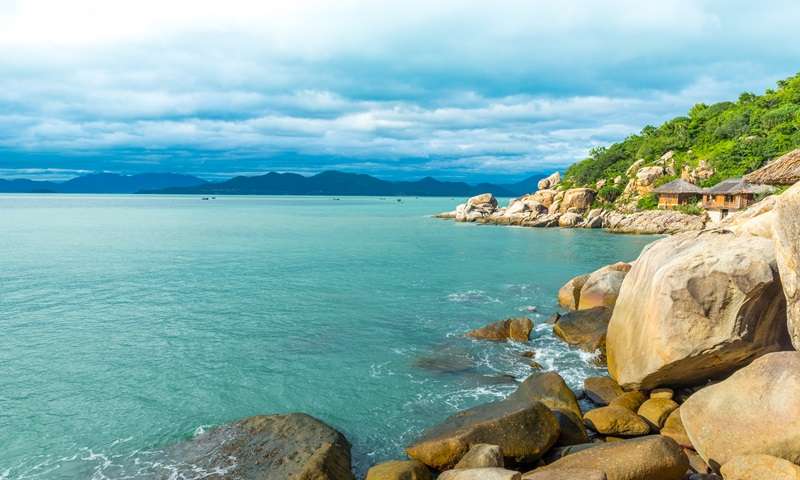 60 km away from Nha Trang is Ninh Van Bay, a tranquil paradise for every beach lovers. Many high-end resorts and 5-star hotels are perfect choices for your leisure travels.
Po Nagar Cham Towers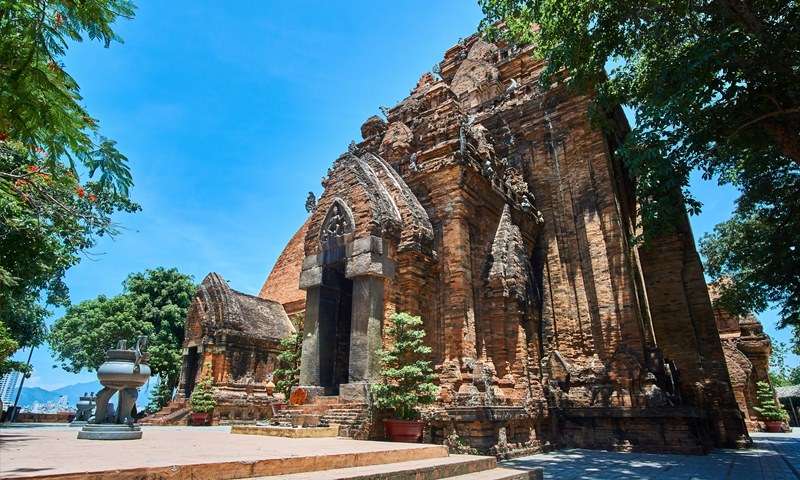 As the most preserved relic of Cham culture, Po Nagar Cham Towers is a must for explorers. Built from the 8th to 13th century, this is the worship place of Po Ina Nagar, the Goddess who creates the Earth in Cham belief.
Vinpearl Land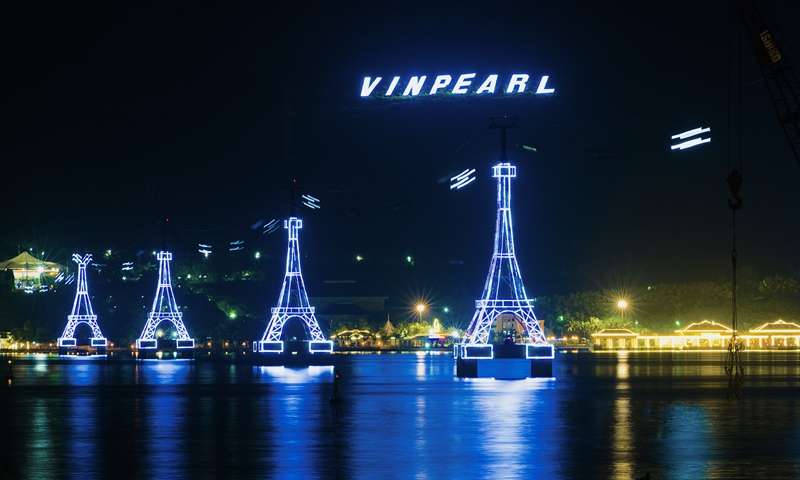 Constructed in the entire area of Tre Island, Vinpearl Land is the most famous creation spots in Nha Trang, especially to families and groups of friends. The park offers a wide range of services from a water park, an indoor amusement area to resorts and restaurants. The best way to access to the island is by the cable system, which was recognized as the world longest cable crossing the sea as the time it was built.
Nha Trang Package: Flight and Hotel combo
There is so much fun waiting. A Nha Trang package from Traveloka will make your trip not only exciting but also care-free. Booking flight and hotel at the same time and enjoy the promotion of 15%. There is no need to follow any itinerary and the price is still as affordable as traditional tours.
Nha Trang travel guide – Recommendations by Traveloka
If the long list mentioned above is not enough for you, check out our recommendation for a 5-day trip to explore this coastal city as its best. Let's explore the city from A to Z with Traveloka and our Nha Trang flight + hotel package and you will never forget!
Nha Trang itinerary: Best things to do in 5 days 4 nights
| Day | Destination |
| --- | --- |
| Day 1 | Visit around the city: Nha Trang Beach, Dam Market, Po Nagar Cham Tower, Institute of Oceanography, Long Son Pagoda, Stone Church, and Chong Islet |
| Day 2 | Vinpearl Land |
| Day 3 | Visit islands |
| Day 4 | Stay overnight in Binh Lap |
| Day 5 | Return from islands, mud bath and come back home |
Day 1
It takes only 1 to 2 hours flying from big cities to Nha Trang, to save time, you take a flight in the morning. Arriving at Cam Ranh and going to the city center, you can leave your luggage at the hotel before check-in and start a trip around.
Swimming, visiting Po Nagar Cham Tower and Institute of Oceanography sound to be a decent kick-start.
You can have lunch at Dam Market, a paradise of most delicious food in Nha Trang.
Long Son Pagoda and Stone Church are next destinations. Not only places to worship, but these attractions also have special architects that will amaze you.
At twilight, don't miss your sunset on Chong Island.
Tips:
Many Nha Trang specialties are sold at Dam Market. However, as it is just your first day, save the shopping time for the last.
Chong Island and Vo Island are quite near the shore. The ticket price is set at VND 22,000 pax.
Day 2
You cannot miss Vinpearl Land when visiting Nha Trang. This is a massive recreation complex that you need to spend a whole day to explore.
Waterpark, indoor amusement area or aquarium are the most popular there.
In the evening, the water music show will surprise you with the harmony of sound and light.
Tips:
Ticket price with return cable: VND 800,000 for adult and VND 700,000 for children
You should show up early in the morning to avoid queuing, especially during Vietnamese lunar new year or holidays. The operation time is from 8 a.m to 9 p.m.
The water music shows are held in the central area at 7 p.m and 7:25 p.m. You should show up early to have a nice spot.
Day 3
Visiting islands is the must in Nha Trang. The easiest way is to book a tour visiting most significant islands.
You can choose from 3 to 4 islands. Among them, the most popular is Mun Island, Mot Island and Mieu Island.
There is a special tour to the private-owned island of Yen (Canary) which belong to Khanh Hoa Bird Nest Company. The tour is operated only from April to September to avoid the storm season.
Tips:
Island tours are diverse. You should book one day earlier to go with a group.
A Nha Trang tour package includes transportation to the islands and lunch but mostly does not include fees of water sports. You should ask the prices in advanced.
You suppose to ask for the name of every place you visit to not miss the itinerary.
Day 4
Nha Trang travel guides often plan for 4 days 3 nights. However, if you have time, staying overnight in Binh Lap will be a good choice to get away from the hustle-bustle city.
Sao Bien resort or Dao Hoa Vang Villa in Binh Lap with naturally harmonious design will be the best aid for your selfies.
Activities on the island are mostly swimming, enjoying seafood, diving to see corals and visiting fishing markets.
Tips:
From June to August is the best time to visit Binh Lap. You will have perfect sun kisses on the island's sand.
From Cam Ranh, you ride along the national highway 1A to Ba Ngoi Port and get a canoe to Binh Lap. You have to be a skillful driver to drive on this busy road.
Day 5
In the last morning, you should go back to the city early to buy Nha Trang specialties as souvenirs for friends and family.
If you have time, give mud bath a go. This type of leisure will help you relax and enhance your health.
Tips:
There are a lot of mud baths in Nha Trang, Thap Ba Resort and Tram Trung Resort are the most popular.
There are several add-in services for you to choose from mineral water bath or massage.
That's our recommendation for an unforgettable 5-day trip in Nha Trang. You can help yourself with the most suitable itinerary. Everything will turn simple with a Nha Trang package from Traveloka!