Explore Da Nang – Fantasticity
Known as the "most livable city" in Vietnam, Da Nang attracts a large number of international and national tourists thanks to its vibrant of a young city combined with the unique local culture. It comes as no surprise that Da Nang is always one of the top destinations on the map of Vietnam.
Located in the South Central region, Da Nang takes up an important "center" position on this S-shaped country. The history of this land originated early from the Sa Huynh culture, wet rice civilization,  the birth Champa which then gradually was merged into Dai Viet. This long way of development has given Da Nang a cross-cultural diversity imbued with the distinct identity which still retains today.
Stopping at a hotel in Da Nang, you should be ready to enjoy the beauty of My Khe Beach, Son Tra Peninsula with diverse ecosystems, Ba Na Hills with a temperate climate as in Europe... Beauty varies from place to place, but all of them attract many travelers from afar to plan their self-sufficient tours to explore this beautiful coastal city.
Flights to Da Nang
With Traveloka's Da Nang package, you can easily choose a flight to Da Nang in accordance with your desired schedule and arrive this coastal city after only an hour's flight from Hanoi or Ho Chi Minh City. Another great advantage of Da Nang is that its airport is located right in the city and it takes only 5 to 10 minutes to drive to the bustling city center.
The most popular means of transport is taxi, especially for those who travel in groups. Taxi can easily be caught outside of the airport. Da Nang has some familiar taxi companies such as Mai Linh, Han River, Vinasun Green,…
There are also two airport bus routes toward Linh Ung Pagoda or Coco Bay, suitable for those who do not have a lot of luggage and want to save money as well as go sightseeing in the city.
Many motorbike rental services are also available in Da Nang to serve travelers' sightseeing purpose. The average rental charge is about VND 100,000 - 150,000 per day.
Hotels in Da Nang
The city center is definitely the most crowded place to look for a hotel in Da Nang. Areas near Dragon Bridge or Han river bridge or Hai Chau District are always busy and lively at night, which is the best for who are looking for nightlife experiences.
If you are looking for a hotel near Da Nang beaches such as My Khe beach or Pham Van Dong beach, Son Tra District will be a good option to consider, especially hotels along Vo Nguyen Giap Street.
For those who want a quick escape into nature, a resort in Son Tra Peninsula is your best dream. Isolated but still reachable, you will never miss any fun from the urban city.
Things to do in Da Nang
If you ask this question, you surely will get an endless list of answers which will be constantly updated. Whether you are a nature lover immersing in a lively city or finding a peaceful coastal city to unwind, this city has all the things you're looking for. Therefore, it is not overstated to say that Da Nang tours are always the top priority for many wanderlusts.
As a coastal city, Da Nang offers beaches with clear crystal-like sea water hidden under rows of palm trees like Pham Van Dong, My Khe, or An Bang. After enjoying the sea, you can head to the mountains and plateau to soak up the fresh climate and contemplate the wonders that nature has endowed this land.
And finally, having a chance to visit this sea city, you shouldn't miss the opportunity to experience Da Nang's cuisine with cha bo (Vietnamese beef sausage), mi Quang (Quang noodles), banh xeo nem lui (Vietnamese pancake and grilled sausage), banh trang cuon thit heo (Pork spring rolls), etc. Such a long list to satisfy your stomach!
These things are making you want to pull on your backpack and head to the beach immediately? Do not forget to choose a Da Nang package from Traveloka – a flight ticket and hotel room combo which is both economical and convenient. Keep these must-visit places in Da Nang in mind for your most fulfilling trip!
My Khe Beach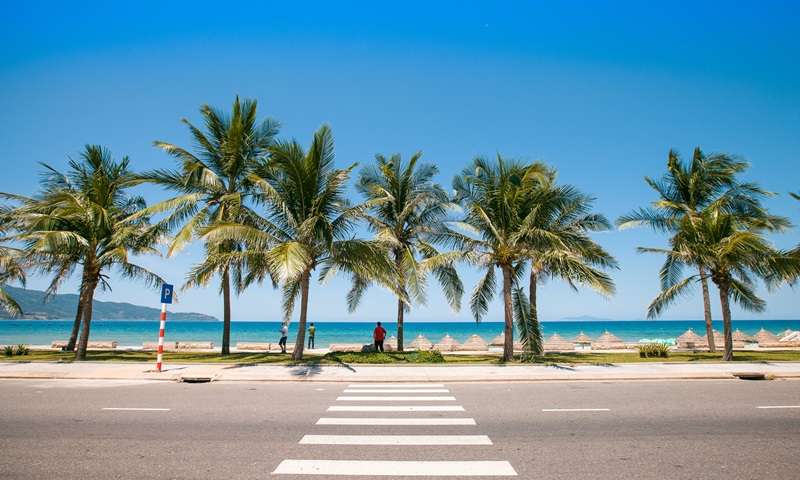 Da Nang is regarded as one of the most charming seaside towns in Vietnam, but My Khe Beach must be an outstanding one which is ranked one of the most attractive beaches on the planet. Located in the heart of the city, along the main road Pham Van Dong, visitors just need to take a few steps to reach the clear crystal-like sea water and immerse in various types of activities on the sea.
Son Tra Peninsula
Owning the only coastal unique primeval forests ecosystem in Viet Nam, the Son Tra Peninsula becomes a must-visit place for all nature lovers. There are the Linh Ung Pagoda with the position of "mountains with sea view", the Chessboard Peak where you can get the panoramic view of the whole city and the banyan tree having stood against the sky for thousands of years.
Ba Na Hills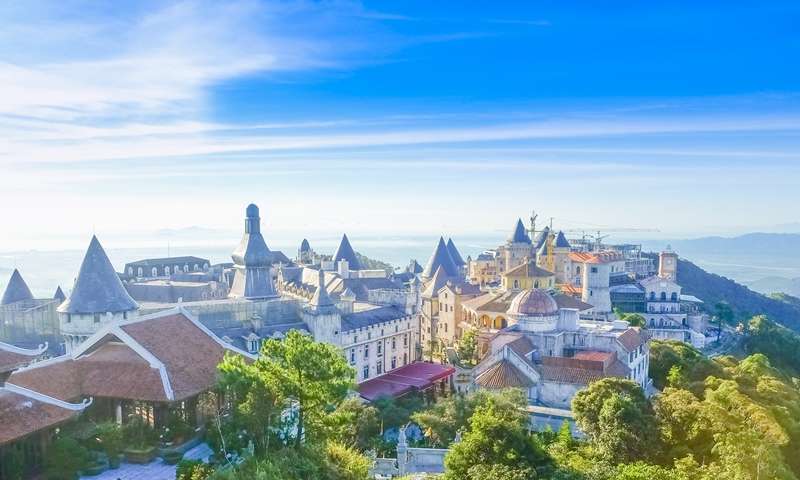 This place, which is called the "road to paradise", should be placed on top of the list of must-visit destinations in Da Nang. After getting off the cable car, you will feel the cold air rush in and be amazed by the architecture designed as a European village.
Marble Mountains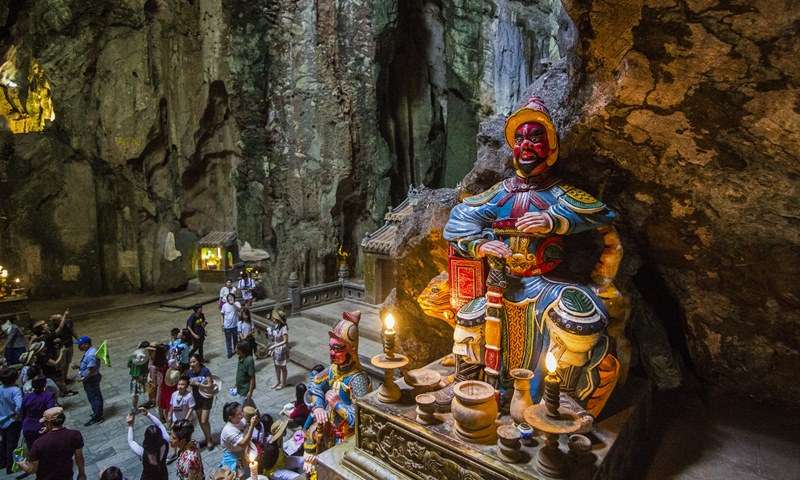 Marble Mountains is a cluster of five marble and limestone hills named after five basic elements of the universe: Wood, Fire, Earth, Metal, and Water. Visitors will have a chance to emulate spectacular caves in the heart of the mountain, visit sacred system of pagodas and shrines hidden in the rocky mountains for hundreds of years, and must be full of admiration for the harmony between people and nature.
Hoi An Ancient Town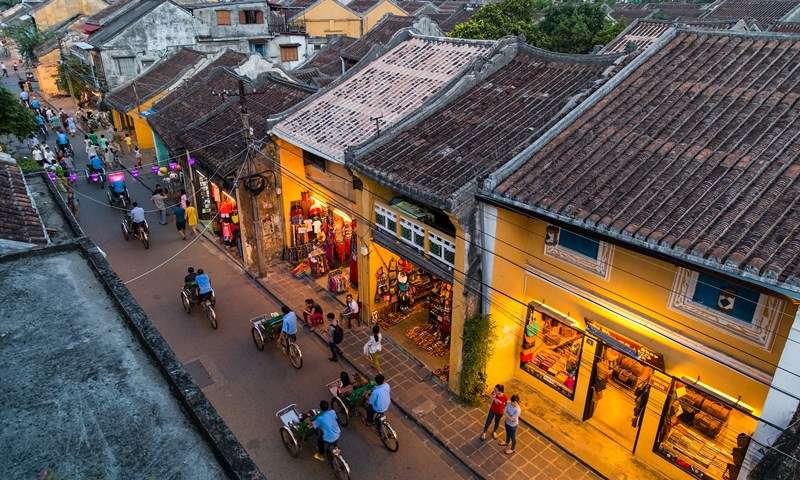 The travel to Da Nang wouldn't be completely fulfilled without a visit to the Hoi An Ancient Town. Located on Thu Bon River with the history of over 400 years, the Old Town is an exceptionally well-preserved image of an ancient Viet Nam with golden walls, ancient houses with tile roofs and brilliant paper flowers. Let's make a stop in Hoi An to inhale the peaceful atmosphere and slow pace of life in this small town.
Da Nang Package: Flight and Hotel combo
Da Nang flight + hotel package from Traveloka will make your trip not only easy as pie but also economical more than ever. With thousands of options for booking flights and hotels with the flexibility to custom schedules according to your individual needs, there is no need to worry about tight schedules as in traditional tours.
Da Nang travel guide – Discover the Fantasticity with recommendations by Traveloka
What to do in Da Nang is no longer a difficult question. A 5-day trip to discover this city to the fullest will be featured in details below. All you need to do is take note quickly, keep in mind and immediately book Da Nang tour package on Traveloka!
Da Nang 5-day itinerary
Day 1
After picking up your flight to Da Nang, you can head to your hotel for the check-in. If your room isn't ready, you can leave your luggage with them at the cloakroom until the check-in time and start your journey.
The first destination that you can pay a visit to as soon as you arrive is the My Khe Beach. Located on Pham Van Dong, it only takes a few minutes to reach the sandy beach of My Khe from any coastal hotels. If you are a big fan of water sports, do not forget to experience paragliding, surfing,…
It's up to you whether to have lunch at seafood restaurants along the beach or to continue to visit Con market to recharge yourself with a heaven of delicious, and inexpensive food. Indoor and outdoor areas are available offering specialties like Vietnamese seafood gumbo, grilled pork noodles, Quang noodles, snails, etc. The price ranges from VND 15,000 - 30,000 per serving so that you can spoil yourself without any worries of being broke.
In the afternoon, come to the Love Lock Bridge and the Dragon Carp Statue to behold the sunset on the river. When the night falls and the bridge is lightened up, it becomes the most beautiful moment of the day.
In the evening, you can wander around the city, enjoy some famous dishes such as signature Da Nang's pork spring roll at the Tran restaurant for example.
Tips:
It would be better if you take pictures in the Bridge of love locks in sunset and lightening night than in the morning.
The most beautiful moment to view the sea happens in the early morning when the fishing boats dock, fishermen draw up their net or at dusk when the sea surface is colored in orange yellow. Don's miss the opportunity to visit the sea at these times.
Day 2
How about running along the sea to Son Tra Peninsula - where Linh Ung Pagoda has a position of "mountains with sea view" to kick-start your day? After getting out of the pagoda, there will be an access to the tree of thousands of years ahead. Do not forget to go back up to the Chessboard Peak to get the panoramic view of the whole city.
Along the way back are there coastal seafood restaurants - ideal stops for lunch.
In the afternoon, you can roam at the Museum of Cham Sculpture. This place is keeping the artifacts of the Cham dynasty, and also the largest Cham culture museum in the country.
It must be the night time when it comes to visiting well-known bridges of Da Nang which have built up the reputation for this city. The Dragon Bridge and the Han River Bridge are lit up at night and worth a stroll to enjoy the fresh breeze.
Tips:
The Han River Bridge wings on its axis gently about 90 degrees from 1 a.m. - 4 a.m. on weekdays, 11 p.m. - 12 a.m. on weekends. This is a unique scene that Da Nang tourists should not miss.
The Dragon Bridge will spew fire at 9 p.m every weekends as well as festival days.
Day 3
On the third day, let's continue your Da Nang tour in Ba Na Hills – a heaven land with a cool climate as in Europe. Some famous attractions include Linh Ung Pagoda, mountain train, French Village, Fantasy Park,...and most recently the Golden Bridge with giant hands which seemingly lift it into the sky.
In the evening, after a day of exploring Ba Na Hills, you can visit the Asia Park to experience one of world's top five wheels to get the panoramic views of Da Nang by night. The park also has a large entertainment complex with international scale and standards that is well-suited for a group of friends or family.
Tips:
Ba Na Hills cable car is priced at VND 650,000 per person, including some games but excluding the Wax Museum.
You would better spend a whole day exploring Ba Na Hills to the fullest.
Day 4
After three days of exploring Da Nang, let's head to Hoi An ancient town. On the way to Hoi An, it would be a nice idea to visit the Marble Mountains.
In the afternoon, take a stroll around age-old houses, visit some restaurants and enjoy an array of dining choices such as Quang noodles, cao lau, chicken rice, etc.
Tips:
The most invested tourist attraction in the Marble Mountains is Thuy Son mountain. There are Linh Ung Pagoda and 10 meters high Buddha Statue, many spectacular caves such as Huyen Khong, Hoa Nghiem, Am Phu,...
Although the road is not too difficult to go through, you will have to travel by foot and climb quite a lot in the Marble Mountains. Therefore, let's bring comfortable clothes and sports shoes that allow for your flexibility in all your movements.
On the 14th of every lunar month, all the light is turned off and lanterns are lightened up instead. Many interesting folk games are also organized on this day. Don't miss any chance to visit the old town at this time.
Day 5
The ancient town is only 5 km from the An Bang beach which is ranked on the top 50 most beautiful beaches in the world. You can wake up early and ride a bicycle to the An Bang to enjoy the leisurely morning on the sea. If you do not go swimming in the sea, then lazily reading books or taking some pictures beside a palm tree are also some great experience worth a try.
From An Bang, it takes about 5 minutes to Tra Que Vegetable Village. This is an opportunity for you to experience self-cultivation and watering fresh vegetable beds.
You will return to Da Nang in the afternoon. Let's take advantage of the time to visit the East Sea Park before having dinner and head back to the airport.
Tips:
Let's have an early morning venture in Hoi An by riding a bicycle around the city to breathe in fresh air.
In the East Sea Park, at around 4 p.m, pigeons will be fed which is a beautiful scene to take pictures.
Based on this 5-day Da Nang travel plan, you can customize it to a 4-day trip or even 2-day getaway if your time is limited. Just book a Da Nang package on Traveloka including flight and hotel combo and all worries will be gone.