Hanoi - The antique and dynamic capital
Hanoi, Vietnam's capital, is one of the largest, crowded, and most bustling cities of the country.
With a 1000-year civilization, Hanoi is exceptionally rich in cultural, historical and traditional values with its own identity. The cultural beauty is nurtured and handed down through generations.
Today, Hanoi is usually remembered for its old quarter with 36 streets or the famous lemon tea - evidence of this city's dynamic pace of living. Young travelers, who love enjoying their freedom to explore things, always find interesting harmony between the ancient and the modern in this city. There have been the old streets with houses of beautiful roofs but more bustling than anywhere else. There has also been the Hoan Kiem lake which keeps the story of the establishment of a dynasty but now becomes a vibrant walking street - the most favorite spot in Hanoi every weekend.
This is not to mention that Hanoi is usually chosen as a stop for trips to surrounding destinations such as Tam Dao, Ha Long as well as northwestern provinces thanks to its central location in the Northern Viet Nam. Combining multiple destinations on one trip makes the journey to explore the beauty of the country further extended.
Hanoi is such an amazing destination which has both historical and cultural values combined with dynamic vibes and well-known irresistible cuisine; Hanoi always satisfied even the most difficult guests. Why don't book Traveloka's Hanoi package with flight tickets and hotels to fill your coming trips with incredible experience now?
Flights to Hanoi
Being a bustling metropolis, a flight to Hanoi is the most popular choice for travelers due to its convenience, speed, and variety of options available. Domestic airlines such as Vietnam Airlines, Jetstar and VietJet Air have flights from major cities to the capital with various time options.
It will take about an hour from the Noi Bai Airport to the city center when traveling by the most popular modes of transportation such of taxi, bus and shuttle bus (for those who do not carry much luggage).
Motorbikes are still the most preferred means of transportation by tourists in Hanoi. Most of Hanoi hotels have car rental services with prices ranging from VND 120,000 to 150,000/ day/ car.
Notably, when exploring the old town, you can experience cyclo or electric cars especially for visitors with reasonable charges yet exciting experience.
Hotels in Hanoi
Hanoi packages from Traveloka will offer you hundreds of hotels in Hanoi for your dream holiday in the age-old capital. The most favorite area for tourists is definitely the old quarter in Hoan Kiem District with the bustling vibe and full of local spots.
Besides that, Ba Dinh District is also a preferred area, which is surrounded by some most famous historical attractions such as Ba Dinh Square, Ho Chi Minh Mausoleum, One Pillar Pagoda, Imperial Citadel of Thang Long, Temple of Literature, etc.
And if you are looking for luxurious vacation experiences, Tay Ho District is the best choice. This is the area of 5-star hotels in Hanoi with the exquisite view by West Lake.
Things to do in Hanoi
As the capital of a thousand years as well as an economic and political center of the country, Hanoi is a convergence of historical beauty and modern vibes. Responding to the question "What are interesting things to do in Hanoi", there is a long list of historical-cultural relic sites – evidence to the development of the country as well as several tourist attractions surrounding Hanoi which are ideal for short trips.
Must-visit destinations for any visitors who first come to Hanoi: Hoan Kiem Lake, Ba Dinh Square, Uncle Ho Mausoleum, One Pillar Pagoda, Van Mieu - Quoc Tu Giam, Imperial Citadel of Thang Long and some architectural - cultural landmarks of the city such as the Opera House, St. Joseph's Cathedral.
Besides, new hotspots such as Ho Guom walking street, Tay Ta Xien street, 19/12 bookstores ... are becoming extraordinary places for young people to chill out and enjoy their relaxing time at the weekend.
Having a chance to visit Hanoi, you shouldn't miss an array of savory dishes of this city which possibly make your mouth watering by just hearing their names. A full-of-flavor tray of fried tofu with shrimp sauce noodle with a popular price, a "noodle house" with grilled pork noodles, duck noodles, snail rice noodles,… and of course the national dish – a bowl of smoking "pho" which you can eat forever.
Such a bunch of incredible things for the trip to this capital! If you are planning your next trips, how about choosing Traveloka's Hanoi package with a savings of up to 15% for hundreds of diverse options. Let's keep in mind these places that cannot be missed for the most fulfilling trip.
Hoan kiem Lake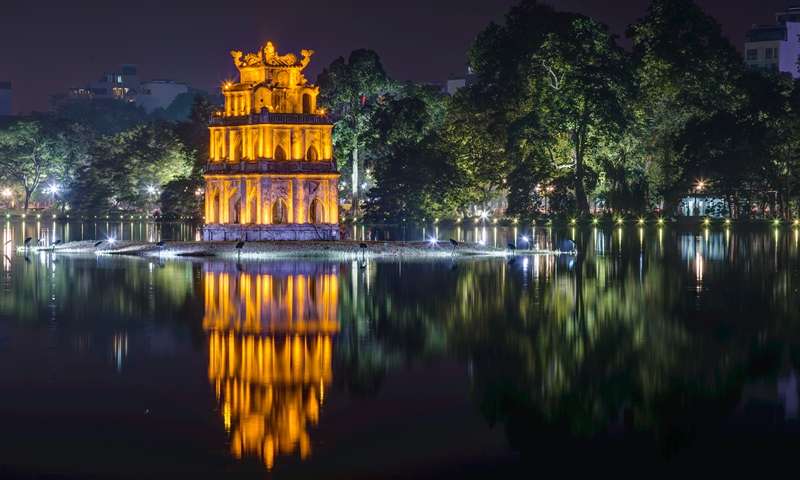 Lied in the heart of the city, Hoan Kiem Lake has witnessed all the ups and downs that the city have been through. In addition, it has been associated with a tale of giving the sword back in the Post Le Dynasty and became an important cultural and historical vestige of the capital.
It is surrounded by other attractions: Ngoc Son Temple, But Thap Pagoda, The Huc Bridge, etc.
Hanoi old quarter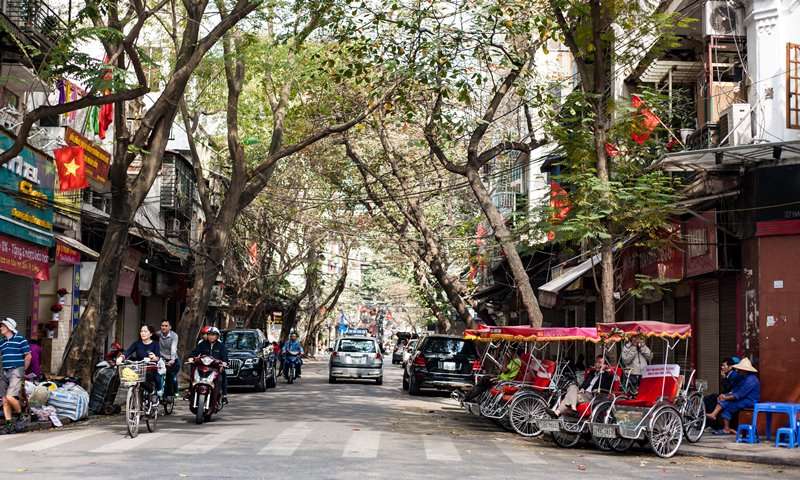 The so-called "Hanoi 36 streets" is packed with handicraft and trading activities outside the imperial city. Each street is named after the characterized product of that street. Today, the image of a few hundred years ago with moss walls, low roofs, and narrow alleys are still well preserved at these old streets.
Some must-visit places in the old streets when traveling to Hanoi for the first time are the Ma May ancient house, O Quan Chuong, Bach Ma Temple, etc. For food lovers, the old streets offer a wide range of irresistible dishes of Hanoi specialties such as coffee egg, snail rice noodle, vermicelli/ noodle with fried tofu & shrimp paste, etc.
Ba Dinh Square – Ho Chi Minh Mausoleum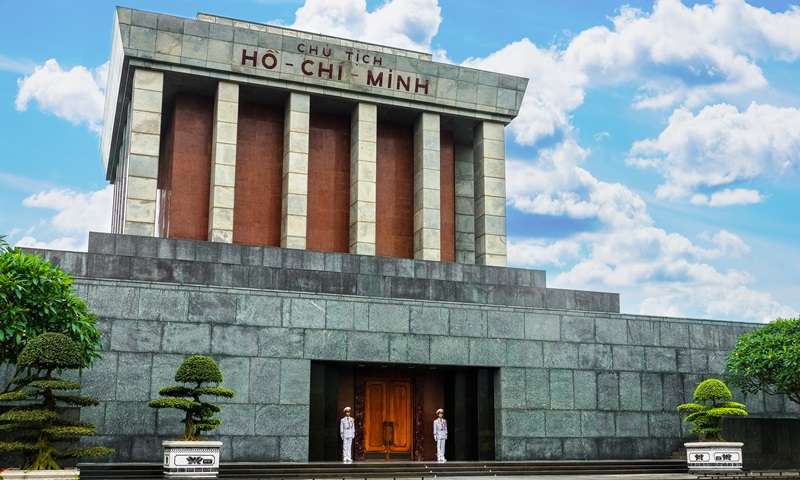 Ba Dinh Square witnessed the most important historic moment of the country - President Ho Chi Minh read the Declaration of Independence on September 2, 1945, announcing the birth of the Democratic Republic of Vietnam. Ho Chi Minh mausoleum is now located in the center of Ba Dinh Square. Many major events of the capital are also organized here.
One Pillar Pagoda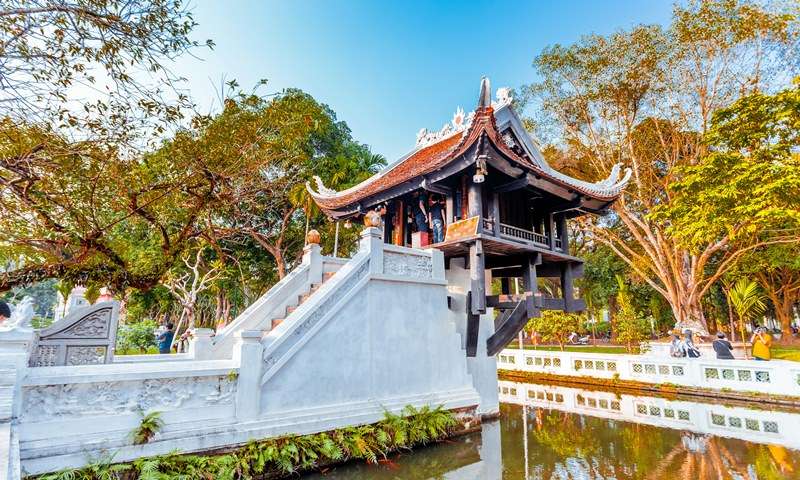 Built early in the Ly dynasty, One Pillar Pagoda has a unique architecture which looks like a lotus upright from the water. The temple of Buddha Quan Yin, now has become one of the symbols of Hanoi.
Temple of Literature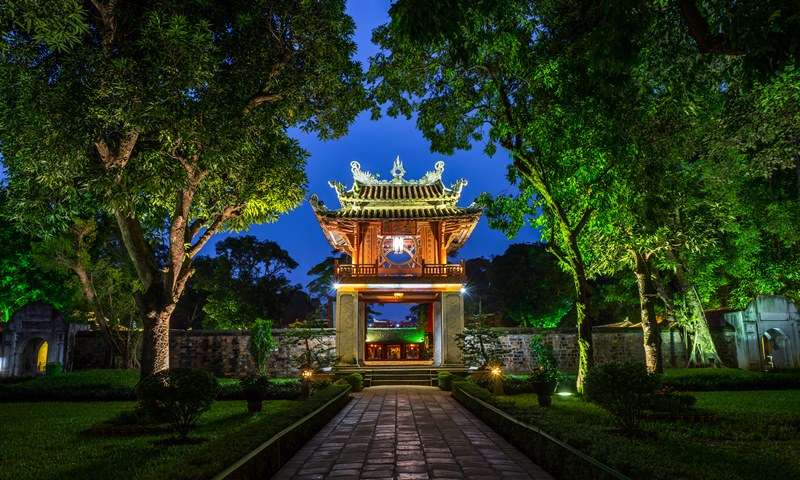 Also built in the Ly dynasty, Temple of Literature is a combination of two works representing the cultural development of the country. Temple of Literature is a place of worshiping honored philosophers. Quoc Tu Giam was the first university in our country. It was initially built as the school for kings and then extended to all talents in the country. Today, Temple of Literature still holds a spiritual significance to each generation of students and educators before every major exam.
Hanoi Package – Flight and Hotel combo
How about choosing a Hanoi flight + hotel package for a self-sufficient travel to this city without any worries? With hundreds of options for flight times, tickets and hotels in Hanoi, travelers can now book this affordable package to be provided with these two most essential demands. Such an amazing experience when planning your own schedule yet enjoying a preferential price as of any other traditional tours!
Hanoi travel guide - Perfect itinerary from Traveloka
"What to do in Hanoi?" – Countless!
If you are still wondering how to explore this city to the fullest, let's refer to our recommendations for a 5-day getaway. We ensure that all the places from the must-visit sites to the latest tourist attractions will be updated in detail. All you need is booking the Hanoi package with ready flight tickets and hotels for your trips.
Hanoi itinerary: 5 days exploring the amazing capital
Day 1
To save time, you should choose early flights in the morning to have more time for your travel. After getting your baggage checked and completing all the procedures at the hotel in Hanoi, now you can start your trip.
The first place to come is the Ba Dinh Square and the Ho Chi Minh Mausoleum. This area is quite large and connected to the One Pillar Pagoda so it will take you a whole morning visiting here.
In the afternoon, make a tour of local historical sites of the capital in Thang Long Imperial Citadel and Temple of Literature.
At night, let's wrap up your first day with a smoking bowl of "Pho", good heaven!
Tips:
Since these are all historical relics, you should pay attention to the operation hours to arrange the most suitable time for sightseeing. The mausoleum will be closed on Friday and Monday; The Thang Long Imperial Citadel will be closed on Monday; the exact opening time depends on each location.
Most famous places for "Pho" in Hanoi are Pho Thin (13 Lo Duc), Bat Dan (49 Bat Dan), 01 Hang Trong.
Day 2
After a day of experiencing local history, it would be better if you spend the second day on discovering the Old quarters. Kick start your morning venture at a café in a small alley, watching the people pass by.
Afterward, you can take a walk around the Hoan Kiem Lake, leisurely visit 36 ​​streets and take time to buy some souvenirs at Dong Xuan Market.
Do not skip the St. Joseph's Cathedral - the hotspot of various well-known street foods in the Old Town; and the Opera House – the art center emulating the Opera Garnier (Paris).
In the afternoon, let's pay a visit to the Thang Long Water Puppet Theater to enjoy one of the traditional arts of Vietnam.
Night time is when you feel the dynamic vibes of the Old Quarter at 19/12 book street and the Hoan Kiem walking street. There are many interesting activities such as street art performance, folk games and, of course, tasty dishes.
Tips:
The Thang Long Water Puppet Theater has 4 shows per day, starting at 16:10 and the last show starts at 20:00. Each show lasts in one hour.
The book street opens daily, operating from 08:00 to 22:00 so you can take a sightseeing tour before enjoying the nearby pedestrian zone.
The pedestrian zone only operates at the weekend, from 19:00 – 24:00 Friday to Sunday
Day 3
So you have traveled through several top tourist destinations in Hanoi. For the third day, let's go a little far away to visit the ancient village of Duong Lam to understand more about the lifestyle of the ancient North citizens.
After enjoying a countryside meal, go back to Hanoi and visit the West Lake - the largest and the second most favorite lake in the capital. There are multiple historical relics around the lake such as ancient villages, temples with the age of several hundred years. Some attractions here include Tran Quoc Pagoda, Tay Ho Pagoda, ancient village of Nghi Tam, Ke Bui village ...
At night, you can visit Vincom Megamall to come to see the Vincom Center for Contemporary Art (VCCA) - the most popular amusement park in Hanoi with its "art" space, bringing new insights into contemporary art to citizens.
Tips:
Hire a bicycle to take a tour around the ancient village of Duong Lam to inhale its peaceful atmosphere.
Exhibition theme at VCCA will be changed every 3 months. You can refer to information on the official website of the center.
Day 4
It's enough in the bustling city, so why not having a day getaway to enjoy a clean, cool climate in Tam Dao – a nice place nearby Hanoi
Must-visit tourist attractions when visiting Tam Dao in one day include Ba Chua Thuong Ngan Temple, TV Tower, Old Church, Silver Waterfall ...
Tam Dao specialties that should be given a try such as chayote, boiled bamboo sprout with sesame, pork, hill chicken, stream goby + sturgeon
Tips:
Tam Dao weather is cool all year round so do not forget to bring a warm jacket.
You can travel to Tam Dao from Hanoi by motorbike or bus and easily relax within a day.
Day 5
On the 5th day in Hanoi, kick off your morning venture in Hanoi early to save time to discover the most famous traditional village: Bat Trang pottery village
At Bat Trang, you can experience making pottery by yourself and taking a stroll around the ceramic market to buy some souvenirs.
In the last afternoon, why not unwinding in the Old town, serving yourself some savory dishes to say goodbye to this memorable 5-day-4 night journey in Hanoi.
Tips:
There are two main modes of transportation to get to Bat Trang: bus and motorbike.
It would be an endless story when talking about traveling in Hanoi. However, this 5-day-4-night schedule has significantly covered some of the most famous places in the capital. Book the Traveloka's Hanoi package with flight tickets and hotel in one combo, your trip is half completed!