Travel to Saigon – The sleepless city
Ho Chi Minh City, normally known as Saigon, is the Pearl of The Far East, the biggest, and the busiest city of the country.
People named the city differently; each name represents the city's strikingly different colors and personalities. If "sleepless city" refers to its youthfulness, and busyness days and nights, the "Pearl of the Far East" recalls the nostalgic Saigon, a unique city where East meets West.
Once in Saigon, you can lose yourself in skyscrapers but do not miss the opportunity to pass by some thirty-something-year-old tenements. Despite all ups and downs, there stands many historical relics namely Ben Thanh market, Independence Palace, Saigon Notre-Dame Cathedral besides those newly established destinations such as Nguyen Hue walking street, contemporary art galleries, and many unique cafés where you enjoy the modern lifestyle of Saigon's youngsters.
Even gourmets will also be pleased with a long list of Saigon's famous specialties namely broken rice, rice noodles, banh mi, snails, or youth's favorite snacks, for instance, "pha lau" (stewed organ meats), mixed rice paper, and crab soup.
Can't resist? Let's book a hotel in Ho Chi Minh City and start the adventure!
Flights to Saigon
Located in the biggest city of Vietnam, Tan Son Nhat international airport is also the busiest airport. There are hundreds flight options with varied date, time and airlines for you. The most common ones are flights from Hanoi to Ho Chi Minh City and flights from Da Nang to Ho Chi Minh City.
Tan Son Nhat is a rare airport locating near the city center. It takes only 30 minutes from there to District 1 center. After a flight to Ho Chi Minh City, visitors can choose either caps (approximately VND 200,000/ trip) or airport buses (from VND 7,000 to 40,000 per ticket).
To wander around the city, motorbikes are most convenient. Every hotel there has contacts to motorbike renting services, which is super easy at VND 120,000 to 200,000 per day.
Other possible transportation would be taxi, buses and particularly, cyclos which is mainly used for tourists in District 1 center.
Hotels in Ho Chi Minh City
When choosing a hotel in Ho Chi Minh City, tourists often prefer the city center because of the busy vibe and a wide variety of attractions, places to eat and do. District 1 is definitely on top of the list with the main area are Nguyen Trai Street and Bui Vien Street.
The second best option is nearby districts such as District 3, District 5, Phu Nhuan District. These areas will offer you some good deals for budget hotels in Saigon which are not far from the city center.
For those who are looking for a quiet getaway in the middle of an urban city, let's look for hotels in District 2 and District 7. These places are loved by expats and affluent locals with newly built apartments, cafes, restaurants, and a different vibe of Saigon.
What makes you never bored in Saigon?
It takes forever to talk about places to hang out in Saigon. People normally call it "manifold Saigon" as it can satisfy the need of both visitors and its own young citizens.
If you want to know why this 300-year old city can be the country's busiest city, visit Saigon's cultural – historic destinations, on top of which is Ben Thanh Market. In addition, it is such a big mistake not to stop by a system of museums including War Remnants Museum, City Museum and Fine Art Museum.
"Where there is a good land, the birds will perch", Saigon is home to people from all over places which creates diverse culture. There is a big China Town taking up a large area of District 5, District 6 and District 10; there is also a busy Cambodia town in District 10 where Khmer live for generations; and District 2 and District 7 where foreigners get together and work.
Saigon offers new excitement every day. Check out Nguyen Van Binh book street, Nguyen Hue walking street, Bui Vien Western street, and other weekend destinations like Saigon Outcast, The Factory Contemporary Art Centre or shopping malls.
Last but not least, your experience will be uncompleted without Saigon's one of the kind culinary. Broken rice, banh mi, rice noodles, pho bo, snails, and even street snacks never stop luring. Diverse and harmonized dishes with many specialties are so divine that they can please even the hardest gourmets.
Can't wait? Book Ho Chi Minh package on Traveloka right now so your flight tickets and accommodation will be ready to board! Do not forget to check in these 5 destinations in Saigon or you will regret!
Ben Thanh Market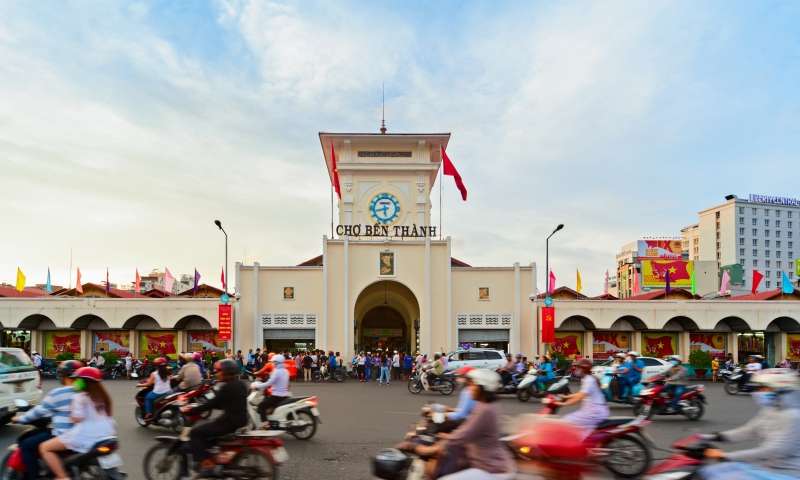 Ben Thanh Market is the symbol and a historical witness of Saigon and its continual progress. It opens days and nights with all sorts of goods that tourists love from food, fabric to souvenirs.
The Independence Palace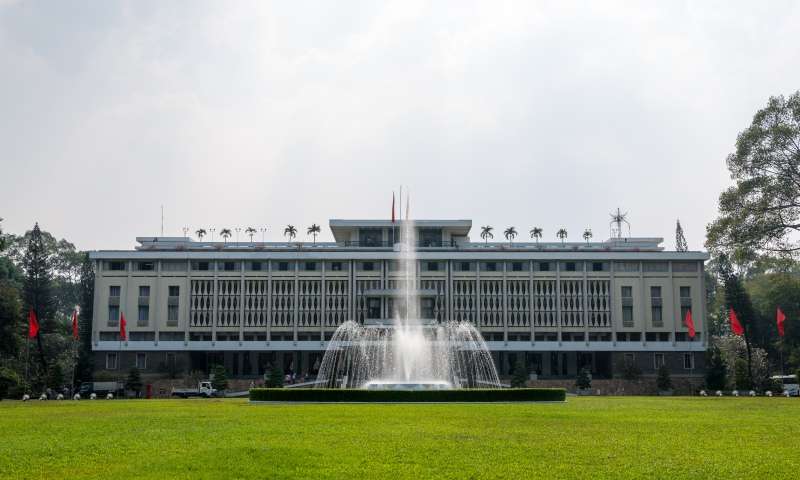 When listing Saigon tourist attractions, Independence Palace will always be at the top. Before 1975, the Palace was working office of Governors-General of French Indochina and Former Republic of Vietnam's President Ngo Dinh Diem. At the present, the Palace is a vital historical relic and a typical 1960s' architectural work of art.
Saigon Notre-Dame Cathedral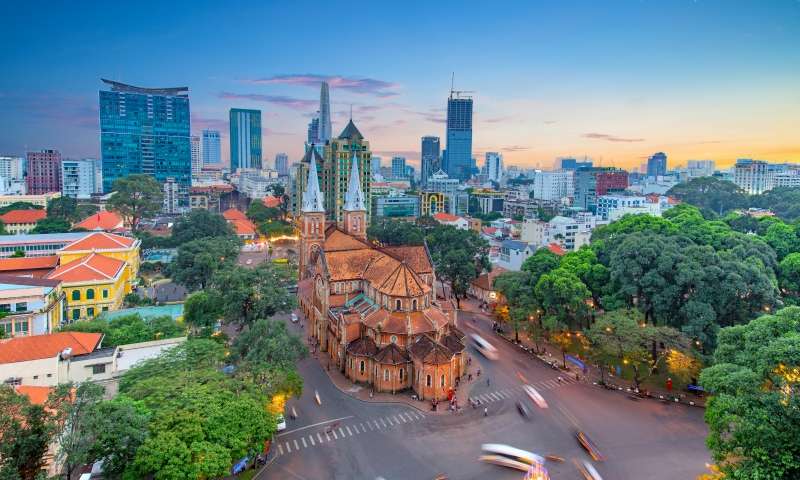 Constructed at the end of XVII century, Saigon Notre-Dame Cathedral clearly proved French's influence on Saigon. Despite many other cathedrals and churches, this red-roof cathedral with 2 huge bell towers and peaceful Notre-Dame Park is still a long-standing symbol of Saigon.
Nguyen Hue Walking street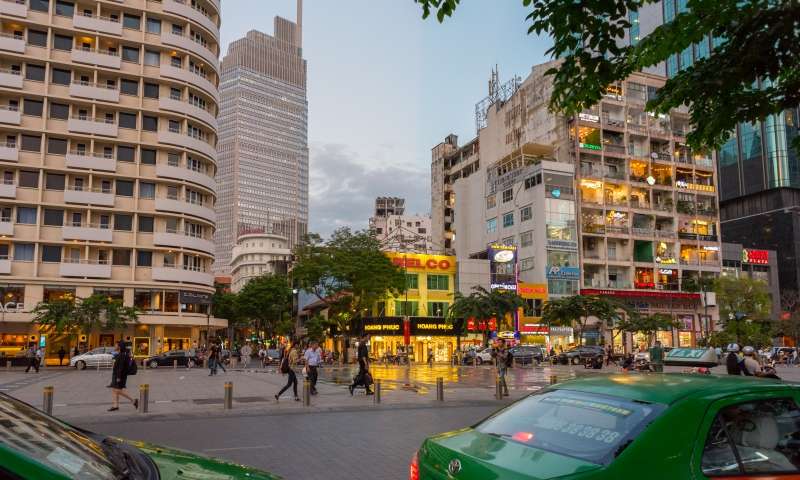 Located right in front of Ho Chi Minh City People's Committee, Nguyen Hue walking street is the most crowded evening dating point. Along the two big streets are a number of restaurants, cafes, and other "hot" entertainment hubs. More interestingly, Nguyen Hue street also gathers many street performers. Big events are usually organized here as well.
Bui Vien Western Street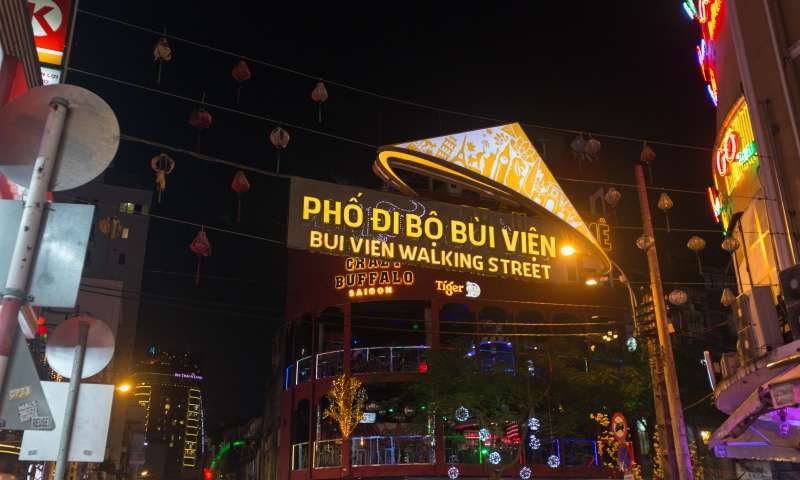 If you want to experience sleepless nights in Saigon, come by Bùi Viện street. On the main street Bui Vien and other small streets, there are many pubs side by side cafes with tiny tables and stools – so ideal for some night chit chat with friends. One small note is that the street now bans cars and is turned into walking street serving tourists and Saigon citizens.
Bitexco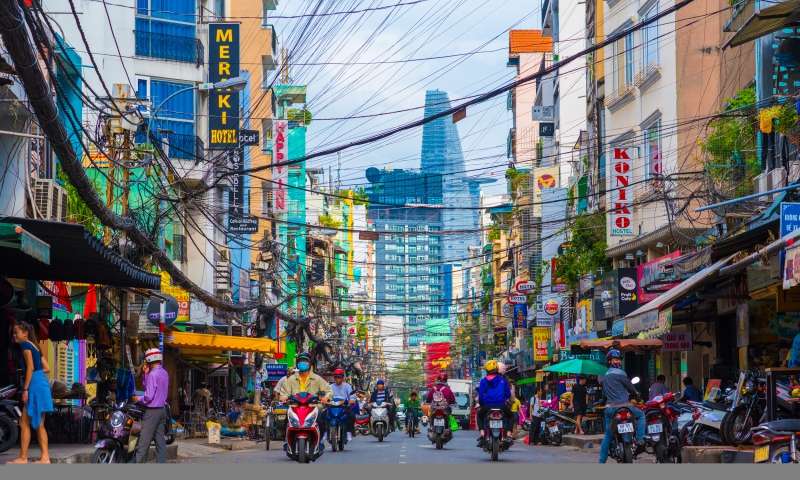 Inspired by lotus – Vietnam's national flower, Betixco is the symbolic skyscraper in Saigon. Besides the busy shopping mall, Skydeck at 49th floor is a place for tourists to capture the whole city from above.
Ho Chi Minh City Package: Flight and Hotel combo
A thrilling trip full of surprises to Saigon is not at all out of reach with Traveloka. Only one booking and your flight + hotel are in your hand with discount up to 15%. What can be more awesome than picking your most favored date, time, airlines, and hotel that match the tour.
Ho Chi Minh City travel guide: Perfect itinerary from Traveloka
What to do in Saigon? How long is enough? Which food must I try? All these questions will be answered right below with a 5-day travel guide in Saigon. Nothing much to worry or consider, you only need this Traveloka's handbook and book Ho Chi Minh package and you can start your journey.
Ho Chi Minh City 5-day itinerary
| Day | Destination |
| --- | --- |
| Day 1 | Discover District 1: Independence Palace, Notre-Dame Cathedral, Nguyen Van Binh Book street, City Post office, Turtle Lake, Nguyen Hue Walking street. |
| Day 2 | War Remnants Museum, City Museum and District 2: The Factory Contemporary Art Centre, Saigon Outcast |
| Day 3 | Big Market (Binh Tay Market) Area: Ba Thien Hau Pagoda, Hao Si Phuong old alley, Ben Thanh Market, Bui Vien Western street. |
| Day 4 | Cu Chi tunnel, shopping malls: Takashimaya (Saigon Center), Landmark 81 |
| Day 5 | Bitexco Skydeck, café apartment in District 1 |
Day 1
Book budget air tickets to Saigon, you will land at Tan Son Nhat Airport and reach the city center in 30 minutes. After dropping off your luggage or checking in hotel, you can now start your adventure around District 1.
In the morning, tour around Cong Xa Paris Area where Notre-Dame Cathedral, City Post Office and Nguyen Van Binh book street are located.
From Notre-Dame Cathedral, go along Pham Ngoc Thach and you can reach Turtle Lake – one of street food hot spots for youngsters.
Before 4 p.m., spare some time to visit The Independence Palace, it is only several hundred meters walking.
In the evening, no need to get out of District 1, head yourself to Nguyen Hue Walking street and enjoy the busy atmosphere here. Among small streets near Nguyen Hue Street, there are tons of famous street café await.
Tips:
Notre-Dame Cathedral is under reparation and only opens for church services. However, tourists can take picture of Mother in the Park in front of the Cathedral.
Do not forget to stop by some used-book shops on Nguyen Van Binh street. Who knows, you can find your long- wanted book at good price.
Day 2
Why not starting Day 2 with a tour to War Remnants Museum and Ho Chi Minh City Museum?
In the afternoon, you can visit District 2 and explore some of Saigon youngsters' hot destinations. If you fancy art, The Factory Contemporary Art Centre is ideal for you. And if you are looking for an exciting place to make new friends, check out Saigon Outcast.
In the evening, you can end your day at a café or a restaurant in District 2 and explore a western menu in middle of Saigon. Cool space in Thao Dien, Xuan Thuy like Kokois, La Bettola Saigon, Sadec District 2 will be perfect answer for the question: "What to do in District 2".
Day 3
A backpacking tour in Saigon will obviously starts by wandering around Chinatown - the area of District 5, 6, 10, and 11. It only takes 20-30 minutes from the city center to this area and experience a different age-old culture of Saigon Chinese. Places that offer you both thrilling story and stunning "virtual living" photos are Ba Thien Hau Pagoda, Hao Si Phuong alley, etc.
At lunch time, stop by an old food shop and enjoy typical Chinese food like Ha Ton Quyen dumpling, Quang Ky satay rice noodles, Ca Can rice noodles, Tran Quang Ky black pepper roasted duck, etc.
When your stomach is filled, you can get back to District 1 and explore Ben Thanh Market. This is an ideal place to buy craft products or some sugared fruit as gifts back home.
Sun down and street lights on, the fun will begin in Bui Vien Western street. Pick a vendor on the street, sit on small plastic chair and nibble some street food.
Tips:
Chinatown area is perfect for "virtual living" photos with retro Saigon style.
Ben Thanh night market opens at 7 p.m. During the afternoon, you can visit an apartment café around the area and have some leisure time in the busy District 1.
Day 4
Wander around the city quite enough, today let's go a bit further to Cu Chi Tunnel – the base of the district commissioner and the military zone of Saigon - Cho Lon – Gia Dinh. Places you can not miss are Cu Chi underground tunnels, stimulation area, sport defense shooting area, and animal rescue area.
Enjoy the ordinary lunch with local people with some Cu Chi - Saigon specialties such as Cu Chi beef, pork knuckle noodles, steamed cassava, sugarcane-durian juice.
In the afternoon, after getting back to the city center, you can spend the night in shopping malls. Takashimaya – Saigon Center, Vincom or newly opened Landmark 81 all display world most famous brands, collections and menu.
Tips:
Cu Chi is 70 km away from Saigon, you can drive motorbike, take a bus or book a 1-day tour in Cu Chi.
Some famous brands especially of fashion may only have their showrooms in some certain malls, make sure you search information in advance.
Day 5
This is already the last day of the tour in Ho Chi Minh City, do not miss the opportunity to view the whole city at Bitexco Skydeck.
If you have spare time, you can drop by an café apartment right in District 1. This is a new café culture which Saigon youngsters love. Some best cafe apartment blocks in Saigon are 42 Nguyen Hue, 14 Ton That Dam, and 26 Ly Tu Trong.
Saigon to-explore-list will never end, but this Saigon 5-day travel guide has taken you through most outstanding ones. If you do not have much time, you can shorten the trip with your own itinerary. The most important note is with Traveloka's Ho Chi Minh City package – flight and hotel combo, your trip is half completed.