Home to the magnificent Chocolate Hills and some of the world's best diving spots, Bohol is easily one of the most visited islands in the Philippines. People from all over the world have visited the Central Visayas province for various reasons. Whether it be for the food, the idyllic beaches, the friendly locals, or to catch a glimpse of the tiny monkeys -- it is quite easy to understand why people keep coming back. The island is just breathtaking from every angle, a claim that can and will be backed up by any tourist or local.
Why book a Bohol Villa?
Since an overnighter is not enough to experience the wonders of Bohol, you're bound to stay for more than just the weekend. Bohol Villas are the smarter and more comfortable option for longer trips. The ample space beyond just the bedroom will be a welcome luxury especially for bigger groups. More than just eliminating the hassle of having to book multiple rooms, villas give guests the opportunity to bond more. In addition to being cheaper to book as a group, having a private kitchen for cooking is also a money-saving trick as the expenses from eating out can easily add up during trips. Arranging transportation and figuring out logistics is also made easier when everyone is all in one place.
Types of Villas
Bohol is no stranger to tourists and guests, which means many international chains have sprouted around the island offering all kinds of accommodation types. Here are some options to consider: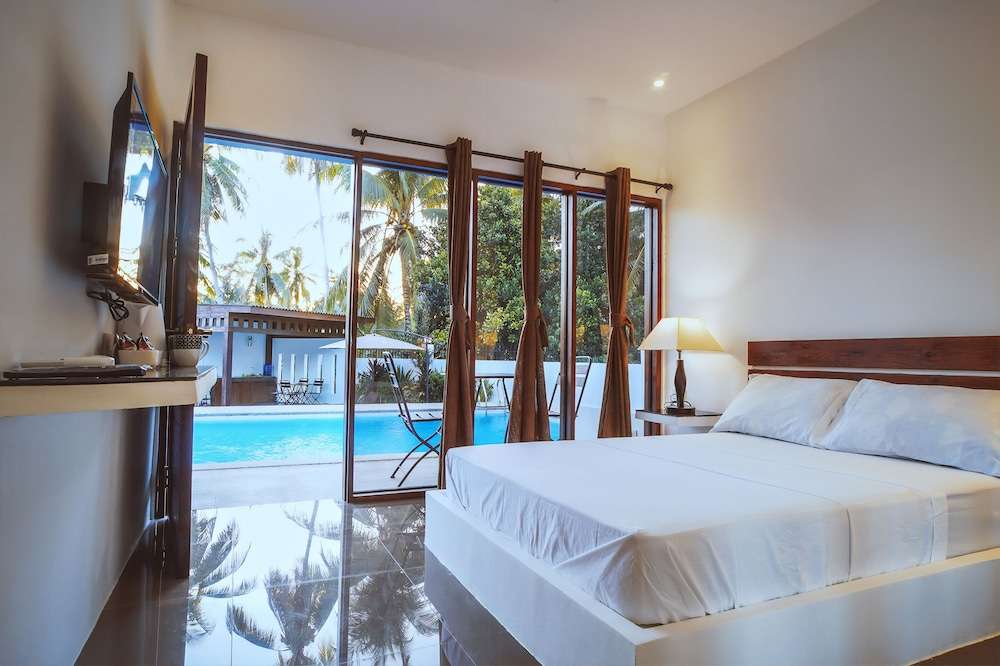 Beachfront Villa - Beachfront Villas are one of the most popular choices and luxurious options on the island. Guests who stay in these villas are treated to unobstructed views of the waters and are constantly just steps away from the cool waters. Beachfront villas are particularly popular for couples and honeymooners as the view will add a romantic touch to the trip.
Family Villa - If you're a big group, family villas will offer the space that you need. These accommodation types often come with multiple rooms and large living spaces, both indoors and outdoors.
Destination Attractions & Activities
There's no pinpointing what exactly there is to do in Bohol, with the amount of things to do and see, you could easily fill a week worth of adventures composed of diving, sight-seeing, and food binging. If you have only a couple of days, however, here are some things you can't miss:
Catch a glimpse of the Chocolate Hills - The Chocolate Hills are practically synonymous to Bohol, so there's not skipping out on this activity. The hills, which seem to go on as far as the eye can see, can be appreciated from every angle whether from the high viewing deck or if you decide to go on a hike. If you want to see the hills in its chocolate-brown glory, it's best to visit during the dry season.
Go on an underwater adventure - Bohol's rich marine life is probably one of the main reasons you see so many repeat visitors. You can swim amongst schools of fish, and if you're lucky even sea turtles. Tours usually include trips to Balicasag for the best snorkeling views.
Watch the sunset from Panglao Beach - With clear skies and just the right weather conditions, Panglao Beach is the best spot to catch the sunset. The area is typically quiet and dotted with towering palm trees -- a recipe for the perfect afternoon.
How to get around
All major airlines in the Philippines offer flights from Metro Manila to Bohol. Flight time is about an hour and 15 minutes. One of the best ways to explore Bohol is by renting a motorcycle. This gives you the freedom to explore in your own times and discover hidden gems. There are also tricycles all around the island, which are usually available to take you to tourist spots.