Not many know that the Taguig we know of today was once a sleepy town dedicated to agriculture and in a more recent note, a multi-hectare military base with vast empty fields. It is hard to believe that just a little over a decade ago, what's now known as Bonifacio Global City (BGC) , had just a handful of restaurants and only two residential buildings. It seems Taguig has evolved in just a blink of an eye. Now home to modern skyscrapers, high-end condominiums, and hundreds of restaurants left and right — Taguig has easily become the place to be.
Why book an Apartment
If you plan on staying in Taguig, especially in BGC, hotel prices will definately be steeper compared to other cities. So if you're looking for value for money, an apartment is your best bet. With an apartment you'll have more space and room to stretch your legs, a crucial aspect to consider if you decide to stay for more than just a couple of days.
Taguig Apartments also come in various sizes and configurations, which means you'll have multiple options to choose from. Most serviced apartments in the city are located within walking distance from commercial areas, which means you don't have to spend on your commute.
Types of Apartments
When deciding on an apartment to book, you'll have a few things to consider. How much space do you need? Who are you traveling with? If you haven't decided on your apartment of choice just yet, here are some options to consider: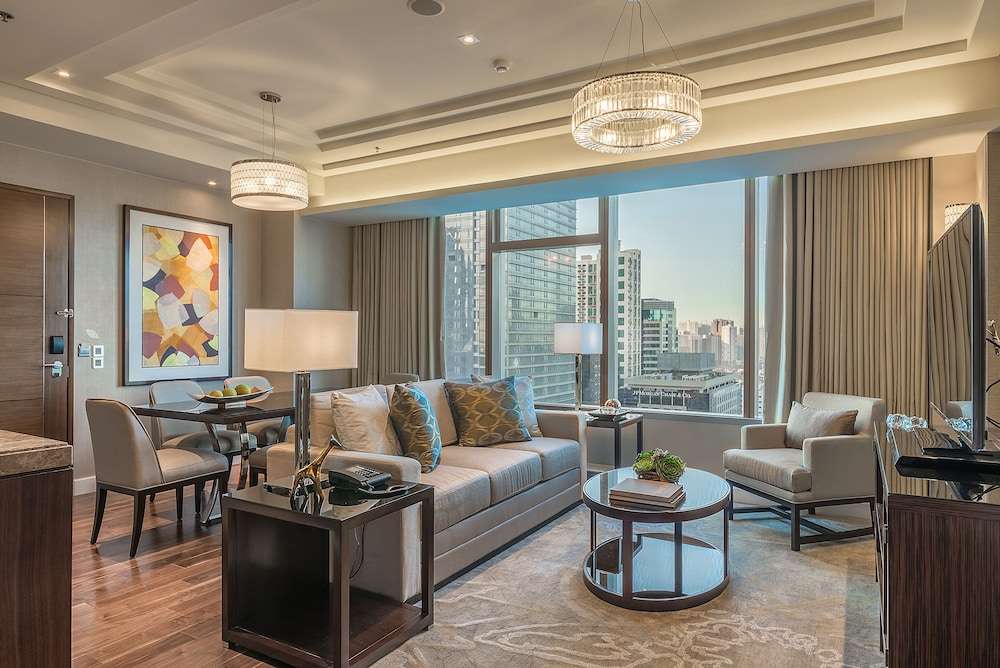 Apartment with view - If you decide to stay in BGC, one of the most amazing features an apartment could offer would be either a view of the Manila Golf greens or if you're in a high floor, an overlooking view of the streets below. Consider this apartment if you're staying with someone special.
Apartment with kitchen - One of the advantages of staying in an apartment is having the option to cook your own meals. If you're staying for more than just a weekend, it's a great idea to consider cooking instead of dining out for every meal. Taguig's restaurants are generally on the more expensive side so being able to cook could save you a lot of money.
Destination Attraction & Activities
Ever since the rise of a single building, Taguig's growth never seemed to stop. There seems to be a new restaurant, bar, shop, or building every other day so you best believe that your days will be filled with things to do. Here's a short rundown of things to do while in Taguig:
Eat your way across the city - One of the most difficult questions you will have to make during your stay in Taguig is deciding where to eat. There are just so many must-tries from local favorites to international chains. So, to ease your burdens, you might as well try everything that you can. A great place to start would be the popular food market, Mercato and work your way down to its neighboring establishments.
Visit the American Cemetery - Before Taguig city was dotted with skyscrapers, the manicured lawns of the American Cemetery stood as a solemn memorial dedicated to those who died during the Battle of the Philippines. Visit for a little dose of history and for a break from the noise of the city.
Join a game of pick up football - The BGC turf plays host to football games daily. While these are planned by different organisations, most of them welcome walk-ins. If you are a first-timer, you can also join basic lessons which usually happen on weekends.
How to get around
Because Taguig is considered a major business district, you won't find a shortage of taxis and ride-sharing services around the area. If you're located within the BGC area, the BGC bus has multiple terminals located on major streets.