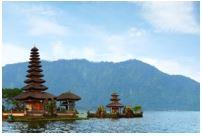 Bohol is a province of the Philippines, in the country's Central Visayas region. It boasts breathtaking sights, old and historic churches, white sandy beaches, world-class beach resorts, diverse underwater treasures and marine life, and other man-made and natural wonders. In the center of the island, the tourists will find the epicenter of nature fun with ziplining, waterfall climbing, cave exploring, and river cruising. It takes around 2.5 hours of flying time to travel from Zamboanga to Bohol. This will differ based on the airlines and routes taken as well. Considering Traveloka offers various airline options such as Philippine Airlines, Cebu Pacific, AirAsia, Emirates, and more, you have plenty to choose from. Some of the best attractions there are in Bohol such as Hinagdanan Cave, Loboc Church, and Loboc Ecotourism Adventure Park.
When is the best time to fly from Zamboanga to Bohol?
Bohol is generally warm throughout the year, but there is a certain period of the year that is good enough to do both outdoor and/or indoor activities. The usual period where Bohol is open for visiting is from late January to late April. This will be the optimum period to go on a holiday here in Bohol. The temperature will usually vary from 23°C to 33°C and is rarely below 21°C or above 35°C. Maybe to get the best time where you are not at the peak of the holiday season in Bohol, you can plan a travel to Bohol close to the end of January or April, just before the holiday peak starts.
Operating airlines available in Traveloka Lifestyle SuperApp including both domestic and international carriers. Such airlines include Philippine Airlines, Jetstar, Scoot, Singapore Airlines, Cebu Pacific, Qatar Airways, China Airlines, Malaysia Airlines, and many more. For further information in regards to travel safety during the pandemic can be referred to Traveloka's travel requirements and guidelines during COVID-19.
What are the main airports available in Bohol?
Tagbilaran Airport (TAG)
Tagbilaran Airport is the main airport operating in Bohol. It is 55 km away from Bohol. The trip via car or any public land transportation will take around 1 hour 15 minutes from the airport to the main city. The traveling time will only differ depending on the traffic condition at the time of the travel. Some of the airport facilities you can find at the Tagbilaran Airport include check-in facilities, free wi-fi, duty-free outlets, restaurants, ATMs, baggage storage, and a lost & found center.
Highlights in Bohol.
Hinagdanan Cave - Hinagdanan Cave is famously known for its beauty as well as it is easily accessible from the Chocolate Hills and is a waterfall destination in the province. It features a pool of clear water at the bottom where the visitors can swim here under the mesmerizing sight of stalactites and stalagmites. There are also souvenir shops available right outside the cave. It will be a great loss to miss a visit to Hinagdanan Cave. Hinagdanan Cave is 63 km away from Bohol and 10 km from the main airport. It will take roughly 1 hour 30 minutes to drive from Bohol to the Hinagdanan Cave and around 20 minutes from the airport. Hinagdanan Cave opens daily from 7.30 am to 4.00 pm to visit with an entrance fee of PHP50.
Loboc Church - Loboc Church, or also known as the Church of San Pedro is the second oldest church in Bohol. It was originally built in 1602, then rebuilt in 1638, and has weathered and survived numerous floods since then. The bell tower is approximately 100 meters away and a three-story convent is also attached to the church. It will be a great loss to miss a visit to Loboc Church. Loboc Church is 42 km away from Bohol and 26 km from the main airport. It will take roughly 55 minutes to drive from Bohol to the Loboc Church and around 40 minutes from the airport. Loboc Church opens all day to visit with no entrance fee.
Loboc Ecotourism Adventure Park - Loboc Ecotourism Adventure Park is a perfect place for those who like heights, nature, and adrenaline. Located near the Chocolate Hills, it offers a day full of fun with its exhilarating zipline course. It takes the visitors over the jungle, the river, and even gives a view of the Chocolate Hills. It will be a great loss to miss a visit to Loboc Ecotourism Adventure Park. Loboc Ecotourism Adventure Park is 39 km away from Bohol and 30 km from the main airport. It will take roughly 55 minutes to drive from Bohol to the Loboc Ecotourism Adventure Park and around 45 minutes from the airport. Loboc Ecotourism Adventure Park opens daily from 8.30 am to 5.30 pm to visit with an entrance fee of PHP400.
Travel tips to Bohol.
Be Flexible with Your Travel Plans
Planning is a good way to go traveling, be it domestically or internationally, but don't disregard the fact that things can and most likely would not go as planned. This could either be due to suddenly the activity you want to do being unavailable or if more logistical issues force you to think of other ways to do things. Keep in mind that planning is a good base, but when you are traveling and there are a lot of external factors involved, it will be a different kind of adventure.
Bring Extra ATM & Credit Cards During Your Travel
There is a saying that doesn't keep all your money with you when you travel, but that doesn't mean you should not bring extra money at all. Keep extra credit and atm cards with you when you travel. This will help greatly when things go south and believe me, it probably will. Keeping cards instead of cash with your person is better and safer.
Learn Few Local Words to Blend In
This will come in handy when you are traveling to a place where English is not their first, second, or only language at all. It is best to learn some local words that can help you through the trip, especially in terms of direction, transportation, medical, and such. Plus, it will open a ton of network opportunities with the locals to be able to be among them. You will be able to make friends and discover some hidden gems you never thought you would find.
How to Book with Traveloka Lifestyle SuperApp
Traveloka Lifestyle SuperApp is the leading lifestyle SuperApp in Southeast Asia with over 100,000 flight routes offered and more than 100,000 hotels across the map. Traveloka gives you the best of both services, right from your fingertips. Traveloka Lifestyle SuperApp gives you the convenience you need when you are doing your flight search and flight booking. We always keep our user experience in mind when we build the mobile application system to ensure every user has a great experience using it.
Booking might be hard on certain online travel agency platforms, but Traveloka has its ways of making it easy for customers to book their flights.
Search your flight
From either the mobile app or the desktop, you will be able to easily search for your flights by filtering the necessary information such as travel date, trip type for either one-way or return, etc.
Choose and Book a flight
You will be given information about the airline name, flight schedule, and ticket price once you arrived at the flight search results page. You can further refine your searches based on the filters you set.
Fill in Contact Information and Passenger Details
If you already have an account with Traveloka, you will be able to fill in your details in advance, thus when it is time to fill in your contact information and passenger details, you can just click on the information.
Complete Your Payment
From the many payment methods available, choose one that best suits you.
Receive Your E-ticket
Within 60 minutes after your payment is confirmed, we will send your e-ticket to your email.