Tiket Bus & Shuttle ke Bali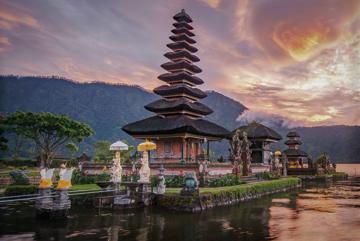 Bali will always be one of the most favorite destinations for most of the people, almost perfect for every moment. Start from having a vacation with your family, friends, honeymoon, or even solo traveling. Bali is always a good idea. Enjoying nature panorama and unlimited entertainment is one of Bali's charm. We also know going to Bali will cost a lot, especially when you come from Jakarta or the other nearby area. You will need to prepare the transportation cost. That is why, Traveloka always provides many alternative solutions for you who want to go for a vacation in Bali, but has a limited budget. We provide many transportation solutions for you. One of those is the Bus and Shuttle service. If you are planning to go to Bali and want to customize your budget, using Bus and Shuttle service can be one of the best solutions. Here is the important information that you need before going to Bali by Bus. If you want to search for more updated schedule for Bus and Shuttle, you can search your queries on the search box above.
Boarding and Arrival Points in Bali
Here are the boarding and arrival points for Bus in Bali. Different operators might also have a different boarding and arrival point.
Gilimanuk
Kota Denpasar,bali
Negara
Kota Tabanan
Terminal Mengwi
Kantor Cabang Denpasar
Uluwatu
Kantor Cokro
Reasons to Visit Bali by Bus
Bali. This province has a timeless charm. Various interesting destinations are in the province which is also known as the Island of the Gods.The beauty of nature can be called a major attraction for tourists visiting Bali. From the beautiful beaches, green rice fields that spoil the eyes, to the beautiful mountains can be enjoyed in Bali.
To enjoy all the beauty, of course, you need an adequate mode of transportation. One type of transportation that can be a mainstay when visiting Bali is a bus. This mode of land transportation has various advantages when used for traveling. Besides being more economical, we can also enjoy interesting sights in Bali along the way. Increasingly complete bus facilities such as toilets, television, and Wi-Fi make your tour more exciting and comfortable.
Even buying bus tickets is even easier with the presence of reliable online travel companies, such as Traveloka. With Traveloka, you can order bus tickets practically, anytime, and from anywhere.Here are a number of reasons to order bus tickets at Traveloka when visiting Bali:
Save time and effort
Enjoy the convenience of ordering bus tickets online at Traveloka. No need to waste time and energy coming to the terminal. Simply through your smartphone, you can get a bus ticket for a trip to Bali. To order a bus, you can simply open the website or Traveloka App and then select 'Bus & Travel'. After that, select the departure location and destination, schedule, and a number of seats booked.
Variety of fleet and route choices
Traveloka partnered with various well-known and superior bus companies in the country. Departure routes and destinations also vary from and to Bali. You just need to choose the bus that suits your needs while visiting the Island of the Gods.
Official Ticket Guarantee
No need to worry, Traveloka always guarantees official tickets. The e-ticket issued is directly connected to all official bus and travel partners.If there is a problem with the ticket, Traveloka is ready to refund 100 percent. So, you don't need to worry when ordering a bus ticket to Bali.
Various Payment Methods
Traveloka ensures users can complete bus and travel ticket payments quickly and safely. Partnering with various trustworthy banks, a variety of payment methods are available for greater transaction convenience. Payments for bus and shuttle tickets can be made at your nearest Indomaret and Alfamart, or via ATM machines, bank transfer, or credit cards.
24-hour customer service
Having an e-ticket problem or missing a bus, Traveloka is ready to help 24 hours. In contrast to services at other bus terminals or agents that have limited customer service, Traveloka provides assistance when booking bus tickets until the departure. To reach out to Traveloka's customer service, you can call or send messages on the Traveloka App.
That is a number of good reasons for you to visit Bali by bus. No need to wait anymore, let's order bus tickets at Traveloka.
Tips for Traveling to Bali by Bus
It is not surprising that Bali has always been on the top list of destinations worth visiting in Indonesia. The province, dubbed the Island of the Gods, has an amazing beauty as a tourist destination. Who does not know the famous destinations there, such as Kuta Beach, Nusa Dua, to Nusa Penida. When on vacation to tourist attractions like Bali, of course, you want convenience in terms of mobility. One mode of transportation that can be an option for traveling to Bali is the bus. By taking the bus, you don't need to be tired of driving yourself and also you can get various advantages. For example, the freedom to enjoy the scenery along the way. To make you easier to travel to Bali by bus, here are some tips for you:
Search for information as complete as possible
No need to be confused looking for a bus that suits yours needs to visit Bali. You can simply open Traveloka and choose various trusted bus operators there. Traveloka provides complete information from bus schedules, routes, departure and stop points, to prices and facilities available on the bus. You don't need to bother coming to the terminal anymore, just open Traveloka website or Traveloka App to get all the information needed.
Choose the bus as you wish
After you get all the information, you just have to choose and order the bus according to your wishes. Adjust also with the budget that you prepare to travel to Bali. If there is more budget, there's nothing wrong to order a bus with the best facilities for your convenience during the trip.
Avoid carrying too many items
When riding public transportation such as buses, it helps us carry goods in a concise manner. Carry enough items and then place your bag or suitcase in the special luggage provided for the passenger. Even so, do not forget to bring your health supporting items, such as masks, dry or wet tissue, and hand sanitizers.
Prepare entertainment
Traveling by bus can sometimes take longer trips. For this reason, you must anticipate from the start to avoid boredom during the trip. There are many things you can do along the way on a bus. In addition to enjoying the natural scenery, you can also fill your time on the go by utilizing gadgets for streaming music, watching movies, or accessing social media.
Those are some tips that you can try to make your bus trip to Bali feel comfortable and enjoyable. Let's start planning your vacation from now with Traveloka.