Chiang Rai is a province located in northern of Thailand. It is 785 kilometers from Bangkok and covers an area of about 11,678.369 square kilometers. Burma and Laos marked as a border in the north of Chiang Rai, Lampang and Pha-yao are located to the south, the eastern border is shared by the Laos and Pha-yao, lastly Myanmar and Chiang Mai are located to the west. Chiang Rai Province's landscape is dominated by mountains and is densely forested with the most notable peaks. Peaks such as Doi Tung at 1,928 meters, Doi Sam Line or Doi Mae Salong at 1,673 meters, Doi 1,400 meters, Doi Ku at 1,608 meters, and Doi Phu Langka at 1,693 meters. All part of the Phi Pan Nam Mountain Range border between Burma and Thailand to the north Thanon Thongchai has mountain ranges on the west side that lead from Burma to the south. The Doi Yao and Doi Pha Mon mountain ranges in the east divide the Thai-Laos border. It is also the starting point for the Mekong River's journey through Thailand. It forms the middle border between Thailand and Laos, with important rivers such as the Kok, Laos, and Mekong. Chiang Rai Province is located on the border of three countries: Thailand, Burma, and Laos, also known as the Golden Triangle. In the past, the world's most important opium production and transportation.
Chiang Rai happened to be the highest province in Thailand. It also well recognizes as a land of mountains, mists, flowers, and cold winds. Chiang Rai's old town is quite unique, quiet, and beautiful which has a rich history to explore. It is one of Thailand's most beautiful tourist attractions. There is a wild natural environment with complex forests on the high mountain and beautiful watersheds and waterfalls can be found here. You can easily find famous tea farms and coffee production areas around province. Sounds so chill and peaceful right? It also has a multi-ethnic population and culture. Each race, whether lowland Thais, hill tribes, Tai Yai, Tai Khoen, Tai Lue, or Hong Chinese has its own distinct traditions, culture, and way of life that appear to be inherited as a harmonious blend of characteristics. Because of this, it makes Chiang Rai becomes one of the most popular destinations for tourists from all over the world to visit and there are number of people who want to
book a flight to Chiang Rai
out there!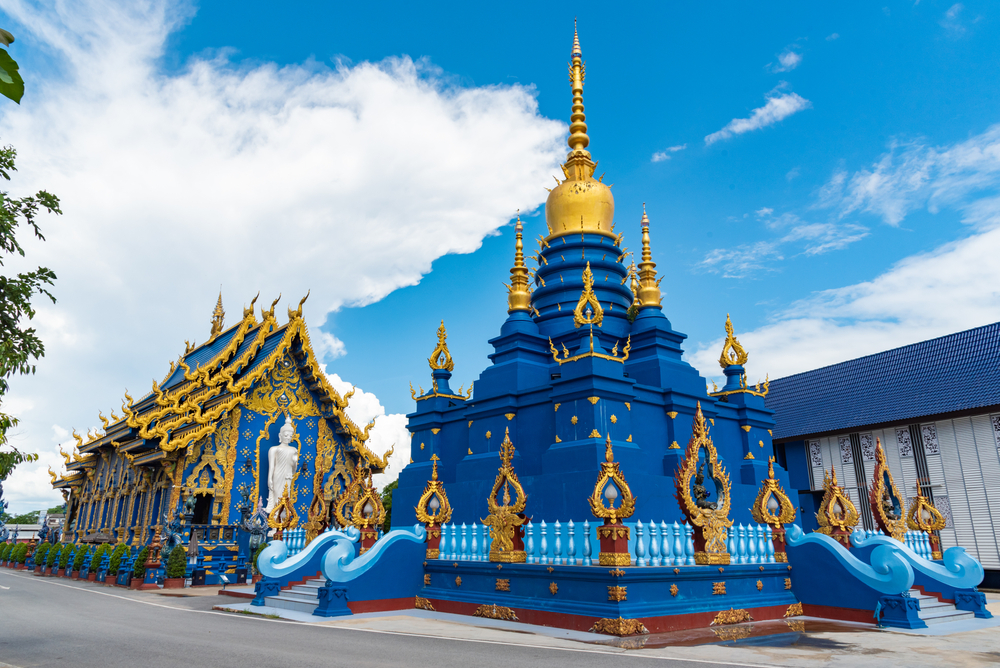 Seasons in Chiang Rai
Before Flight to Chiang Rai we need to know best time visit Chiang Rai. Chiang Rai's climate in the wintertime usually has blows cold and dry air masses from China over Thailand. As a result, Chiang Rai Province has a cold and dry climate in general. During the rainy season, the southwest monsoon blows moist air masses from the sea and the Indian Ocean to cover Thailand causing widespread rain in Chiang Rai throughout the year. The average temperature is about 24 degree Celsius, with an average temperature of about 15 degree Celsius and a lowest temperature of 0.9 - 1.0 degrees Celsius.
- Summer season (February - May)
: There is a sweltering heat from about the middle of February to the middle of May. The temperature is usually around 32 degrees Celsius and in the summertime, the month of April is the hottest of the year.
- Rainy season (May - October)
: From the middle of May to the middle of October, which is the time of year when the southwest monsoon dominates Thailand. The air will start to become humid, thus, the average temperature is around 27 degrees Celsius. However, the rain will get heavily starting around the middle of May where August is the wettest month.
- Winter season (October - February)
: From around the middle of October to the middle of February, Thailand is subject to the northeast monsoon. In general, the weather is cold and dry where the temperature in the plains ranges between 7 and 9 degrees Celsius. The lowest temperature on the mountain tops is 0 - 5 degrees Celsius, and the lowest temperature at Phu Chi Fa is -1.5 degrees. However, the coldest month in Chiang Rai is January.
Best time to visit Chiang Rai
: The best time that we recommend you go Chiang Rai is between October – December, the reason is because this is when you get a chance to encounter the sea of mist on Phu Chee Fah, Doi Chang, Doi Mae Salong, Doi Pha Thang and Doi Chang Mub in Chiang Rai. Especially, during this period that you will be able to see the last arc of the Milky Way at Phu Chee Fah, otherwise you must wait until March in order to see it again! However, you literally can
book a flight to Chiang Rai
all year long because each period is beautiful at its own ways. 
Flights to Chiang Rai
Domestic flights: Bangkok to Chiang Rai (BKK-CEI)
From Bangkok Suvarnabhumi Airport (BKK) or Bangkok Don Muang (DMK) to Chiang Rai International Airport (CEI), there are 23 flights every day. It takes about 1 hour 20 minutes to get there from Bangkok to Chiang Rai or from Chiang Rai to Bangkok. The first flight usually starts to leave at 06:30 a.m., while the final flight departs at 19:50 p.m. 
Airlines that fly direct From Suvarnabhumi Airport to Chiang Rai
: Thai VietJet Air and Thai Smile.
Airlines that fly direct From Don Mueang Airport to Chiang Rai
: Thai AirAsia, Nok Air and Thai Lion Air. 
International flights to Chiang Rai (INT-CEI)
For international
flights to Chiang Rai
, as of now, there is only 1 airline that's operating a direct international flight to Chiang Rai which is Changsha, China to Chiang Rai.
About the Airport
Chiang Rai International Airport (CEI) considered as a minor airport, yet a world-class airport. There are currently four domestic flights to Chiang Rai. Chiang Rai International Airport (CEI) is the principal entrance to the northern Thai province of Chiang Rai. The airport is around 8 kilometers from the city core of Chiang Rai. There are Thai Airways (Thai Smile), Bangkok Airways, AirAsia, Nok Air, Thai Lion Air, and Thai VietJet Air are among the major domestic carriers that fly to Chiang Rai. There are numerous coffee shops and quick food restaurants in the Chiang Rai Airport terminal. Terminal facilities has multitude of stores provide tea, coffee, specialized local delicacies, handicrafts, fresh fruit, and souvenirs, among other things. And for the airport facilities itself it consists of car parking that charge hourly starting at 10 Thai baht, car rental, communication facilities which is free wi-fi access that is available within 120 minutes, mobile charging points around the airport, post office and public telephone there.
Transportations in Chiang Rai
Travelling from/to Chiang Rai Airport & Travelling around Chiang Rai
Traveling from Chiang Rai International airport (CEI) or "Mae Fah Luang Airport" to the main city in Chiang Rai usually takes about 10-15 minutes by using private transportations. The airport is located 8 kilometers north of Chiang Rai city to the city and various tourist attractions. By travelling from the airport and around the cities within Chiang Rai province, there are several transportation methods as follow:
- Airport shuttle
: this service is a quick and convenient option to travel from the airport to Mueang Chiang Rai. This method is available in both airport buses. Alternatively, the shuttle can be reserved for airport transfers in advance to avoid long queues at the airport. Note that the service fee is already include the toll and parking fee.
- Chiang Rai City Bus
: this provides shuttle service between Chiang Rai International airport (Mae Fah Luang Chiang Rai Airport) and Bus Station 1 and Bus Station 2. The fare is 20 baht throughout the line and buses usually leave every 30 minutes. The time schedule starts from 6.20 a.m. - 22.30 p.m.
- Minibuses:
there are 3 routes for service between districts according to the color of the car to choose. The first bus color is green buses - this bus will go around the northern, which is Mae Sai and Chiang Saen. Second bus is red buses – this bus will go around the eastern which include Phaya Mengrai and Thoeng. Lastly the blue buses – this bus will go around the southern including Phan District, Wiang Pa Pao District, etc.
- Vans
: the van in Chiang Rai is in blue color and usually available for travelling between one city to another city. For example, the van from Chiang Rai and Mae Sai.
- Taxi meters
: just like other provinces in Thailand, Chiang Rai also has taxi meter service that you can find all over Chiang Rai.
- Tuk-tuk
: this transportation method is for traveling within the city and between districts. You will see people commuting around within the city by Tuk-tuk and that is considered a common way to commute.
- Motorcycle
: the quickest, fastest and the most convenient way to travel around would be taking a motorcycle service. We recommend you to use motorcycle for traveling in short distances only. The prices usually start from 20 Thai baht.
- Car rental
: the last way to travel in Chiang Rai is to
rent a car
.
Car rental
will give you a freedom, carelessness and security while travelling because you can go wherever and whenever you want, you can purchase an add on insurance with it too, so nothing to be worried.
Ways to book air tickets conveniently than before
New Features of Traveloka
- Price Alerts
; Notifies you when tickets are available at the price you seek. Simply turn on the notification to never miss out on exclusive promotions. We will ensure that you get the best price for flight to Phuket or flight to any destinations you are finding for!
- Promo Filter
; Select only the best promotion by comparing different ticket prices. Moreover, beside promotions and prices, promo filter feature is where you can filter out facilities and flight preference you want to. This immensely aids your decision making.
- Flight Upgrade
; Upon buying a ticket, click 'Flight Upgrade' to pay a little more (additional payment varies for different destinations) in exchange for more luggage weight, no limit flight postpones and other exclusive benefits depending on different airlines' terms and conditions. Please find more informations here 
Top 3 places to visit in Chiang Rai
White Temple (Wat Rong Khun)

– White temple or Wat Rong Khun becomes one of the most famous temple in Thailand. Chalermchai Kositpipat is a painter, artist and the one who build this temple. He takes a unique approach to temple architecture, fusing elements from his own imagination (white, not gold, as a pure color to embody the sacredness of temples) with traditional Teachings of the buddha about heaven, hell, karma, and earthly sins. From its layout and architecture to the ornate reliefs and mirror decorations, the temple is brimming with Buddhist symbolism. The main chapel can only be entered from the front, via a narrow bridge that passes over a pool of upturned, beseeching hands representing suffering souls in hell. There is no turning back from here, as the only way to the main chapel is to ascend 'heavenwards' through the pathway guarded by demons. Book

a private tour to Wat Rong Khun

now for an unforgettable sightseeing you will get!

Doi Tung

- Doi Tung is a well-known mountain in Chiang Rai province. This area, which is home to Shan, Lahu, and Akha communities, was earlier dominated by opium agriculture. The opium trade enhanced the trade bosses while wreaking havoc on the environment and the local people. In Doi Tung has 2 different attractions there which is the

floral garden (Mae Fah Luang Garden)

and

the royal villa

. Both attractions are full of beautiful flowers all over places. Aside from the lovely flowers, there is something else in Mae Fah Luang Garden that you should see. It's a skywalk called "Tree Top Walk". You will find yourself walking on a narrow bridge above the trees. When you look down, you will see all of the greenery in the garden. Let's give it a try if you're not afraid of heights!

Wat Phra That Doi Tung

- Wat Phra Maha China that Chao, also known as Wat Phra That Doi Tung, is a temple located on the summit of Doi Tung mountain. It's one of the top 10 places to visit in Chiang Rai. Also, it is one of Chiang Rai's oldest temples, dating back many centuries before the city was founded in 1262 by King Mengrai. Some historians believe the twin chedis were built in 911 during the reign of Phrachao Uchutarat, the third ruler of the royal dynasty Singhanawat, while others believe they were built in 940 during the reign of Phraya Ruen Kaew, Prince of Chiang Rai, to shelter a sacred relic of the Buddha, specifically his left pec muscle, which was previously stored in Wat Phra Maha Kassapa.
Top 3 things to do in Chiang Rai
Singha Park Chiang Rai

– Singha Park in Chiang Rai encompasses more than 12 square kilometers of tea fields, lakes, fruit trees, and flower beds. The tea fields have a central viewpoint. Throughout the year, Singha Park hosts a variety of cultural and leisure events, including a global hot-air balloon festival. Every 30 minutes, a hop-on, hop-off tram departs from the front gate. Because this is a popular attraction, you must reserve a spot upon arrival and return by the specified time. If the tram is full or you prefer to get some exercise, there are rental bikes available. Several of the roads and paths in Singha Park are reserved for trams and bikes, making these are the only two ways to fully explore the park. The zip-line is just another exciting way to see Singha Park. There is also restaurant in the park with a view that you can enjoy!

Phu Chee Fah

- It's easy to see why the name Phu Chi Fah converts to "the mountain that points to the sky." If you search on Google, you'll see a very stunning silhouette against the rising sun. But that's not even the most exciting part. It's like standing on top of the world once you've reached the summit. We arrived in Phu Chi Fah the night prior to actually for this adventure and awoke in the early morning hours. Getting to the viewpoint before the sun crosses the horizon is critical, but we were compensated with a beautiful sunrise for our efforts. The sun's soft light poured through the mists that blanketed the mountains below, uncovering only the jungle-covered peaks of Laos.

Phu Chee Dao

– Similar to Phu Chee Pah, Phu Chee Dao is another unseen Thailand that you must visit once you come to Chiang Rai. It has a height of about 1,800 meters, which is higher than both Phu Chi Fa and Doi Pha Tang. What is unique about Phu Chee Dao is the view of the peak pointing up into the sky, hence the origin of the name Phu Chee Dao.