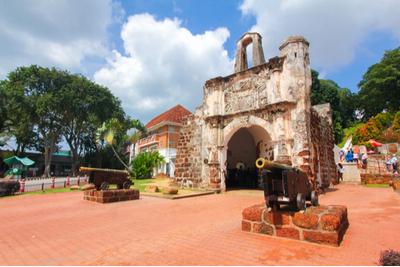 Melaka is one of the most popular tourist destinations in Malaysia. Every evening the famous Jonker Street night market is buzzing with tourists from all over the world. In 2008 UNESCO listed Melaka as World Heritage Site. Besides the many beautiful historical sites, Melaka is also well known for its great food. A quaint city with an abundance of breathtaking sights and rich heritage, Melaka is easy to get around on foot or trishaw to explore the many places that make it unique. As the unofficial historic capital of Malaysia, Melaka's most prominent contribution to the Malaysian cultural landscape is the Baba-Nyonya or Peranakan culture. Possessing an eclectic blend of customs, traditions, food, and lifestyle, the Peranakan still thrives in Melaka with a mix of old and new with historical buildings standing side by side with ultra-modern shopping centers
Airports in Melaka
Malacca International Airport (MKZ)
Malacca International Airport (MKZ) is an airport located in Batu Berendam, Melaka, Malaysia. The airport serves the state of Melaka, as well as northern Johor. It is formerly known as Batu Berendam Airport. The 75,000 square feet terminal complex is equipped with international-standard amenities that can handle 1.5 million passengers annually. The most frequently departed route is the route to Pekanbaru (PKU) in Indonesia with an average of 7 flights from Melaka every week, which is 50% of all weekly departures. There are domestic flights to Penang (PEN). The only airline operating here is Malindo Airways using the ATR 72/42.
How to Get Cheap Flights to Melaka
Traveloka is a traveler flight ticket website where it eases the travelers to find the cheapest flights to Melaka. All you have to do is to insert the information in the box that says origin and destination, and the website will list out the best result for you. You can sort the result with your preferences like the best price, the best service and many more. Now they have developed the application for this website where it's mean that you can access it through your mobile phone. Just put the information and click search after that choose which packages that offer you the best price.
The Best Time to Fly to Melaka
The busiest month for tourism in Melaka, Malaysia in December, followed by November and January. Prices for hotels and flights will be most expensive during these months, though you can save if you purchase well in advance. Tourists are unlikely to visit Melaka in February. Those willing to visit at these times will likely find it the least expensive month.
Average temperatures in Melaka vary barely at all. Considering humidity, temperatures feel hot all year with a chance of rain throughout most of the year. If you are looking for the very warmest time to visit Melaka, the hottest months are May, June, and then April.  If dry weather is what you are after, the months with the lowest chance of significant precipitation in Melaka are February, January, and then June. Melaka has some very humid months and high humidity throughout the year. The least humid month is February and the most humid month in November. Wind in Melaka is usually extremely calm. The windiest month is January, followed by February and December. The best times to visit Melaka for ideal weather are 15 January to 4 March. 
Malaysia's population practices a variety of religions, with Islam, Buddhism, Hinduism, and Christianity taking center stage, and as a result, you will find that a lot of Melaka festivals and events are based around religious occasions – with many national holidays to celebrate these auspicious occasions. The biggest and grandest festivals in Melaka are Ramadan, Chinese New Year, Deepavali and Christmas, with festivities that include friends and family from all races and religions, turning them into colorful, harmonious proceedings. Besides that, there are also 'mini' cultural festivals that take places, such as Awal Muharram, Chap Goh Mei, Thaipusam, Easter and many more.
Highlights in Melaka
Melaka is one of the best towns in Malaysia that have a lot of beautiful places to be visited. You cannot miss Melaka when traveling around Malaysia!
Jonker Street – This street is the central street of Chinatown in Melaka. Initially, it was famous for its range of beautiful and exquisite antique products. You can wrap up your souvenir shopping here and you might even find yourself picking up some crafts and objects for yourself! Also, indulge in delicious food at the various street stalls.
Menara Taming Sari – For a stunning view of this UNESCO World Heritage Site, hop on to this huge tower. Menara Taming Sari is a fun 360-degree view tower that takes you up to a height of 80 meters. From there, you will be able to view Melaka's top attractions such as St.Paul's Hill, Straits of Melaka and the Samudra Museum, among others.
Melaka River – This 10 km long river is a famous tourist spot. Some even believe that Melaka was first founded just by this river. This calm and peaceful river that sails through the city, is very popular among tourists. Sign up for the 45-minute long cruise here and take in the city from a whole new angle. From here, you can view the tall buildings, see local homes, old bridges and more.