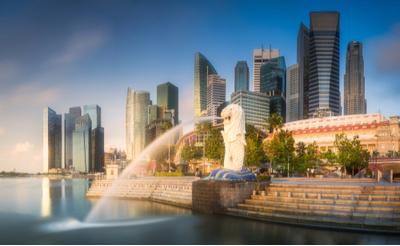 Singapore or better known as the Republic of Singapore is an island nation located at the Southern tip of the Malay Peninsula. It is located 137 km north of the Equator line in Southeast Asia. Singapore is separated from Malaysia by the Straits of Johor in the North, Riau Islands Indonesia by Singapore Strait in the South. Singapore is the fourth largest financial centre and is a metropolitan city that plays an important role in international trade and finance. Singapore Port is one of the busiest ports in the world. Singapore is one of the popular destinations among tourists. Tourists often visit Singapore because it has various cultural variations. Not only that, but Singapore also has many beautiful places and has many skyscrapers that decorate the country.
How to Get Cheap Flights to Singapore?
Traveloka is a travel search engine that makes it easy for travellers to find the cheapest flights to Singapore. All you need to do is key in the information in the search box, and the application will recommend the best trip according to your budget. It compares flight prices across some trusted airlines to help you to get the best possible deal. Use Traveloka's price alert feature to be notified of flights in your desired price range to get the best flight price to Singapore.
When is the Best Time to Fly to Singapore?
Singapore does not have a significant difference between the peak season and off peak season. However, from November to early January, June and July, the crowds tend to be at their peak. Hotels rates can be slightly higher during this time. The off-season is usually from August to October. However, mid-September is not counted as an off peak season as there are Singapore Grand Prix held during that time. In terms of climate and environments, just like many others in Southeast Asia, Singapore has a tropical rainforest climate with no seasons shift, equivalent temperature, high humidity and heavy rainfall. The temperature is between 25°C and 34°C. May and June are usually the hottest months and November and December are usually the monsoon season. The celebrations usually celebrated in Singapore are Hari Raya, Chinese New Year and Lantern Festival.