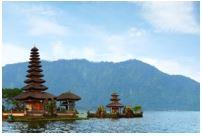 Indonesia's bewitching attractions make it one of the famous tourists' destinations. One of those attractions is undoubtedly Jakarta. Being a vast metropolis, Jakarta is home to over 10 million people from various ethnic backgrounds. From modern leisure activities, experiencing the locals' culture or even going on a beach getaway, you'll find Jakarta a beautiful place full of pleasant surprises.
Best time to fly from Butuan to Jakarta
Having a tropical monsoon climate, Jakarta experiences an average temperature of 27-30 degrees Celcius. As Jakarta is close to the equator, it is no exception for Jakarta to remain hot throughout the year. Jakarta or Indonesia, in general, has only two seasons, namely wet and dry seasons. Generally, Jakarta is very humid. The dry season starts from May to September, of which the humidity level could spike up while the rainy season comes from October to May, accompanied by rather heavy rainfall. The best time to visit Jakarta would be during the dry season, whereby tourists can expect clearer days for sightseeing and easy travel to the city's major landmarks. It is also best to avoid the wet seasons since floods are regular occurrence there every year due to its low-lying area and dense urban development. Another low season is during the month of Ramadhan, which varyingly falls between April and July and concludes with a week-long holiday of Idul Fitri. During this time, you can find better flight tickets and hotel deals.
Main airports available in Butuan and Jakarta
Bancasi Airport – Bancasi Airport is a principal domestic airport that serves the city of Butuan. This airport is located at Agusan del Norte, Philippines and it serves flight routes to and from Cebu and Manila. The airlines operating in Bancasi Airport are Cebu Pacific and Philippine Airline's PAL Express. The flights to Manila would only take around an hour while flights to Cebu would take 45 minutes. Since the Philippines' two major international airports are located in those cities respectively, tourists can either travel to other countries or fly domestically to other islands in the Philippines. Bancasi Aiport offers facilities such as eateries and shops to buy souvenirs.
Soekarno-Hatta International Airport (Soekarno-Hatta) – Soekarno-Hatta International Airport or locally called Cengkareng, is the main airport that serves the greater Jakarta area on the island of Java, Indonesia. Named after Indonesia's first president and vice president, Soekarno and Muhammad Hatta, this airport is located at Benda, Tangerang, around 20km northwest of central Jakarta. Airlines that operate in this airport include Garuda Indonesia, Emirates, Batik Air, Cathay Pacific and many more. With the concept of "airport in the garden", tropical decorative and flower plants can be seen filling up the spaces between corridors, waiting and boarding pavilions. Facilities offered in the airport include reading corners, duty-free shops, souvenir shops, restaurants and also WiFi networks.
Climate pattern in Butuan and Jakarta
Jakarta's climate is typically hot and humid all year round due to Indonesia's position that is close to the equator. Usually, it will be warm and sunny with occasional showers. The average maximum temperature in Jakarta is about 31-degree Celcius while the average minimum temperature is about 24-degree Celcius. Tourists are advised to visit Jakarta during the dry season as it will be more convenient to go for sightseeing and trips to Jakarta's attractions. Tourists are also encouraged to book your flight and hotel before your visit.
Highlights attractions in Jakarta
Taman Mini Indonesia Indah – It is a known fact that Indonesia is made up of over 17,000 islands and then split into 26 provinces hence, you're highly unlikely to cover all the wonderful places in a single trip. However, if you want an overview of the highlights, then you can visit Taman Mini Indonesia Indah. This park is accordingly arranged by the provinces whereby you will be able to see traditional homes and also be able to learn the local traditions, costumes and diverse ways of life across the archipelago.
Kota Tua – Kota Tua, formerly known as Old Town Batavia, is one of the most significant historical places in Jakarta. Tourists will be able to view pretty architecture that goes back to the Dutch colonial period and you can also visit the signature feature of the area, the cobbled central town square. This part is considered as the cultural heart of the city and many artists and photographers come by to admire the relaxed atmosphere and old-world vibes. Furthermore, cafes are also provided in the area so visitors can have a drink and enjoy the view.
Pulau Seribu (Thousand Islands) – Despite Jakarta being a city, there is still a chance for a beach getaway! Surprisingly, the Thousand Islands are considered as part of greater Jakarta. Just a few hours away from the city centre, Pulau Seribu offers gorgeous beaches, coves and inlets there. The best way to enjoy the islands is definitely by the boat tour whereby you'll be able to go for island hopping and admire all the best sights there are at the same time.