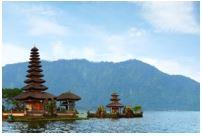 Bali is a province in Indonesia whose provincial capital city is Denpasar. Bali is also one of the islands in the Nusa Tenggara Islands. At the beginning of Indonesian independence, the island was included in the Sunda Kecil Province which had thousands of cities in Singaraja and is now divided into three provinces which are Bali, West Nusa Tenggara and East Nusa Tenggara. Besides comprising the island of Bali, the area of ​​the Province of Bali also consists of smaller islands in the vicinity, namely Nusa Penida Island, Nusa Lembongan Island, Nusa Ceningan Island, Serangan Island and Menjangan Island. Geographically, Bali is located between Java and Lombok. The majority of Balinese are Hindus. In the world, Bali is famous as a tourism destination with a unique variety of arts and culture, especially for Japanese and Australian tourists. Bali is also known as the Island of the Gods and Pulau Seribu Pura.
Best time to fly from Tacloban to Bali – Denpasar
The peak and busiest times of Bali - Denpasar is in March followed by June and April. Hotel prices, as well as flight tickets, will be higher than any other months. However, you can still get great deals if you book a flight or accommodation ticket earlier. The lesser month with travellers is in September. You can get cheap flight tickets and hotels if you are visiting Bali - Denpasar that month.
Main airports available in Tacloban and Bali – Denpasar
Daniel Z. Romualdez Airport – the airport is also known as Tacloban City Airport. It is an airport serving Tacloban common areas. The airport is the main entrance of Manila and Cebu to the Eastern Region of the Visayas in the Middle East of the Philippines. It is classified as a major Class 1 airport by the Philippine Civil Aviation Authority. Daniel Z. Romualdez Airport is ranked eighth as the busiest airport and the third fastest growing airport in terms of passenger numbers in the Philippines until 2017. The airport gets its name from the former head of the House of Representatives of the Philippines, Daniel Z. Romualdez. It is one of the two airports in the Philippines named after members of the Romualdez family. The other is Imelda R. Marcos Airport.
Ngurah Rai International Airport – or also known as Denpasar International Airport is an airport in Kuta, Bali, Indonesia. It is the third busiest airfield in Indonesia. It will be replaced by Jembrana City International Airport. 
Climate pattern in Tacloban and Bali – Denpasar
November, April and December are among the hottest months in Bali. However, November is the hottest among all where the temperature during day time can reach as high as 31.7 °C, while during night time it is rarely dropping below 25.1 °C.
Highlights in Bali – Denpasar
Uluwatu Beach – Uluwatu Beach is one of the famous beach among tourists and locals. This beach will amaze you with its crystal clear blue water. You can spend your day here with your family or loved ones. You can also do many activities here with your loved ones. 
2. Lempuyang Temples – One of the temples in Bali, which is famous among tourists. If you are on holiday in Bali, Lempuyang Temple is one of the recommended places to learn more about Balinese culture. Make sure that you visit this temple while you are in Bali.
Kuta Beach – Apart from Uluwatu Beach, this Kuta Beach is also famous among tourists and locals. You do many activities here with your loved ones or family. You can swim or stroll along the beach.