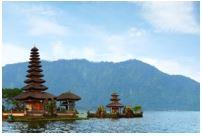 Makassar, Indonesia, is the capital of the island of South Sulawesi, and it is the fifth-largest city in Indonesia. Facing the vast Makassar strait, the city is strategically located in the Indonesian archipelago. Makassar connects all the busy hubs like Sumatra, Bali, Kalimantan, Sulawesi, Papua, Moluccas and Java. Once called 'Ujung Padang', Makassar now is a bustling city packed with people coming from diverse ethnicities. Swing by Makassar to enjoy witnessing its city lifestyle, historical sites, architectural landmarks and eating scrumptious local cuisine.
Best time to fly from Manila to Makassar
If you would like to go sightseeing all over Makassar, best if you visit in early July till the end of October. The weather is seamless for outdoor activities as the sky is clear, and the sun is beaming radiantly. Just a heads up, if you are visiting in May, August and July; you will need to book your airway tickets as early as possible to save your money. Those months fall under the peak season. Thus, prices in Makassar will soar to accommodate higher demand from tourists. Contrastingly, tourists are less likely to visit Makassar in December. Hence, if you are looking for a cheaper trip, drop a visit in that month. Bear in mind that December falls under wet season, be prepared with umbrella or raincoat every time you go outside.
Main airports available in Manila and Makassar
Ninoy Aquino International Airport – The airport is also called Manila International Airport, boasting to be one of the two main international airports serving Metro Manila. Manila International Airport flaunts to be Philippines' main gateway connecting the land to the outside world. The airport was named after Philippines' former senator who was assassinated at the airport. His name was Benigno Ninoy Aquino Jr. Manila International Airport is located in between Pasay City and Paranaque City in Metro Manilla – about 7 kilometres from Manila's city centre. The airport provides different means of transportation for visitors like shuttle bus, taxi, rail and rental car. Some of the noteworthy airways operate here are Cebgo, Cebu Pacific, Philippines Airlines, PAL Express and AirAsia Philippines. You also can locate some other amenities offered here like cafés, restaurants, hotel, duty-free shops, bars and banks.
Sultan Hasanuddin International Airport – The Sultan Hasanuddin International Airport is situated in Makassar – 20 kilometres from its city centre. The airport is the hub for three airlines which are Lion Air, TransNusa and Wings Air. Sultan Hasanuddin International Airport was named after a sultan of Gowa who fought back the Dutch in the 1660s. Some of the transportation available outside of this airport are cars and taxis. In 2015, the airport won first place for Airport Service Quality Award for the most improved airport in the Asia Pacific. You can swing by the restaurants and duty-free stores inside the airport while waiting for your flight.
Climate pattern in Manila and Makassar
Makassar's climate is tropical with a long period of a wet season, and a short dry season. The wet season starts in November till April that gives a significant influence on Makassar's yearly temperature. Average annual temperature in the city does not fluctuate much. It ranges in between 25.6 to 26.9 degree Celsius. Hence, if you come to visit Makassar, do expect occasional drizzles in the middle of the day and bring along your umbrella before you go outside, especially during the wet season.
Highlights attractions in Makassar
The Spermonde Archipelago – Only a few distances away from the city of Makassar, lies Spermonde Archipelago that comprises more than 115 tropical islands. Come here to get your perfect beach vacation, especially in Samalona Island, Lae Lae Island and Kapoposang Island – the sea paradises carpeted with powdery sand with its vast royal blue ocean spread before your eyes. Grab a chance to swim together with stingrays, friendly sharks and turtles. Those islands are the perfect place to enjoy the beauty of mother nature.
The Balla Lampoa Museum – The complex was a reconstruction of regal Gowa Palace in 1936, that is heavily influenced by traditional Bugis style. Using plank woods for its building, the museum is still maintaining Bugis features for that era. Come here to learn more about the history of the Gowa Kingdom, where you can witness many kinds of artefacts in the display rooms like its cannon and spears. You also can dress up wearing Gowanese outfits and take some memorable pictures in them.
Lengang Laiya Waterfall – Just a few hours drive from the city, you will enter undiscovered paradise in Laiya Village. Lengang Laiya Waterfall is breathtaking with its backdrop of mini waterfalls intertwined with the spectacular cascading water will leave you in awe. You can dip your toes or go for a swim inside the pool while enjoying the fresh air and scenery just like a fairytale movie.