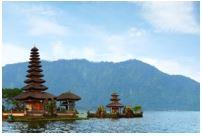 The country of the Philippines has long been recognized as one of the well-known holiday destinations in the Southeast Asia region. Many tourist destinations are popular in the Philippines and among them is Siargao or Siargao Island. As the 'surfing mecca of the Philippines,' Siargao has been famous for its Cloud 9, which is a right-breaking reef wave.
Best time to fly from Davao to Siargao
Siargao, in a similar manner to other regions around Philippines and nearby countries in the Southeast Asia region, is classified as having a tropical rainforest climate in which dry season is shorter or almost negligent whereas rainfall is normally heavy throughout the year. The hottest and driest months are usually around March and October. Therefore, it is always a peak time to come to Siargao in these months, whereas those who want to go surfing should look forward to go around August to November. Meanwhile, the off-peak season is between November to February where the climate during that season is unpredictable with high chances of rain. While accommodation and ticket prices tend to drop this time, visitors should check the weather reports before going to the town around this period.
Main airports available in Davao and Siargao
Francisco Bangoy International Airport - Francisco Bangoy International Airport or also known commonly as Davao International Airport is the primary airport that is generally serving the Davao Region and Davao city specifically. Located in Catitipan, Barangay Buhangin which is about 36 kilometers from Davao city area, it is the third busiest airport in the country. It is a public airport operated by the Civil Aviation Authority of the Philippines. Francisco Bangoy International Airport has begun operating since the 1940s and has been modernized ever since, to the point that the airport is now able to accommodate up around four million passengers annually. The recently built terminal has a Malay architecture design that is located just across the old terminal and is four times larger too. It is the hub for Cebu Pacific, PAL Express, Philippines Airasia as well as catering for flights heading to and from Manila, Clark, Cebu and many more.
Sayak Airport - The Sayak Airport is a public domestic airport that connects the general area of Siargao Island with other places in the Philippines. The airport can be found at Barangay Sayak of the Del Carmen municipality which is about 4 kilometers away from Siargao center proper. Just like other airports in the Philippines, this airport is operated by Civil Aviation Authority of the Philippines. It has a runway that is 1,500 meters in length and is made of concrete. Among the airlines that operate in this airport is Cebu Pacific as well as Philippine Airlines with destinations to Cebu, Clark, Davao and Manila. From the airport, it is easy to go in and out to the city area because of the proximity of the airport to the city that makes access much more convenient.
Climate pattern in Davao and Siargao
Siargao's weather is typically about being under the hot sun for most of the time. Usually, it will be warm and sunny throughout the years with a consistent amount of raining except for typhoon season which the weather can be even more unpredictable with heavy rains and thunderstorm. The average maximum temperature in Siargao around 29 and 33 degree Celsius while the average minimum is around 23 and 25 degree Celsius. While around November to March, be wary since the weather will be wetter and windier than usual, so it may not be as good of a time to go to the beaches. Meanwhile, the warm and pleasant season of the year is usually from May to June. Therefore, if you plan to visit Siargao during this season, be sure to book your flight and hotel early as the reservations will run out fast during this period.
Highlights in Siargao
Naked Island - Naked Island is one of the islands located near the Siargao and is easily accessible from the island, just within a few minutes if you are coming over by boat. As such, it is a must place to visit even more if you are looking for a new adventure. Just like its name, Naked Island comprises of really white sand and crystal clear waters. There is no visible shade around the beach! It is the perfect destination if you are coming over to Siargao to do some island hopping. If you are taking the island hopping package, there is no entrance fee to this particular island as well as a handful of others.
Magpupungko - Siargao is lucky to be having some of the more interesting tourist spots around. One of the popular places that are certainly more than just interesting to check out is the Magpupungko or Magpupungko Rock Pools that can be reached within a 45-minute moped area if you are coming over from General Luna or nearby areas. Upon arriving at the area, be prepared to get mesmerized by the variety of rock pools exposed at low tides that are great for exploring and even cliff jumping.