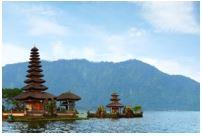 Denpasar is the heart of Bali, Indonesia and functions as the connector of all the famous destinations in Bali Island. The ambience of an old town despite being the biggest city in Bali, Denpasar is made up of villages that surrounded by Hindu temples that make the city looks peaceful despite its heavy traffic roads. If you are looking for a friendly town, but still not leaving the city life, you are in the right place!
Best time to fly from Davao to Bali/Denpasar
To experience the best of Denpasar, you might want to drop by in between end-May till end-October. The weather is mild and rainy days are there but not every day. Hence, you do not need to running around finding stores that selling umbrellas. August takes the crown as the wettest and coldest month of the year whereas November was reported to be the warmest month. If you are planning your trip, best if you expect them based on the weather forecast in Denpasar. The weather here can be a little erratic and fluctuating.
Main airports available in Davao and Bali/Denpasar
Francisco Bangoy International Airport – Francisco Bangoy Airport situated 32.4 kilometres from Davao City, the Philippines. You can go to the airport by taking a taxi or jeepney, depending on your budget, jeepney's fare is much cheaper than a taxi. The airport is Mindanao's busiest airport on the island. It also is a hub for a few airlines which are Cebu Pacific, PAL Express Philippines Airlines and Philippines AirAsia. There are a few restaurants and stores that you can swing by while waiting for your plane to take off.
Ngurah Rai International Airport – The Ngurah Rai International Airport nestled 13 kilometres away from Denpasar, Indonesia. The airport is the second busiest airport in entire Indonesia. It works to serve Denpasar and other regencies nearby. The leading airlines that operate here are Garuda Indonesia, Indonesia AirAsia, Lion Air and Wings Air. Regarding transportation, there are many means of transports provided by the management outside the airport. For facilities, eateries, showers, massage service, stores, lounge area, prayer room and children's play area all provided by the management.
Climate pattern in Bali/Denpasar
Located just eight degrees to the equator, Bali has a tropical climate which characterised with having dry and monsoon season. The dry or West monsoon season starts from October to April. If you would like to visit Bali/Denpasar, that is the best time. From December to March, it is monsoon season in Bali. The abundance of rain makes it fewer tourists came to the place, which means you will have a higher chance to get a better deal and discount on that period. In Bali, the average temperature is 30 degree Celsius.
Highlights attractions in Bali/Denpasar
Tanah Lot Temple – Tanah Lot Temple is incomparable to any other temples, located on the top of the rock that is surrounded by the crashing waves touching its base. The temple is so scenic where you can see a serene temple at an elevated shore, with royal blue painting the sky and open turquoise sea covering its floor. Tanah Lot Temple is a sea temple that dedicated to sea's guardian spirits where you can locate shrines outside of the temple. Not only that, there are other facilities such as a cultural park, shops and restaurants.
Besakih Temple – Sits on the slope of Mount Agung, Besakih Temple or 'mother temple' is the largest temple complex in Bali. It makes up from 18 sanctuaries that belong to different castes. All of the shelters are surrounding the three main temples that pay homage to three Hindu trinity – Brahma, Vishnu and Shiva. Yearly, more than 70 ceremonies held here, it also had been nominated as World Heritage Site in 1995.
Tegallalang Rice Terraces – Tegallalang Rice Terraces situated in Tegallalang Village, Ubud. The rice terraces spread to the opposite sides of the valley, making a vast lushes green carpet covering the hillside. From a high up, you can enjoy the magnificent view that looks like a mega big green paddy staircase. You also can follow the trail and greet the friendly farmers on the field and see the paddy yourself.