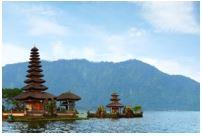 Denpasar is the capital of Bali and the central entrance to the island. The city is also a base for other cities in the Lesser Sunda Islands. With the swift growth of the travel business in Bali, Denpasar has encouraged and supported business activities and ventures, adding to it having the highest growth rate in Bali Province. The population of Denpasar was 897,305 in 2017, up from 788,449 at the 2010 Survey. The surrounding metropolitan area has roughly 2,000,000 residents.
Best time to fly from Siargao to Bali Denpasar
The fullest month for tourism in Bali / Denpasar, Indonesia starts from August, followed by October and June. Fees for hotels and flights will be most costly during these months, though you can save if you purchase well two months in advance. Tourists are not likely to visit Bali / Denpasar in December. Individuals who willing to visit at these days will likely find it the minimum costly month.
Main airports available in Siargao to Bali Denpasar
Sayak - Siargao Airport – Sayak Airport also called as Siargao Airport. This airport is serving the public area of Siargao Island, located in the region of Surigao del Norte in the Philippines. The airport situated in Barangay Sayak in the city of Del Carmen, where the airport originates its name from. There are direct flights to Siargao Island from Cebu four times a week on Cebu Pacific. Flight time is approximately 50 minutes varies on your destination. To go in and out of the airport is easy because there are many types of light land public transportation available in Sayak Airport for the visitors to use.
Rai International Airport - Rai International Airport, is the most vital airport in Bali, situated 13.1 km south of Denpasar. Ngurah Rai is the second in demand airport in Indonesia after Soekarno–Hatta International Airport. In 2018, the airport served 23,779,180 passengers. The airport has category IX and can provide wide-body aircraft comprising the Boeing 747-4 and Airbus A380. Airport Council International awarded Ngurah Rai International Airport as the world's third-best airport (with 15 to 25 million passengers each year) in 2016 based on their client services. The airport is named after I Gusti Ngurah Rai, a Balinese hero who died on 20 November 1946 in a puputan (fight to the death) versus the Dutch at Marga in Tabanan, where the Dutch beat his company with air support, murdering Ngurah Rai and 95 others throughout the Indonesian Revolution in 1946. There is no flight available from Sayak - Siargao Airport to Ngurah Rai International Airport until the present.
Climate pattern in Siargao to Bali Denpasar
If dry weather is what you need, the months with the slightest chance of significant precipitation in Bali / Denpasar are in August, July, and then September. The lowest possibility of rain or snow occurs around mid of June. Average temperatures in Bali / Denpasar vary scarcely at all. The temperatures feel hot all year with a fair chance of rainfall about half of the year. The warmest period of the year is generally mid-October where highs are regularly around 95.1°F (35.3°C) with temperatures rarely dropping below 78.1°F (25.7°C) during the night.
Highlights attractions in Bali / Denpasar
Uluwatu Temple - Uluwatu Temple is a Balinese Hindu sea shrine (Pura Segara) sited in Uluwatu (South Kuta, Badung). The temple is regarded as one of the sad kahyangan and is in honour to Sang Hyang Widhi Wasa in his emergence as Rudra.
Seminyak - Seminyak is a varied tourist residential area on the west coast of Bali in Indonesia, just north of Kuta and Legian. Initially a split township, this is now a new neighbourhood of Kuta. This area is very ordinary with resident ex-pats and land and accommodation prices are among the highest in Bali. Plenty of luxury health spa and hotels abound.
Sacred Monkey Forest Sanctuary - Mandala Suci Wenara Wana, or described as Ubud Monkey Forest, is the sanctuary and ecological environment of the Balinese long-tailed Monkey, scientific name Macaca fascicularis. It is situated at Padangtegal Ubud, Bali. About 1049 monkeys live in this shelter. They are divided into six groups, specifically in the opposite of the main temple group, woodland preservation group, central point group, eastern group, Michelin group, and cemeteries group.