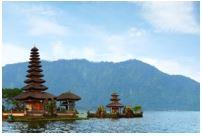 The busiest month for tourism in Medan, Indonesia is July, followed by October and May. Prices for hotels and flights will be most expensive during these months, though you can save if you purchase well in advance. Tourists are unlikely to visit Medan in September. Those willing to visit at these times will likely find it the least expensive month.
Best Time to Fly from Singapore to Medan
The best time to visit Medan is during the dry season. The dry season lasts from April to September, whereas the wet season lasts from October to March. Travelling during the dry season will allow you to go around Medan unhindered by cloudy days or rain. The months of April and May is also a good time to visit Medan as it a transition period between the dry and rainy season. The temperature stays mild and pleasant and there is low precipitation. The best time to fly to Medan however, would be in August as you will find calmer seas and dry weather.
Main Airports Available in Singapore and Medan
The airport that serves this route would be Changi International Airport in Singapore and Kualanamu International Airport which is located 15 minutes away from the city. From the airport, you can take a fast rail connection into the city which costs Rp100,000 around (SGD10) and will take around 30 minutes). You may also take the DAMRI bus (SGD2) while taxis will cost around Rp150,000 (SGD14). Airlines that offer flights from Singapore to Shanghai include Garuda Indonesia, Lion Air, Malaysia Airlines, Malindo Air, Silk Air, Batik Air, Singapore Airlines and Jetstar.
Climate Pattern in Singapore and Medan
The best time to visit Medan is throughout the year since the temperature stays within a comfortably warm range year-round 20° to 30°. It tends to rain year-round as well, but rainfall is heavier during September to December. The rain comes quickly and leaves just as quickly, and you won't experience whole days of rainfall so even if it's raining, you'll be able to schedule around it.
Highlights in Medan
1. Sipoholon Hot Springs – These hot springs have been called the "soda water pools" as the baths look like carbonated drinks. The waters are a vibrant blue-green due to its sulphurous content, and the surrounding limestone hills dot the area with hues of orange, yellow, and green. Make sure you bring your swimming suit if you're keen to bathe in the sulphur-springs pool. Sulphur is known to for its healthy, healing properties so after dousing in the pools you'll emerge with a soft, radiant glow.
2. Bukit Indah Simarjarunjung – With a couple of unique photo-friendly platforms overlooking Lake Toba, Bukit Indah has become one of the most sought-after photo destinations in the area. Snap your Instagrammable shots on a hot air balloon platform, or a giant hand or heart suspended above the scenic beauty in the skies. If you're brave enough, take the treehouse swing into the clouds! The best times to visit Bukit Indah are in the mornings and evenings. During those times, you'll have great lighting for photography, and a chance to watch the sunset over the lake. Keep in mind that it is cooler up there, and the weather changes quickly, so remember to bring a jacket!
3. Mesjid Raya Mosque – The Masjid Raya is one of the best examples of architecture in Medan. One of the largest mosques in the city, the Mesjid Raya is a mesmerising hybrid of Middle-Eastern, Indian and Spanish architecture. The mosque is made with beautifully designed marble, with stained glass windows and immaculate octagonal design. This is the best spot for a cultural insight into Medan's history and architecture.