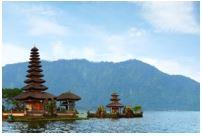 Semarang is the largest city of Central Java province in Indonesia with a population of 1.8 million people. The dominant Semarang ethnic is Javanese, followed by minorities of Chinese, India, Arab, and others (including local ethnics such as Sundanese, Batak, Madura, etc.). The majority religion adopted is Islam.
Best Time to Fly from Singapore to Semarang
Singapore's school holidays are of March, June, September and December. These four months are regarded as the peak season due to the school holidays. Hence visitors are advised to travel on the offseason as the flight ticket will so much cheaper, and it is less crowded. The flight ticket should be as low as SGD 240 on offseason and can go up to SGD 605 on peak season. Thus, visitors are advised to plan accordingly to save more.
Main airports available in Semarang and Singapore
Semarang Airport Semarang Airport is the Ahmad Yani International Airport (SRG) which formerly used as a military airbase but has been designated for commercial flights since 1996. The airport premises consist of one terminal building catering to both domestic and international flights. As of March 2016, Semarang Airport is undergoing expansion to develop a new eco-friendly terminal, which will allow the airport to handle 6 to 7 million passengers annually.
As for Singapore, there is only one airport too named the Changi International Airport. The flight duration between the two places is only 1 hour 10 minutes and the check-in time will be 90 minutes before departure. 2. Changi Airport As for Changi Airport, the airlines operate in accordance to the Terminals.
Terminal 1 covers Bangkok Airways, Jetstar, Thai Airways, Xiamen Air, Air China, American Airlines, British Airways, Delta Airlines and Jetstar Asia Airways. Terminal 2 covers Lufthansa, Scoot, Etihad, Malaysia Airlines, Firefly, Royal Brunei Airlines and Egypt Air. Terminal 3 covers Garuda Indonesia, Malindo Air, Thai Lion Air and Oman Air. Terminal 4 covers AirAsia, Cebu Pacific and VietJet Air.
Ahmad Yani International Airport is equipped with facilities ATM centre, First Aid medical room, car rental counters, money changer, free Wi-Fi access, smoking room, Muslims praying rooms and lounges. Shopping outlets and retailers include a mini market, restaurants, reading materials and magazines kiosk, grocery shops, souvenir kiosks and strapping & wrapping.
For Changi Airport, being one of the best international airports in the world has a lot to offer. Terminal 1 has kinetic rain, cactus and water lily garden and a swimming pool. Terminal 2 has an orchid, sunflower and enchanted garden as well as entertainment deck. Terminal 3 has a movie theatre, koi pond, butterfly garden and The Slide. Terminal 4 has Peranakan Love Story, Steel in Bloom, Petalclouds and Heritage Zone.
Climate Pattern in Semarang and Singapore
In Semarang, the climate here is tropical. Most months of the year are marked by significant rainfall. The short dry season has little impact. In Semarang, the average annual temperature is 26.7 °C. In a year, the average rainfall is 2182 mm. While in Singapore, The weather's warm and tropical year-round. Rainstorms are possible any time, but rainfall usually peaks November - December. The average temperature is between 25°C and 31°C. Thunderstorms occur on 40% of all days. Relative humidity is in the range of 70% – 80%. April is the warmest month, January is the coolest month, and November is the wettest month.
Highlights in Semarang
Located on the north coast of Java tight about its centre point is the busy port city of Semarang. The port city of Semarang is a melting pot of beautiful architecture, rich history, delectable food, and colourful multiculturism.
The Blenduk Church - Built in 1753 in the city of Semarang, the Blenduk Church in the Old Town or Kota Tua Semarang, is renowned for being the oldest Protestant Church in Central Java. Originally built in a traditional Javanese 'Joglo' style, the church then underwent a remodel in 1894 to the current iconic Doric order design that can be seen today.
Gedong Batu - Admiral Cheng Ho, or otherwise known as Zheng He, was a significant historical figure in Indonesian history, particularly in the city of Semarang. A Muslim explorer originating from China, Ho played a critical role in introducing Chinese culture and traditions to the Indonesian community.
Semawis Night Market - Located in Gang Warung, Semarang, Pasar Semawis or better known as Waroeng Semawis, is a night market that sells a variety of scrumptious Indonesian and Chinese influenced foods and drinks.