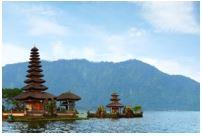 In the 15th century, Admiral Cheng Ho set foot on the land Java and turned Semarang into an entrepot of spices and a busy port. Semarang is the capital of the province of Central Java and home of rich cultures and authentic Javanese experience. Even though it might not be as bustling as its neighbouring cities, Semarang has a lot to offer to its visitors. Traveloka Lifestyle Superapp offers different airlines to choose from including Malaysia Airlines, Malindo Air, Jetstar, Emirates and AirAsia that will give you a trip of a lifetime. The main airport operating in Semarang is Ahmad Yani International Airport (SRG)
When is the best time to fly from Singapore to Semerang
Semerang has a very stable weather, where it is relatively dry for the most part. The best period to travel to Semerang is from mid June to late September. The temperature always varies from 24 to 33 degrees Celcius. It rarely goes below 22 degrees Celsius or goes above 36 degrees Celcius.
Operating airlines available in Traveloka Lifestyle SuperApp including both domestic and international carriers. Such airlines include Scoot, Singapore Airlines, Japan Airlines, Silk Air, Malaysia Airlines, Vietjet, Turkish Airlines, Jetstar, EVA Air, and many more. For further information in regards to travel safety during the pandemic can be referred to Traveloka's travel advisory and other requirements during COVID-19.
What are the main airports available in Semerang
Ahmad Yani International Airport (SRG)
The Ahmad Yani International Airport is the main airport operating in Semarang - providing various routes for both domestic and international. It is 11 km away from the main city. The trip via car or any public land transportation will take around 20 minutes from the airport to the main city. The traveling time will only differ depending on the traffic condition at the time of the travel.
Highlights in Semerang
Lawang Sewu - Undoubtedly the most famous landmark in Semarang, Lawang Sewu, or translated to 'Thousand Doors', is a colonial building that serves as headquarter of the Indonesian railways during the Dutch era. Despite no longer being in use today, Lawang Sewu holds a lot of history and local legends.
Sam Poo Kong - Also known as Gedung Batu or the Stone Building, this temple was built by Admiral Cheng Ho and now holds the title of the oldest Chinese temple in Semarang. The striking red colour and the triple-layered pagoda-style roof, with the lingering scent of the incense, will surely take you to China for a moment. Sam Poo Kong serves both as a place of worship, and also as a shrine in honour of Cheng.
The Cave of Virgin Mary - Also known to the locals as Gua Maria, this cave is a holy destination for Catholics and also visitors of various religions. This cave was established in 1954 and was declared by Pope John Paul II. This cave showcases many of Jesus' life events such as The Sea of Galilee, The River Jordan, The Kana Banquet, Under the Fig Tree, The Way to the Cross, and finally, The Tomb of Jesus.
Travel tips to Semerang
Always Stay In Touch
Despite the beauty of the world, it is not necessarily a safe one. Even if you are doing a solo trip, always keep in touch with your family and/or friends. Let them have a copy of your itinerary so that they have an idea of where you are. Keep them close in contact each day and let them know when you are changing locations during your trip
Bring Extra ATM & Credit Cards During Your Travel
There is a saying that doesn't keep all your money with your person when you travel, but that doesn't mean you should not bring extra money at all. Keep extra credit and atm cards with you when you travel. This will help greatly when things go south and believe me, it probably will. Keeping cards instead of cash with your person is better and safer.
Learn Few Local Words to Blend In
This will come in handy when you are traveling to a place where English is not their first, second, or only language at all. It is best to learn some local words that can help you through the trip, especially in terms of direction, transportation, medical, and such. Plus, it will open a ton of network opportunities with the locals to be able to be among them. You will be able to make friends and discover some hidden gems you never thought you would find.
How to Book with Traveloka Lifestyle SuperApp
Traveloka Lifestyle SuperApp is the leading lifestyle SuperApp in Southeast Asia with over 100,000 flight routes offered and more than 100,000 hotels across the map. Traveloka gives you the best of both services, right from your fingertips. Traveloka Lifestyle SuperApp gives you the convenience you need when you are doing your flight search and flight booking. We always keep our user experience in mind when we build the mobile application system to ensure every user has a great experience using it.
Booking might be hard on certain online travel agency platforms, but Traveloka has its ways of making it easy for customers to book their flights. 
Search your flight
From either the mobile app or the desktop, you will be able to easily search for your flights by filtering the necessary information such as travel date, trip type for either one-way or return, etc.
Choose and Book a flight
You will be given information about the airline name, flight schedule, and ticket price once you arrived at the flight search results page. You can further refine your searches based on the filters you set.
Fill in Contact Information and Passenger Details
If you already have an account with Traveloka, you will be able to fill in your details in advance, thus when it is time to fill in your contact information and passenger details, you can just click on the information.
Complete Your Payment
From the many payment methods available, choose one that best suits you.
Receive Your E-ticket
Within 60 minutes after your payment is confirmed, we will send your e-ticket to your email.