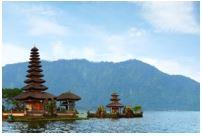 Phnom Penh is Cambodia's capital. This glimmering city includes the ancient glory of the Khmer, the unfortunate recent past, and a progressive future in it all at once. Phnom Penh, sitting at the junction of the rivers Mekong and Tonle Sap, inherits a unique blend of Khmer and French architectural beauty. With lively markets, royal buildings, thriving bars, and sensual local food scenes, the city can be easily pictured. Whenever Phnom Penh is spoken of, the saddening images of his recent past take a stroll through the eyes. The people living in the city, however, seem to be determined enough to withstand this pain and move forward towards a constructive future. Phnom Penh city has its own beauty standards. Busy narrow streets, struggling sounds of life, tinges of an old French colony, riverside romance and hippie projection-this is how you begin to define the essence of the city when you come here.
Best time to fly from Cebu to Phnom Penh
The temperatures in this city feel hot all year with a low chance of precipitation most of the year. The area is less temperate than some. The best time to visit Phnom Penh for ideal weather is 19 November to 3 June. The busiest month for tourism in Phnom Penh, Cambodia is in January, followed by July and May. Prices for hotels and flights will be most expensive during these months, though you can save if you purchase well in advance. Tourists are unlikely to visit Phnom Penh in August. Those willing to visit at these times will likely find it the least expensive month.
Main airports available in Cebu and Phnom Penh
Phnom Penh International Airport – Phnom Penh International Airport (PNH) is the largest airport in Cambodia. You can fly to 31 destinations with 39 airlines in scheduled passenger traffic. The most frequently departed route is the route to Bangkok (BKK) in Thailand with an average of 77 flights from Phnom Penh every week which is 15% of all weekly departures. There are domestic flights to Siem Reap (REP) and Sihanoukville (KOS). The two longest flights are Phnom Penh (PNH) to Tokyo (NRT) that takes around 5 hours and 40 minutes and Phnom Penh (PNH) to Seoul (ICN) with a flight time of 5 hours. Cambodia Angkor Air is the largest airline here by counting the number of departures with around 63 scheduled take-offs every week. The second-largest operator from Phnom Penh is JC Airlines.
Mactan–Cebu International Airport – The Mactan–Cebu International Airport is an international airport that connects the city of Cebu with the outside world. The airport is located in Lapu-Lapu City on Mactan Island, a part of Metro Cebu. It is the second busiest international airport in the Philippines. The airlines that operate in this airport is AirAsia Philippines, Cebgo, Cebu Pacific, PAL Express, and Philippine Airlines. This airport consists of two different terminals. The Mactan–Cebu International Airport has many interesting shops and eateries within the airport so you can shop or dine in while waiting for the plane to arrive or depart. To go in and out of the airport is easy because there are many types of transportation available in The Mactan–Cebu International Airport for the visitors.
Climate pattern in Cebu and Phnom Penh
Phnom Penh's climate is classified as tropical. The summers are much rainier than the winters in Phnom Penh. The average annual temperature is 27.7 Celsius in Phnom Penh. About 1371 millimetres of precipitation falls annually. Precipitation is the lowest in January, with an average of 6 millimetres. The greatest amount of rainfall occurs in October, with an average of 261 millimetres. At an average temperature of 29.6 Celsius, April is the hottest month of the year. The lowest average temperatures in the year occur in December when it is around 26 Celsius.
Highlights attractions in Phnom Penh
The Royal Palace and Silver Pagoda - The Royal Palace serves as the residence of the King and is used as a venue for court ceremony. The Silver Pagoda or the Wat Preah Keo Morokat is a unique temple, mostly known for its silver floor tiles. The Royal Palace compound also has its significance in a couple of other Royal buildings.
National Museum of Cambodia - The National Museum of Cambodia is located next to the Royal Palace compound and boasts the largest collection of Khmer art in the world. This is Cambodia's largest museum showcasing the culture, history, and art of the country. Cambodia's history and culture treasures include various sculptures, bronzes, artworks, ceramics, and ethnographic artefacts. The collection has more than 14,000 items dating from prehistoric times to the times around and after the Khmer Empire.
Psar Thmei - Psar Thmei or Phnom Penh's Central Market is an open market in a domed hall. This Art Deco building is a well-known landmark in the city. Built-in 1937, Psar Thmei was originally designed by French architect Louis Cauchon. The building's four wings allow you to buy a variety of items from clothes and jewellery to appliances and souvenirs. There is also a section on fresh food, where you can also stop for a quick Cambodian staple to fill your stomach.