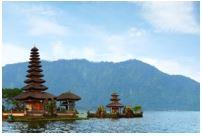 Phu Quoc Island boasts idyllic beaches, stunning sunsets, evergreen forests, and a serene environment, making it a perfect vacation destination for travellers who want to escape the busy city life. The northern part of the island is relatively untouched due to its status as a UNESCO-listed national park, situated 45 kilometres west of Ha Tien in the far south of Vietnam. Still, there are plenty of luxury resorts, funky bars and trendy cafes along the southern coastline. Including activities on the beach, tourists can also explore traditional villages, vast nature parks, and Buddhist pagodas, all of which are easily accessible by reputable companies by bicycle, taxi, bus or even day trips. Catering to almost any budget level or choice, the dining scene of Phu Quoc varies from local markets selling fresh seafood and street food from Vietnam to expat-owned bistros serving authentic Western and European cuisine.
Best time to fly from Cebu to Phu Quoc
The average temperatures in Phu Quoc Island vary very little. The temperatures feel hot all year with a chance of rain throughout most of the year. The warmest time of year is generally late May where highs are regularly around 32.6 Celsius with temperatures rarely dropping below 26.6 Celsius at night. If dry weather is what you are after, the months with the lowest chance of significant precipitation in Phu Quoc Island are January, February, and then December. Wind in Phu Quoc Island is usually calm. The windiest month is July, followed by August and September. The busiest month for tourism in Phu Quoc Island, Vietnam is in January, followed by July and May. Prices for hotels and flights will be most expensive during these months, though you can save if you purchase well in advance. Tourists are unlikely to visit Phu Quoc Island in August. Those willing to visit at these times will likely find it the least expensive month. The best time to visit for the ideal weather is are 17 December till 4 March.
Main airports available in Cebu and Phu Quoc
Mactan–Cebu International Airport – The Mactan–Cebu International Airport is an international airport that connects the city of Cebu with the outside world. The airport is located in Lapu-Lapu City on Mactan Island, a part of Metro Cebu. It is the second busiest international airport in the Philippines. The airlines that operate in this airport is AirAsia Philippines, Cebgo, Cebu Pacific, PAL Express, and Philippine Airlines. This airport consists of two different terminals. The Mactan–Cebu International Airport has many interesting shops and eateries within the airport so you can shop or dine in while waiting for the plane to arrive or depart. To go in and out of the airport is easy because there are many types of transportation available in The Mactan–Cebu International Airport for the visitors.
Duong Dong Airport – Duong Dong Airport (PQC) is the fifth-largest airport in Vietnam and is based in Phu Quoc. You can fly to 11 destinations with 14 airlines in scheduled passenger traffic. The route with the most departures is the route to Ho Chi Minh City (SGN) with an average of 106 flights from Duong Dong Airport every week which is over 52% of all weekly departures. The top international destinations from here are Bangkok (BKK) and Seoul (ICN). The longest flight is between Phu Quoc (PQC) and Seoul (ICN) and takes around 5 hours and 20 minutes. VietJet Air is the largest airline here by counting the number of departures with around 79 scheduled take-offs every week. The second-largest operator from Duong Dong Airport is Vietnam Airlines.
Climate pattern in Cebu and Phu Quoc
From November to March, it is considered the high season and it is the best time to visit here. Currently, the weather is mild and comfortable. The temperature for these periods would be around 25 to 28 Celsius which is a great time for those who love to be under sunny weather. From July to September would probably be the low season for tourists to visit. It is because, at these times, the weather is the hottest among the year. But tourist who visits at this time can save their money because during this time there are fewer crowds and cheaper price rate.
Highlights attractions in Phu Quoc
Suoi Tranh Waterfall - Suoi Tranh Waterfall is a waterfall of 4 meters in height, surrounded by lush greenery, numerous walking trails, natural caves, and rock pools. Nature lovers will enjoy recreational activities such as picnics, jungle trekking, camping and bird watching, located 7 kilometres west of Duong Dong. If you feel adventurous, visit Hang Doi (Grotto of Bats), which measures 200 meters in height and houses rare stalactites, you can walk further up from the main waterfall site. Suoi Tranh Waterfall is usually packed with locals during weekends and national holidays because of its proximity to the main city.
Duong Dong Market - Located along Tran Phu Street, Duong Dong Market is the busiest and largest outdoor market on Phu Quoc Island. Early morning is the best time to visit, where you can see local people bargaining hard for household items, fresh and dried fish, meats, candy and fruit from mainland Vietnam. At relatively low prices, Duong Dong Market also houses many food stalls serving fresh seafood, fruit juices, and Vietnamese cuisine. Since the island is renowned for its mushroom, pepper and cashew nuts, it is highly recommended to pick up some as souvenirs for loved ones back home.
Vinpearl Land Amusement Park - Vinpearl Land Amusement Park offers thrilling water slides, rollercoasters, outdoor and indoor arcade centres, amphitheatre, 5D cinema, and a wide range of dining options. Located between Vinpearl Phu Quoc Resort and Vinmec International Hospital, Vinpearl Land Amusement Park is a 20-minute drive from Ong Lang Beach. Every day there are also vibrant street performances, mermaid shows, and traditional dances, making it an ideal destination for families looking to enjoy a fun-filled day on Phu Quoc Island.