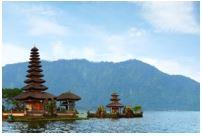 Boracay, though small, has become a massive contender in the top travel destinations amongst foreigners to the Philippines. The surge in visitors to Boracay has even caused the government to temporarily close the beautiful beaches of Boracay to tourists for six months, to give it time to reset and rehabilitate. The 4-kilometer-long White beach is amongst what attracts people the most to the beautiful beaches of Boracay.
Best time to fly from Legazpi to Boracay
Boracay's warm climate and not being affected by typhoons makes it accessible all year round, even during the monsoon season. However, the best time to be in Boracay would be between March to May as, during these months, almost every day is guaranteed a sunny day. But do be prepared for crowded beaches and a lot more noise from parties and social events. During this time the beaches of Boracay come to life with colorful paraws, adventurous parasailing folks and fire dances after sunset.
Main airports available in Legazpi and Boracay
Legazpi Airport (LGP) - The Legazpi Airport, located 15km from town is the main airport in the Bicol region. The airport serves the surrounding areas of Legazpi, the capital city of Albay. To get to Legazpi city from the airport, you may head out of the airport gate and get a tricycle from there. Tricycle usually cost around P50 one way. One trip will take approximately 15 minutes, depending on traffic. If you walk to the road outside, you may take jeepneys to the Albay district or Daraga city. Even though Legazpi airport is a rather small airport which consists of a single-story building, it is equipped with a waiting area and a tour desk.
Godofredo P. Ramos Airport (MPH) - The Godofredo P. Ramos Airport, also known as the Caticlan Airport or Boracay Airport serves the municipality of Malay which is located in the province of Aklan. The airport is one of two gateways for travelers to reach Boracay Island. As the island is not accessible by plane, travelers to Boracay will have to take a ten-minute boat ride from the airport to the island.
Climate pattern in Legazpi and Boracay
Both Legazpi and Boracay share a very similar climate. Both have tropical climates with hot weather and rain throughout the year and a very similar average temperature. Boracay is just slightly warmer than Legazpi with an average temperature of 30 degrees Celsius while the average temperature in Legazpi is 27.1 degrees Celsius. There is a vast difference in the amount of rainfall between the two cities as Legazpi receives an annual amount of 3104 mm of rain compared to Boracay, which only receives 999mm of rain annually.
Highlights attractions in Boracay
White beach - Most travelers to Boracay would almost definitely be heading to White Beach, the center of action in Boracay. The beach offers luxury hotels to more affordable stays, making the place accessible to everyone. The entire beach is lined by a sandy pedestrian highway called the White Beach Path. You will not see any motorized vehicles on the path and most visitors tend to go barefoot.
Mt. Luho View Deck - Stationed high above the east coast, the Mt. Luho View Deck offer a stunning view across the island. The view is breathtaking, and the climb up to the deck is just the same. Up on top of the deck, you will be able to enjoy a 360 view of the small island called Boracay.
Ariel's Point- If cliff diving and water sports is your thing, then head to Ariel's Point. To get there, you will be taking a ride on a longtail boat, bringing you up to Ariel's Point where you will need to climb up a few rocky steps to reach the main deck. Three platforms are ranging from 3 meters to 15 meters from where you can jump from. You can also snorkel, kayak and paddleboard to pass your time at Ariel's point.