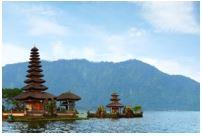 Dumaguete is a city located on Negros Island, in the southern Philippines. The Anthropology Museum of Silliman University is a museum featuring prehistoric artifacts from local groups. It is the capital and has the most populous people in Negros Oriental. It had a population of 131 377 people according to the census in 2015. The city is nicknamed The City of Gentle People. Dumaguete attracts many foreign tourists, especially from Europe. It is because of beach resorts and diving sites, dolphin attractions and whale watching at nearby Bais City. Dumaguete is recognized as the Top 7 Places to Retire Worldwide. Dumaguete is referred to as a university city because of the presence of four universities and several other colleges in which the students from the region congregate for higher education. The city is also a popular educational destination for students around the area and the cities of Visayas and Mindanao. Dumaguete is blessed with a beautiful coastline, active volcanoes, serene waterfalls, fascinating wildlife, hiking trails galore and many more amazing things.
Best time to fly from Cebu to Dumaguete
February and March are the least seasons of Dumaguete's tourists. Not only are tourists lacking, but most hotels offer cheaper rates to attract tourists this season. Occasionally, travel companies are also rewarding or offering discounts for excursions to Dumaguete to attract tourists in these months. In Dumaguete, the peak of tourism takes place in January. Higher accommodation rates than other seasons. At Christmas time are a very busy date and a date that you should avoid if and not in a busy state. Between May and October is the rainy season. So be prepared if you come at this time.
Main airports available in Cebu to Dumaguete
Mactan-Cebu International Airport - This airport is located on Mactan Island. The airport serves as the primary airport for domestic and international flights. It has a route of 25 domestic destinations and 22 international destinations in terms of passenger and cargo. Mactan-Cebu International Airport is the second busiest airport in the Philippines. It has an area of ​​797 hectares. The United States Air Force built the groundwork in 1956. It is known as the Mactan Air Base and developed as an emergency airport for the Air Strategic Aircraft bomber.
Sibulan Airport - It is also known as Dumaguete Airport or Dumaguete-Sibulan Airport. This airport serves the public areas of Dumaguete. The airport is named after its location located in the city of Sibulan in the North. The airport is classified as the first-class airport. It provides daily flights to and from Manila and Cebu via Cebu Pacific, Cebgo and PAL Express.
Climate pattern in Cebu to Dumaguete
Dumaguete has a tropical savannah climate. It is bordering a tropical monsoon climateDumaguete has two seasons, seasons and wet seasons. It is dry and sunny throughout the year with occasional rain from June to December. The province of Dumaguete usually gets cyclone once a year or no. The Dumaguete temperatures can reach 36 degrees Celsius in summer from March to May and as low as 18 degrees Celsius in the mountains during the rainy season. The average temperature is about 24 to 34 degrees Celsius, and there are not many changes except in May, the hottest month.
Highlights attractions in Dumaguete
Silliman Hall - Silliman Hall is a building built in American-style architecture. It is located in Dumaguete, Negros Oriental, Philippines. It was built in the early 1900s and was used as a museum in 1970.
Lake Balanan - Lake Balanan is a lake located in Siaton, Negros Oriental in the Philippines. It is a freshwater lake with a shape resembling the eighth figure located in the forest mountains in the southern part of the island of Negros. It is a natural lake. The lake was formed by a tectonic earthquake that took place in 1925. There is a long cement route where moss grows so much that the cement looks part of the environment. This road will take you to the beach where there are docks and huts on the river.
Casaroro Falls - With steep of 355 stairs, a long staircase leads to this scenic waterfall site are popular for swimming and picnicking. Its massive and magnificent waterfall makes Casaroro unique. Around the basin are natural rocks that paint the scenery at Casaroro Falls.