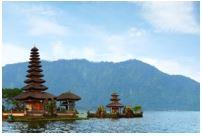 Over the years Siargao has evolved into Philippine's surfing capital, a destination that is popular among both local and foreign tourists. The island of Siargao is blessed with endless scenic roads surrounded by palm trees, stunning unspoiled beaches, and countless passages to unwind and relax. Recognizing its worldwide market, Siargao caters to a wide selection of cuisines and cafes. Be sure to visit the small local-owned shops to grab some coffee and the freshest fruit smoothie bowls, or try some of the local Filipino dishes. If you crave for some nightlife, General Luna is the place to be. Here you can find the most commercialized establishments such as 5-star rated resorts, bars, international class restaurants and more.
Best time to fly from Legazpi to Siargao
Being an island destination that is ideal for numerous outdoor and water activities, the best time to visit this beautiful island is undoubted during the warmest days. Siargao's warmest months starts from February and lasts until October. Alternatively, if you're interested in visiting Siargao in time for the Surfing Festival, then you should plan your trip during late September. The Siargao Surfing Festival not only attracts surfers for the surfing competition, but there are also other activities that you can partake in such as watching the parades, joining the party scene and more.
Main airports available in Legazpi and Siargao
Legazpi Airport - The airport serving the city of Legazpi is known as the Legazpi Airport. Located only 5 kilometers away from Legazpi's main city center, this commercial airport terminal is the busiest domestic airport in mainland Southern Luzon. Airline carriers that operate daily scheduled flights to and from the Legazpi Airport terminal include Cebu Pacific Air, Philippine Airlines and Cebgo Airlines.
Sayak Airport - The airport terminal that serves the general area of Siargao Island is known as the Sayak Airport. Sayak Airport is a short 45-minute commute from the central tourist spot, General Luna, thus finding public transportation to and from this airport terminal will not be an issue. The terminal provides commercial flights daily to cities such as Cebu, Clark, Davao and Manila. Airline carriers that cater to these destinations are Cebu Pacific and Philippine Airlines.
Climate Pattern in Legazpi and Siargao
Siargao Island, like most regions in the Philippines, experiences a tropical climate which ensures two primary season – the dry season and rainy season. Mostly, the weather throughout the year will stay warm and sunny with the occasional rainfalls. Seeing as Siargao is a beach destination offering many water sport activities, the months of February until October promises nice temperature with less rainfall so this would be an ideal time to go. This makes November to January the off-peak tourist season to travel to Siargao Island due to the rainy season.
Highlights attractions in Siargao
Siargao, Philippine's Surfing Capital - Synonymous to surfing, this island destination is hyped for its waves and the annual surfing competition during Siargao's Surfing Festival in September. For those who plan to go surfing, the best months would be August to November. This is when the waves and wind conditions are at their best, so you'll find really good waves to catch. However, if you are not a big fan of catching the waves, there are other water activities that you can partake in too such as kayaking, fishing, kiteboarding, windsurfing, scuba diving, free diving, snorkeling and of course swimming. The options are countless.
Cloud 9 Boardwalk and View Deck - Located in General Luna, the main touristy and commercialized part of Siargao, Cloud 9 is one of the most popular spots for surfing and relax on the beach. Enjoy hitting the waves, or being an audience to all the seasoned surfers. The landscape here is extremely picturesque, especially during sunrise and sunsets. Also, don't miss out on taking a stroll down the iconic Cloud 9 boardwalk where you can view the waves from the three-story-high viewing deck.
Sugba Lagoon - Another famous landmark of Siargao Island is Sugba Lagoon. Located in the northwestern part of the island, it is famous for its crystal clear turquoise waters. Here, you can rent canoes, bamboo rafts and paddle boats to explore the lagoons. Or dive into the beautiful waters at the diving platform.