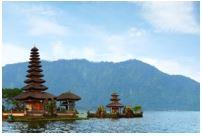 Langkawi is one of the main tourist destinations popular among both the locals and international travelers. It is one of the archipelagoes that comprises of 99 islands in situated in the Melaka Strait 30 km away from the mainland coast of northwestern Malaysia. Langkawi is part of Kedah and close to the Thailand border. The iconic eagle statue on the island marked Langkawi's unique identity to the world. Langkawi is 416 km away from Kuala Lumpur and the best method of traveling to Langkawi is via flight. However, the latest legislation allows you to drive to Langkawi but with the fee and the traffic, it will be less of a hassle to just fly and rent a car on the island. It will take approximately an hour to travel from Kuala Lumpur to Langkawi via the air space. Knowing Langkawi's reputation as one of the main tourist spots, various highlights you should pay a visit including Cenang and Tanjung Rhu Beach, the Skybridge, and many more.

Best time to fly from Ipoh to Langkawi

To the northern side of Malaysia, the seasons for travel varied between states, due to the geographical condition that is a bit complex there compared to the rest of the Peninsular. According to Langkawi's official site on travel, the best time to fly to Langkawi is between the months of November and April. It is said that the weather will be balance enough for outdoor activities where it will not be too sunny or too rainy.

Operating airlines available in Traveloka including both domestic and international carriers. Such airlines include Firefly, Jetstar, Malindo Air, Philippine Airlines, Air France, Malaysia Airlines, Korean Air, Qantas Airlines, and many more. For further information in regards to travel safety during the pandemic can be referred to Traveloka's Coronavirus Information.


Main airports available in Ipoh and Langkawi

Sultan Azlan Shah Airport (IPH) - It is 6 km away from the city center and was recorded as the seventh busiest airport in Malaysia. It takes about 6 to 10 minutes of travel time depending on the traffic conditions at that time. Traffic changes everything.

Langkawi International Airport (LGK) - This is also the main and the only airport populating Langkawi. It is one of the busiest considering the nature of Langkawi as the state of tourism. Langkawi International Airport is 10 km from the main city. It will take around 15 minutes from the airport to the city. The airport is relatively large and has a lot of duty-free stores for you to enjoy.

Other popular flight routes to Langkawi

Although it is highly unlikely to find flights from Ipoh to Langkawi. The journey to Langkawi can still be made possible from other domestic points in Malaysia. Among the main flight routes flying from domestic to Langkawi such as from Kuala Lumpur to Langkawi. Airline providers including AirAsia and Malaysia Airlines provide travellers with direct routes to Langkawi. Other flight routes from Kota Kinabalu to Langkawi and Subang to Langkawi.

Climate pattern in Langkawi

Langkawi and some of the northern parts of Malaysia have specific weather patterns throughout the year that one should look out for if they are planning a trip to Langkawi. Although we are pretty much a summer country all year-round, we do have raining seasons that will turn your holiday into a stay-in instead. Based on WeatherSpark, the temperature varies from 25 to 33 degrees Celsius. It will never go below 23 or above 34 degrees Celsius.

Highlights in Langkawi

Langkawi Skybridge Cable Car - The 2.2 km long sky bridge begins from Buraru Cape to the peak of Mount Machinchang. The journey takes approximately 15 minutes, but be aware of the weather condition because the bridge will close if the weather is compromised. The entrance fee to the sky bridge is MYR6 for adults and MYR4 for children.

Cenang Beach - Cenang Beach is one of the most popular beaches in Langkawi. During the day, it looked like a normal beach, but after the sun sets is when the beachside becomes lively. You will be able to rent chairs and recliners to enjoy the scenery. There are also various accommodation nearby the beachside area, plus a long row of shops to hunt for souvenirs.

Tanjung Rhu Beach - Although it may not be as lively and a tourist center like Cenang Beach, but one main attraction they provide is the sense of privacy. It is almost a hidden gem to the level of privacy you will encounter here.
Travel Tips
Be Flexible with Your Travel Plans
Planning is a good way to go traveling, be it domestically or internationally, but don't disregard the fact that things can and most likely would not go as planned. This could either be due to suddenly the activity you want to do is unavailable or if more logistical issues force you to think of other ways to do things. Keep in mind that plan is a good base, but when you are traveling and there are a lot of external factors involved, it will be a different kind of adventure.
Bring Extra ATM & Credit Cards During Your Travel
There is a saying that doesn't keep all your money with your person when you travel, but that doesn't mean you should not bring extra money at all. Keep extra credit and atm cards with you when you travel. This will help greatly when things go south and believe me, it probably will. Keeping cards instead of cash with your person is better and safer. 
Learn Few Local Words to Blend In
This will come in handy when you are traveling to a place where English is not their first, second, or only language at all. It is best to learn some local words that can help you through the trip, especially in terms of direction, transportation, medical, and such. Plus, it will open a ton of network opportunities with the locals to be able to be among them. You will be able to make friends and discover some hidden gems you never thought you would find.
Keep Your Accommodation Address with You
This might sound ridiculous but it is important nonetheless. We tend to underestimate ourselves and assume we have it all in our heads. It is best to have it with you at all times because when you need a specific direction back, you can refer to it easily. It is best to keep it on paper as well because you will never know when the handy-dandy technology will fail you when you need it the most.
Less is Best when Traveling
We are not going minimalist here, but minimalism can help you get more things done. In order to determine how many you should bring with you, you should always go back to the question of where and what. Where are you going? What will you be doing? This will bring you back to the consideration if you do a lot of walking, then it is best to bring something you are comfortable with. The key example is to wear your everyday clothes because you know what you are comfortable with to go about your day. Don't overthink too much on a "just in case" situation because that is the number one trap to bring more with you and in the end, it will just make your bag heavier with things you can either reuse or get easier there.
Travel Insurance
Be it whether you are traveling domestic or international, it is important to gear yourself up with travel insurance. Traveloka itself provides travel insurance from Chubbs. This is pretty much self-explanatory because you will never expect what could happen when you are abroad. Even if you are traveling domestically, should things go out of your control such as accidents or sickness, you will have the leverage of insurance coverage.
Always Stay In Touch
Despite the beauty of the world, it is not necessarily a safe one. Even if you are doing a solo trip, always keep in touch with your family and/or friends. Let them have a copy of your itinerary so that they have an idea of where you are. Keep them close in contact each day and let them know when you are changing locations during your trip.
How to Book with Traveloka
Booking might be hard on certain online travel agency platforms, but Traveloka has its ways of making it easy for customers to book their flights. 
Search your flight
From either the mobile app or the desktop, you will be able to easily search for your flights by filtering the necessary information such as travel date, trip type for either one-way or return, etc.
Choose and Book a flight
You will be given information about the airline name, flight schedule, and ticket price once you arrived at the flight search results page. You can further refine your searches based on the filters you set.
Fill in Contact Information and Passenger Details
If you already have an account with Traveloka, you will be able to fill in your details in advance, thus when it is time to fill in your contact information and passenger details, you can just click on the information.
Complete Your Payment
From the many payment methods available, choose one that best suits you.
Receive Your E-ticket
Within 60 minutes after your payment is confirmed, we will send your e-ticket to your email.