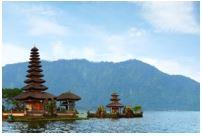 Occupies an area of 1,568.7 square kilometres, Bangkok is the capital of Thailand. Bangkok is derived from Thai words. Bang is a Thai word meaning 'a village on a stream' and makok being the name of Elaeocarpus hygrophilous, a plant bearing olive-like fruit. It was founded as the capital of Thailand on 21 April 1782 and had a population of 8.28 million as in 2010. It has grown over 10 million now.
In the 1990s, the city has an inadequate road network and chronic traffic congestion. Since then, the city has developed into public transport friendly with more than five rapid transit lines are now in operation, with more systems under construction or planned by the national government and the Bangkok Metropolitan Administration.
Best time to fly from Bacolod to Bangkok
The best time to fly to Bangkok is in late November and early December. It is when the city is drying out from the monsoon season and tourists are starting to visit. Mainly, the peak season for Bangkok is between November and March when the tourist is crowded and the perfect time to explore around Bangkok. Visitors are best to avoid September and October, which are Bangkok's and Thailand's) rainiest months.
Main airports available in Bacolod and Bangkok
Suvarnabhumi Airport - Covers an area of 8,000 acres, it is one of the main international airports serving the city of Bangkok. The airport is unofficially called Bangkok Airport and becomes one of the largest airports in Southeast Asia. It is currently the main hub for Thai Airways International, Thai Smile Airways, and Bangkok Airways. Besides that, it also serves as a regional gateway and connecting point for various foreign carriers. This airport was officially opened on 15 September 2006 for limited domestic flight service and for most domestic and all international commercial flights on 28 September 2006. Currently, Suvarnabhumi Airport is the 21st busiest airport in the world and eleventh busiest airport in Asia with approximately 60 million passengers annually.
Climate pattern in Bacolod to Bangkok
The weather in Bangkok is defined as a tropical monsoon climate. It means the city has three main seasons which are hot season from March to June, rainy season from July to October and cool season between November and February. Bangkok is constantly experiencing daytime temperature exceeds 30 degrees Celsius throughout the year. The best weather in Bangkok is experienced between December and February. These are the 'cool months' when discovering the city by foot will not involve drowning perspiration.
Highlights attractions in Bangkok
Lumphini Park – Lumphini Park is located in the middle of Bangkok and has 2.5 kilometres in length. This park is not only a park, but it also has a lot to offer and things to see. Early in the morning, there are many locals jog and cycles at the park and even host many sporadic aerobic classes that opened to the public to join. Besides that, there is also a lake where visitors can rent paddle boats and explore the park. Besides, visitors can never know what they are going to stumble upon as the park is huge and a concert was once held here.
Chatuchak Weekend Market – Chatuchak Weekend Market is one of the largest markets in Asia and also one attraction visitors to Bangkok on the weekends surely cannot miss out on. There are thousands of vendors selling almost anything such as art pieces, northern handicrafts, souvenirs, local foods, snacks and clothes. It is an overwhelming and loud experience for visitors. Visitors are recommended to come early in the morning and make sure to bargain.
Bangkok Art and Culture Centre – The construction of the gallery began in 1995, but it was put on hold when a new governor was elected in 2001. After that, the construction resume in 2004 until officially opened to the public. One of the latest top attractions is the Bangkok Art and Culture Centre. For art lovers, this gallery is perfect for you. The building was uniquely designed with the amazing winding shape and had a significant influence on Thai architecture. The Bangkok Art and Culture Centre is also home to many cafes, restaurants, an art library, eco-friendly souvenir shops, a prayer room, and more.