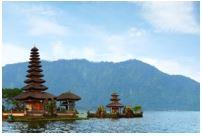 Bangkok is located in Thailand. It is the capital city of Thailand and is one of the most popular places to visit. Bangkok serves as a gateway to other cities in Thailand. Phuket, Chiang Mai, and Koh Samui can easily be accessible by just a short flight or a bus. This city is very lively, surrounded by delicious food, various entertainment, and modern shopping malls, making it the perfect getaway for you!
Best time to fly from Caticlan - Boracay to Bangkok
The climate in Bangkok is tropical year-round with an average temperature of 30-40 degrees Celsius. The highest temperature will be in November and the lowest is in July. This temperature makes it perfect for a summer vacation. The best time to visit Bangkok will be in July as the temperature is just nice and the rain precipitation is low. Regardless, bear in mind that this city is both warm and rainy all year round so prepare your umbrellas and raincoats for that matter. Catch Songkran while you are there.
Main airports available in Caticlan - Boracay and Bangkok
Caticlan Airport - This airport is the closest one to the Boracay Island with a short ten minutes boat ride. However, the flight ticket here is a little more expensive than Kalibo Airport. Please bear in mind that you are only allowed to bring in 10 kg of check-in baggage. You can choose either to fly with Cebu Pacific or Philippines Airlines. This is one of the busiest airports in the Philippines.
Suvarnabhumi Airport - Suvarnabhumi means "The Golden Land". It is now Bangkok's main airport. It is only 30 km away from the city and you are free to choose between the bus or taxi. As for the bus, you can download the app called VIA BUS to know more about their schedules. The taxi is a lot more expensive but they are always there outside the airport.
Don Mueang International Airport - Before Suvarnabhumi Airport started operation, Don Mueang Airport was Bangkok's main airport, servicing both international and domestic flights. It is now the world's largest low-cost carrier airport. Terminal 1 caters to international flights that include AirAsia while Terminal 2 caters to domestic flights. Other airlines available include Thai AirAsia, Nok Air, and Orient Thai.
Climate pattern in Caticlan - Boracay and Bangkok
Bangkok is both warm and rainy all year round. The rainy season starts from July till October. The hottest months are between March till June where the temperature can reach up to 40 degrees Celcius. The lowest temperature is 30 degrees Celcius that happen between November until February. Get a cheaper hotel price if you travel to Bangkok during the rainy season.
Highlights in Bangkok
Bangkok has a lot of interesting places to visit. It is a lively city with so many interesting dishes to try.
Wat Pho - Be amazed by the architecture of this Buddhist temple. It is often surrounded by visitors from all over the world. The entrance is free but you will need to comply with the dress code. You will find local sellers selling Thai Yoga pants outside of the temple.
Chatuchak Market - Try out the local dishes here. You can try the ice cream mochi, the fresh-cut fruits, and scrumptious seafood. Please try the Pad Thai as well as the Tomyum Gung. Buy your souvenirs here too.
Khao San Road - Khao San Road is very suitable for massage during the day. The average price range will be around PHP 200.00 - 500.00. At night, this road is very lively, with an outdoor bar concept. Try out Bangkok's beer and enjoy the music.