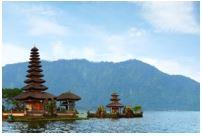 Jakarta officially the Special City Region of Jakarta, is the main capital and biggest city of Indonesia. Located on the northwest coast of the world's most crowded island of Java, it is the middle of culture, economy, and politics of Indonesia with a population of more than 10,000,000 as of 2014. Jakarta city area which has an area of 6,393 square kilometres, is the world's top 2 most populous city area after Tokyo with a population of about approximately 30 million, as per statistics in 2010. Jakarta's business opportunities, as well as its potential to offer a greater standard of living, have fascinated refugees from across the Indonesian region, making it a melting pot of multicultural. Moreover, Jakarta is called as "Big Durian", the thorny strongly-odored fruit native to the Southeast Asia region.
Best time to fly from Cebu to Jakarta
The biggest variations for Jakarta hotels are triggered by business travellers who generally come from Monday to Friday. For this reason, you will normally get a lower price if you stay in Jakarta during the weekend. You may not get any discount on flight tickets though as many Jakarta's come back home during that period. If possible, plan your trip to arrive on Friday morning and leave on Monday afternoon to avoid the major rush. If you want to visit Jakarta, all the flight to Asia are always more expensive, especially during Christmas and summer seasons. Overall, the month of March until the end of May and from the month of October until the end of November is the best time to fly from Cebu to Jakarta.
Main airports available in Cebu to Jakarta
Mactan–Cebu International Airport – The Mactan–Cebu International Airport is an international airport that connects the biggest city of Cebu with the other place located near the area of it. This airport also listed is the top 2 most crowded international airports in the Philippines. The airport is in Lapu-Lapu City on Mactan Island, a part of Metro Cebu. There are plenty of airlines that operate in this airport, for example, AirAsia Philippines, Cebu Pacific, Cebgo, PAL Express, and Philippine Airlines. This airport consists of two dissimilar types of terminals to ease the passengers. The Mactan–Cebu International Airport has lots of interesting shops and restaurants inside the airport so you can eat or shop while waiting for the plane to depart or arrive from here. To go out and in of the airport is easy because the airport provides services such as there are many types of public transportation available in The Mactan–Cebu International Airport for everyone to use here daily.
Halim Perdanakusuma International Airport - Halim Perdanakusuma International Airport is an international airport in Jakarta, Indonesia. The airport situated in East Jakarta and the airfield is touched with the Halim Perdanakusuma air force base of the IDAF. Beside from commercial scheduled flights, this airport is also used for private, military, and residential purposes. The airport is used for company aviation with common arrivals and departures of corporate aircraft both domestically and internationally. About 5.7 million passengers used the airport is based on 2016 statistics. There is no flight available from Cebu airport to Halim Perdanakusuma International Airport until the present.
Climate pattern in Cebu to Jakarta
Jakarta's temperature is humid and tropical almost year-round this is due as it is placed close to the equator, the average temperature is almost the same from the month of January until end of July at about 82°F (28.3°C). Difference throughout the day is negligible as well, with low temperatures around 76°F (24.2°C) and highs of 88°F (31.2°C). Rainfall is reasonable except for the winter seasons when it becomes very heavy because of the monsoon season. As the city is placed below sea level, the canal system designed to drain the city of excess water is sometimes overcome, and parts of the town are underwater for days after heavy rain. It is suggested to avoid Jakarta between the month of December and the month of March unless you are prepared to explore in full of peoples.
Highlights attractions in Jakarta
National Monument - The primary Sudirman-Thamrin streets in Jakarta lead to the Merdeka Square, wherein its middle stands the National Monument which also called as Monas or Monumen Nasional which home the first red-and-white flag flown at the Proclamation of Independence on August 17, 1945.
Taman Mini Indonesia Indah - Taman Mini "Indonesia Indah" (TMII) is a nation-based recreational area located in East Jakarta, Indonesia that open for public. It is run by Yayasan Harapan Kita, a foundation that established by Siti Hartinah which is the first lady during most of the New Order and wife of Suharto and still run by Suharto's children since his passing.
Sea World Ancol - Sea World Jakarta or also called as Sea World Ancol is an aquatic aquarium located in North Jakarta, Jakarta, Indonesia. It consists of 1 Primary tank, one shark tank, and several other tanks, also the white crocodile display. The main tank of the Sea World Ancol is the largest aquarium in Southeast Asia. Sea World Ancol was shut at September 2014 but since July 17, 2015, has been renewed to the public.