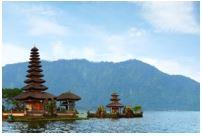 Located in East Java, Jember is an urban area located in Indonesia and occupies an area of 3,092.34 square kilometres. It does not have a city or municipality status, which is similar to urban areas such as Surabaya and Malang. The total population at Jember is more than 2 million as in 2010 includes all inhabitants in 31 districts in Jember regency. The main ethnic groups of the population are Javanese and Madurese followed by a small percentage of Chinese, Arabic, Indian and Balinese. Jember is famous for its Jember Fashion Carnival, tobacco farms and local food called tape or fermented cassava.
Best time to fly from Manila to Jember
The busiest month and the peak season for tourism in Jember, Indonesia is in August, followed by October and June. Visitors are recommended to book hotels and flights in advance during these peak months as the prices will rise gradually. If visitors prefer sunny and dry weather, May and September are the perfect months. During the wet season, the hot weather and rainfall tend to last for a couple of hours and not suitable for outdoor activities.
Main airports available in Manila and Jember
Ninoy Aquino International Airport – The international airport serves the area of Manila and other metropolitan areas. The airport is comprised of four terminals which responsible for handling domestic and international destinations. Designed by a Filipino national artist, terminal 1 was completed in 1981 and served all international airlines and also some by terminal 3. Besides that, Terminal 2 serves as the primary terminal for Philippine Airlines' domestic and international flights. On the other hand, terminal 3 is made up of 20 boarding gates and 140 check-in counters to handle 4,000 passengers per hour and terminal 4 is responsible for handling domestic flights.
Notohadinegoro Airport – Notohadinegoro Airport is an airport serving Jember area in East Java Province, Indonesia. Involved the cost of construction of 30 billion rupiahs, the construction of this airport started in 2003 and opened publicly in 2005. It occupies an area of 120 hectares and 1,560 metres runway.
Climate pattern in Manila and Jember
Jember experiences tropical climate and the weather is hot and humid. The wet season is also overcast and the area experiences rainfall occasionally. The temperature varies from 70°F to 93°F and the most rainfalls occur end of January and the least rainfalls happen around the end of August.
Highlights attractions in Jember
Tancak Waterfall – Tancak Waterfall is an amazing waterfall located on Panti district. It is known as the twin waterfall and the best waterfall in East Java. Standing at 82 metres, it produces water at the rate of 150 cubic meters per second. The visitors can also enjoy coffee agro tourism on Pasang Mountain near the waterfall.
Sukorambi Botani Park – This park is a botanical garden located on Mujahir Street and occupies an area of 8 hectares. Rice paddies and forest surround this botanical garden. Besides that, there is also a herbal garden comprised of more than 200 types of herbs. On top of that, visitors also can enjoy a tea break at a café and eat at the restaurant provided at the park. With over 500 books and journals, there is a reading centre and a meeting hall. As for recreational activities, there are water sports and flying fox.
Papuma Beach - Located on Lojejer, Jember, Papuma Beach is a beautiful white sand beach with crystal blue water. Besides the beautiful beach, Papuma is also rich with animals such as various birds, lizards, forest cock and many more. On top of that, visitors also can enjoy at the restaurant serving local Javanese food like baked fish.