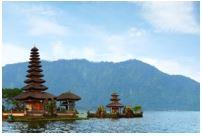 Kota Kinabalu is graced with spectacular waters, mountains and ancient rainforest. It also boasts of some of the finest sunsets in the world. Originally known as Jesselton, the city suffered massive devastation during World War II. However, the city now has successfully recovered and is now a thriving and vibrantly colourful city. Despite it being a modern city, traces of its Chinese trading history and colonial past can still be seen prominently all around town. The city also offers interesting sites along with the water villages, as well as at the ever-expanding array of commercial and residential developments.
Best time to fly from Manila to Kota Kinabalu
If you enjoy beach activities, the best time to fly from Manila to Kota Kinabalu would be during the months of October to November as this is the time Kota Kinabalu experiences the dry season. Otherwise, Kota Kinabalu which shares almost the same climate as Manila is suitable to visit all year round. Kota Kinabalu is protected from cyclones compared to the Philippines, which makes the rain during the rainy seasons less violent than those in the Philippines. For those who want to avoid the crowds may plan a visit from September to November. The accommodations at this time are affordable as it's an off-season for tourism. However, it is important to note that there might be intermittent showers throughout these months, so travellers are advised to pack an umbrella or a raincoat.
Main airports available in Manila and Kota Kinabalu
Ninoy Aquino International Airport - The Ninoy Aquino International Airport is an international airport serving the Manila and surrounding city. It is also known as NAIA by locals. The airport is located along the border between the cities of Pasay and Parañaque. The nearest town to the airport, which is in the south of Manila and southwest of Makati, is located around 7 kilometres. The airlines that operate in this airport is AirAsia Philippines, Cebgo, Cebu Pacific, PAL Express, and Philippine Airlines. There are four different terminals at this airport, and it houses many interesting shops and eateries within the airport so you can shop or dine in while waiting for the plane to arrive or depart. It is easy to reach the airport as there are many types of transportation available in Ninoy Aquino International Airport for visitors.
Kota Kinabalu Airport - This airport is the second busiest airport in Malaysia and is located around 8 km from the Kota Kinabalu city centre. The Kota Kinabalu airport is the main entry point to Sabah, and into Borneo Island. Terminal 1 officially started operating in 2008 and provides all the conveniences of a modern airport including lounge, shopping and dining venues. It is fairly simple to travel between Kota Kinabalu airport and the city as there are plenty of taxis outside the terminal. Each trip will cost around PHP380 one way.
Climate pattern in Manila and Kota Kinabalu
Sabah's climate is often affected by El Niño. During these times the weather can be hotter than usual and quite dry. On a daily basis, the city experiences a tropical climate which is usually quite hot, but also humid. Average temperatures, especially in Kota Kinabalu, are usually around 30 – 32 °C, but may on occasion spikes up to 38°C. If travellers are lucky, they can experience a cool night that dips to 22 °C.
Highlights in Kota Kinabalu
Filipino Market - The Filipino Market is an iconic landmark in Kota Kinabalu. It is widely known for being the best place to get souvenirs and local handicrafts. Take a stroll through the different sections at the Filipino Market – Salted Fish Market, Fruits Market, Handicraft Market, Vegetables Market, Fish Market, and Cooked Food Stalls. Adventurous travellers can try some of the local delicacies sold here.
Gaya Street Market - The stretch of Gaya Street vibrates with the colourful cultures of Sabah – a must-visit for anybody who finds themselves in the vicinity of Kota Kinabalu on a Sunday morning. From everyday clothing and accessories to local produce and antiques, the market will keep you preoccupied for as long as you're willing to look.
Mari Mari Cultural Village - Mari Mari Cultural Village is a getaway from the hustle and bustle of the modern developing city of Kota Kinabalu. This functional village also operates as a museum that preserves Borneo's ethnic culture. At the village, visitors will be able to learn more about the Kadazan Dusun, Rungus, Bajau, Lundayeh and Murut tribes, the five different main ethnic tribes of Sabah.