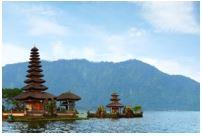 Kotabaru is a regency in South Kalimantan province, Indonesia. According to the 2015 census, it has a total population of 319,772 people. The population has risen about 331,326 people in the middle of 2017. This regency consists of 20 districts. This regency has its administrative centre in Kotabaru town. It is situated on the northern tip of Laut Island. Kotabaru town is known for having lots of ports and terminal. It is because the location of this town sits near to the coast of Kalimantan. Besides that, it is surrounded by beautiful natural wonders such as mountains and beaches.
Best time to fly from Manila to Kotabaru
Kotabaru has two types of seasons: a dry season and a wet season. The dry season happens from June till September. Whereas, the starting of the wet season happens from November till April. A lot of visitors consider coming to this town during the dry season because the weather is in good condition. Moreover, the dry season also falls during the school holiday season. Nevertheless, the visitors need to book early for flight tickets and hotel rooms since it is the high peak period of the year. Meanwhile, the wet season is the low season of Kotabaru. There are not many outdoor places for visitors to visit during this period due to bad weather. Therefore, the best time to travel to Kotabaru is during the dry season.
Main airport available in Manila and Kotabaru
Ninoy Aquino International Airport - Ninoy Aquino International Airport is the main airport serving for the area in Manila. It has four different types of terminals. This airport caters for international and domestic flights. Among the airlines that operate in this airport are Cebu Pacific, China Airlines, Emirates, AirAsia and many more. Besides that, this airport serves for cargo airlines, including MASKargo, FedEx Express, China Airlines Cargo and EVA Air Cargo. The distance between Ninoy Aquino International Airport and Manila is about 7 kilometres. For visitors who take a taxi ride, it will cost around PHP 380 to PHP 450.
Gusti Syamsir Alam Airport - Gusti Syamsir Alam Airport or also referred to as Stagen Airport is the only airport on Laut Island. It only operates for domestic airlines. Currently, two airlines operate in this airport, such as Nam Air and Wings Air. Nam Air will make its destination to Banjarmasin. Whereas, Wingsair will make a route to Banjarmasin and Makassar. The location of Gusti Syamsir Alam Airport is about 91.6 kilometres from the town of Kotabaru. The visitors need to get a taxi and take a ferry to reach the town.
Climate pattern in Manila and Kotabaru
Manila and Kotabaru experience a tropical climate. Kotabaru has a significant rainfall in all year round. In this town, the average annual temperate is 26.8 degrees Celsius. Throughput the year, October is called as the driest month. From June till September, the visitors will face hot and humid weather during a vacation in Kotabaru. The probability of rainfall to occur is less compared to the wet season. As for the wet season, this city will be hit by thunderstorms and heavy rain. It won't be very easy for visitors to come to this town and explore around during this period. Hence, the visitors should check the weather forecast before making a trip to Kotabaru.
Highlight attractions in Kotabaru
Gedambaan Beach - Gedambaan Beach, also known as Sarang Tiung Beach, is a perfect destination to drop by for those who want to relax and have alone time for themselves. The visitors can have a walk along the beautiful white sandy beach and sits under the shady trees. The visitors can also get to see the villages of Bugis and Mandar which located near the beach. On top of that, there are a few cottages, restaurants and a swimming pool provided for visitors. This beach gives a panoramic view of the sea, mountains and fishers villages to the visitors.
Mamake Hill - Mamake Hill is the most popular tourist spots in Kotabaru. It has a height of 222 metres above sea level. It is located about 7 kilometres from Kotabaru town. This hill has attracted a lot of visitors during weekends and holiday seasons. Back then, this hill is only a thatch forest. Now, it has transformed into a tourist spot where visitors can do hiking, running and motor trail. At the top of this hill, the visitors will enjoy a spectacular 360-degree view of the town, mountains and sea.
Temuluang Cave - Temuluang Cave is located in Bangkalaan Dayak Village, Kotabaru Regency. This cave is about 4 kilometres long. It is known as the habitat for swallow bird. The visitors are required to take a boat engine to explore this cave. The visitors will be amazed by the beauty of the cave. Moreover, the visitors will find lots of swallow birds nest around the area.