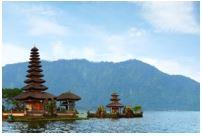 Labuan is Malaysia's Federal territory. It is composed of the eponymous Labuan Island and six smaller islands and is situated in eastern Malaysia off the coast of Sabah state. Labuan's capital is Victoria and is best known as an offshore financial centre providing international financial and business services via Labuan IBFC since 1990, as well as being a maritime support hub for the region's deepwater oil and gas industry. It is also a tourist destination for people travelling through Sabah, Bruneians and scuba divers nearby. The name Labuan comes from the word Labuan in Malay, meaning harbour. Labuan is often called Borneo's pearl.
Best time to fly from Manila to Labuan
The best times to visit Labuan for ideal weather are 19 February to 11 March. The busiest month for tourism in Labuan, Malaysia is in December, followed by November and June. Prices for hotels and flights will be most expensive during these months, though you can save if you purchase well in advance. Tourists are unlikely to visit Labuan in May. Those willing to visit at these times will likely find it the least expensive month.
Main airports available in Manila and Labuan
Ninoy Aquino International Airport – The Ninoy Aquino International Airport is an international airport that is currently serving the Greater Manila Area, being the main international gateway into and from the Philippines as well as to other regions within the country. Also known as NAIA or Manila International Airport by the locals, the airport is located at the Pasay - Parañaque border, which can be found 7 kilometres south of the Manila city and the city of Makati from the southwest direction. The airport is the hub for airlines such as Cebu Pacific, Cebgo, Philippine Airlines, PAL Express, and Philippine AirAsia. This airport consists of four different terminals, namely Terminal 1, 2, 3 and 4 meant to cater to different segments with a shopping mall located at Terminal 3. Access to and from the airport is easy since the airport is well-connected to the city by buses, jeepneys and cars traversing through the roads.
Labuan Airport – Labuan Airport (LBU) is a smaller airport in Malaysia. You can fly to 3 destinations with three airlines in scheduled passenger traffic. The route with the most departures is the route to Kuala Lumpur (KUL) with an average of 35 flights from Labuan every week which is 36% of all weekly departures. As far as we know, there are no international flights from Labuan. Malaysia Airlines is the largest airline here by counting the number of departures. With around 79 scheduled take-offs every week, that's about five times as many as the second biggest airline, AirAsia. The route with the longest flight time from Labuan (LBU) is to Kuala Lumpur (KUL) and takes about 2 hours and 25 minutes.
Climate pattern in Manila and Labuan
The average temperatures in Labuan vary barely at all. The temperatures feel hot all year with a chance of rain throughout most of the year. The warmest time of year is generally mid-June where highs are regularly around 32.2 Celsius with temperatures rarely dropping below 25.1 Celsius at night. If dry weather is what you are after, the months with the lowest chance of significant precipitation in Labuan are February, March, and then August. Labuan has some extremely humid months and high humidity throughout the year. The least humid month is September and the most humid month is January.
Highlights attractions in Labuan
Labuan Bird Park - Labuan Bird Park is home to over 580 birds inside semi-wild enclosures. Come inside and encounter dozens of species, including hornbills, cockatoos, and kingfishers. Ostriches, eagles, and mynas live in other Bird Park areas. Read about the millions of birds living within ancient jungles of Borneo. In one of Labuan's most family-friendly attractions, most visitors spend from one and two hours. On the northern coast, both Labuan Bird Park and the Chimney Museum are very close to each other.
Shipwreck Diving – Labuan Island is tempted to discover its four shipwrecks by thrilling divers. This is a rare indulgence, as experienced divers do know. Join a tour of the four shipwrecks like Cement, Australian, Blue Water, and American Wrecks. Nothing beats the excitement of swimming through the underwater compartments, with thousands of rays. Discover the tale of each wreck, and how they met their fate to rest off Labuan's coast for eternity. The Wrecks can be viewed by both the newly qualified divers and the experienced.
Botanical Gardens - Botanical Gardens Labuan is a tropical paradise just minutes from Labuan City. The public park has hundreds of trees, sunny areas, and colourful flowers. The British Government House stood inside the grounds back in the mid-19th-century. During World War 2 it was completely lost. Follow the trails around the park and discover mini-gardens, rare palm species and Government House ruins.