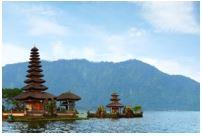 Lombok is an island located in the Lesser Sunda Islands of Indonesia, separated from Bali by the Lombok Strait. For those who favour Bali but wanting to experience lesser crowds during the travel season, Lombok is an alternative to choose from. Lombok is also famously known for its stunning beaches, eye-catching geographical layout and beautiful sunsets. It is also an excellent destination for avid surfers and scuba divers. Besides, the city's nightlife is just as vibrant as Bali's with many beach parties and beachside cocktail joints. If you love nature, then you may enjoy hiking the trails of Mount Rinjani which is also one of Indonesia's many active volcanoes.
Best Time to Fly from Manila to Lombok
The best time for travellers to visit Lombok is between July to August as this is when the dry season is at its peak. Hence, you will witness the least amount of rainfall, perfect for outdoor activities at the beach or going on a hiking trip. However, if you detest going out in the hot weather, you may consider visiting in its peak season which is from May to October which Lombok will witness the peak of its tourism activities. If you wish to travel during these periods, do lookout for the most affordable flight tickets and plan your travels as early as possible to avoid unavailability of rooms.
Main Airports in Manila and Lombok
Ninoy Aquino International Airport – Commonly known as Manila International Airport, this air hub serves the city of Manila and the surrounding metropolitan. The airport is located 7 km away from the city centre and is the gateway for tourists going in and out of Manila. It connects Manila to all other domestic routes as well as hundreds of destinations worldwide. The airport has four different terminals. Terminal 1 serves all international flights except for Nippon Airways, Cathay Pacific, Emirates, Qantas Airways, Singapore Airlines, Turkish Airlines and United Airlines. Terminal 2 has the capacity of handling 2.5 million passengers annually for international flights and 5 million for domestic flights. Terminal 2 exclusively serves Philippine Airlines and PAL Express for both domestic and international flights. Terminal 3 serves all other foreign carriers for international flights. Lastly, Terminal 4 operates only domestic flights and is known as the oldest domestic wing, built back in 1948.
Zainuddin Abdul Madjid International Airport (LOP) – If you wish to travel to Lombok, unfortunately, there are no direct flight routes from Manila to this city. Passengers are required to take transit to Denpasar – Bali's airport before travelling for another 40 minutes to Lombok's airport. This domestic airport is located southwest of Lombok, approximately 1.5 hours by driving from the centre of Lombok city. If you wish to directly make way to Teluk Nara Jetty which is how you access Gili Islands via ferry, it will take you around 2 hours of driving.
Climate Pattern in Manila and Lombok
Lombok shares similar weather and climate pattern to Manila, as do many Southeast Asian countries. It experiences a tropical rainforest climate with only two distinct seasons which are dry and wet season. The dry season typically starts in March and end approximately in September or early October while the rest of the remaining months would make way to the South China Sea monsoon season. During this season, the region will witness heavy downpours with typically mild to strong winds, which sometimes may cause a flood to denser populated areas.
Highlight Attractions in Lombok
Gili Trangwangan – Gili Islands is Lombok and Bali's main tourist hotspots and pretty popular for its bustling nightlife and colourful parties. However, there will be no roads here, and the only way for you to go around is by walking or cycling. Just like an old seaside town, Gili Islands is definitely what you may expect. But the beauty of its sunset-lit beaches and crystal-clear waters may stun you even more.
Mount Rinjani – Listed as one of Lombok's most known attraction, travellers come here to enjoy the stunning scenery the peak of Mount Rinjani provides. The mountain is an active volcano, even to this day, and is the second-largest volcano mountain in Indonesia. But the prized jewel here is the array of unique lakes. One of them sits at the summit where you can rest to enjoy the view of the azure lake. Others are accessible through several hiking routes. Some routes will take several days, so be sure to be at the top of your condition before attempting to conquer this mountain.