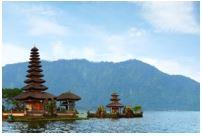 Luang Prabang, Laos is the ancient capital of the Luang Prabang Province. Luang Prabang is located in a valley at the confluence of the Nam Khan and the Mekong rivers. Until the year 1975, Luang Prabang was the royal capital of Laos. Luang Prabang is best known for its numerous Buddhist temples including the famous gilded Wat Xieng Thong which dates back to the 16th century and Wat Mai which was once used as the official residence of the head of Laotian Buddhism.
Best time to fly from Manila to Luang Prabang
If you're planning a trip to Luang Prabang, the best months to visit would be from November to March. During these months, the weather is comfortably dry and the temperatures are at a pleasant average, making it the best time to go out and enjoy the outdoors of Luang Prabang. In January and during the festive seasons, Luang Prabang can become quite crowded with people heading to the many temples. So if you are headed to Luang Prabang in January, do be sure to plan your trip.
Main airports available in Manila and Luang Prabang
Ninoy Aquino International Airport (MNL) – The Ninoy Aquino International Airport or NAIA is more commonly known as Manila International Airport and is the main airport serving Manila and its surrounding metropolitan area. Located on the border between Pasay City and Paranaque City, the airport is approximately 7 kilometres south of Manila. The most common mode of transportations used to get to the airport are the bus, rail, taxi and rental car. Though not that far from the city, the best way to get to and from the airport is by taxi. It takes 30 to 45 minutes to get to downtown Manila by taxi and fares are around PHP 300 to PHP 450. The airport bus to downtown Manila and costs approximately PHP100. NAIA offers all the amenities of a modern airport such as ATM's, currency exchange, duty-free shops, lounges and restaurants. If you're heading out, don't forget to stop by the Philippines most famous fast-food chain, Jollibee and fill yourself up before your trip.
Luang Prabang Airport (LPQ) – Located a mere 4km from the Luang Prabang city centre, Luang Prabang Airport is one of the few international airports available in Laos. The Luang Prabang Airport is the second busiest airport in Laos and not only does it service Luang Prabang and the country of Laos, but it also services flights to Bangkok, Chiang Mai and Siam Reap. Luang Prabang Airport provides its travellers with the necessary facilities such as shops, restaurants, information counter, currency exchange, ATM and various transportation options to get to the city centre. Even though the airport is one of the major airports in Laos, the only way to get to the airport from the city centre is by taxi and tuk-tuk. A taxi ride will cost approximately PHP 360 per ride while a tuk-tuk ride will cost around PHP 150.
Climate pattern in Manila and Luang Prabang
Both Manila and Luang Prabang share a tropical climate with warm sunny days accompanied by occasional rain throughout the year. The average temperature between the two cities is almost similar to Manila's average at 27.3 degrees Celsius and Luang Prabang's average temperature at 25.6 degrees Celsius. Luang Prabang. However, it receives slightly less rainfall compared to Manila with only 1315mm of rain yearly compared to Manila's average of 2047mm.
Highlights attractions in Luang Prabang
Alms Giving – Almsgiving is something to behold in Luang Prabang. It happens every day at sunrise and starts at the main streets of Luang Prabang before slowly spreading out to the smaller streets. You can too take part in almsgiving by joining and doing what the locals do. Make sure to get your supplies beforehand and to reach as early as possible as it is considered impolite to disrupt the ceremony once it commences.
Ban Phanom – Ban Phanom is where you should be heading to if you want to see how traditional textiles are made. The local textiles are made of cotton intertwined with silk, giving it a shimmering effect. You can purchase the textiles before they are sent to be sold off at the markets in Luang Prabang. Ban Phanom is also a fun place to cycle to and to enjoy the temples nearby.
Kuang Si Falls – Surrounded by lush greenery, Kuang Si Falls has three tiers before leading to a 50-meter drop to shallow pools. The falls have a beautiful emerald green hue and make a wonderful place to take a dip in the hot Laotian weather.