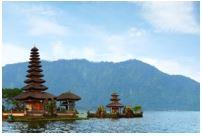 Nakhon Phanom is a town so-called thesaban mueang situated in north-eastern Thailand, capital of Nakhon Phanom Region. The city comprises the entire tambon Nai Mueang and Nong Saeng and parts of tambon At Samat and Nong Yat, all Mueang Nakhon Phanom region. As in 2006, it had a population more than 27,600. The town lies 735.2 km north-east of Bangkok. Nakhon Phanom situated on the right (west) side of the Mekong River. The Laotian town of Thakhek situated on the other side of the Mekong. An approximately 3.0 kilometres (1.9 mi) long lake sits to the west of the town.
Best time to fly from Manila to Nakhon Phanom
Dry days with clear temperatures ranging from 65.2°F and 80.0 °F. The best time of year to visit Nakhon Phanom for typical open-air visitor activities is from mid of November until late February. The best times of year to go to Nakhon Phanom for hot-weather events are from early February until early April and from mid of October until late November. In Nakhon Phanom, the rainy time is humid and overcast, the dry season is wet and cloudy, and it is hot year-round. Every year, the temperature typically ranges between 61.2°F to 93°F and is rarely below 53.0°F or above 100.1°F.
Main airports available in Manila to Nakhon Phanom
Ninoy Aquino International Airport - The Ninoy Aquino International Airport previously known and still commonly referred to as Manila International Airport as well as its codename Nichols Field (Nichols), is the airport that serving Manila and its surrounding metropolitan region. Situated along the border between the cities of Pasay and Parañaque, about 7 kilometres (4.3 mi) south of Manila proper and southwest of Makati. NAIA is the main worldwide gateway for travellers to the Philippines and serves as a hub for AirAsia Philippines, Cebgo, PAL Express, Cebu Pacific, and Philippine Airlines. It is managed by the Manila International Airport Authority (MIAA), a branch of the Department of Transportation (DOTr).
Nakhon Phanom Airport - Nakhon Phanom Airport is a domestic airport that operated for Nakhon Phanom, the capital town of Nakhon Phanom Region, Thailand. Nakhon Phanom Airport was first built in 1962 by Seabees of U.S.N. Mobile Building Battalion 3. The project was financed by the Military Assistance Program (MAP). The airport is a community domestic airport with an only runway length of 2.5 kilometres. The airport elevated 179 metres (587 ft) above mean sea level. There is no flight available from Ninoy Aquino International Airport to Nakhon Phanom Airport until the present.
Climate pattern in Manila to Nakhon Phanom
The Nakhon Phanom lies on 148.5 metres above sea level Nakhon Phanom has a tropical environment. In winter, there is much less precipitation than in summer. The average annual temperature in Nakhon Phanom is 25.6 °C or 78.2 °F. About 2338 mm or 92.0 inch of precipitation falls yearly.
Highlights attractions in Nakhon Phanom
Phu Langka National Park - Phu Langka National Park comprises the area of approximately 50000 km2 within BueanKan and Nakhon Phanom Region. This area comprises layers of three mountains touching each other, interspersed with small mountain scales spreading along Mekong River. There generally are fertile forests such as dry evergreen forest, melded deciduous forest and dry dipterocarp forest which are habitats of plentiful wildlife such as monkeys and watershed for many rivers. Suitable season to pay a visit is from the month of May to October when figures of orchids bloom and wildflowers on top of Phu Langka Mountain.
Wat Phra That Phanom - Wat Phra That Phanom is a shrine sited in the That Phanom Area in the southern part of Nakhon Phanom Region, north-eastern Thailand. Based on the myth, the temple contains the actual Buddha's breastbone, and as such, it is one of the most substantial Theravada Buddhist structures in the area. Wat Phra That Phanom was initially built in the 16th century by the Laotian King Setthathirath of Lan Xang. Every year, a festival is arranged at That Phanom to honour the temple. The week-long festival attracts thousands of people who make visits to dignity the shrine.
Naga Monument - The Naga Monument is a new add-on to the riverfront province of Nakhon Phanom having been established in 2016 as part of a push to boost tourism in the North Eastern Area of Thailand. The statue is 15.1 metres high, 5.1 metres of which is its octagonal centre. The statue itself is produced from brass and weighs around 9 tonnes. The Naga Monument is free to visit at any time of the day all every year around even though the exhibition area under shrine is only open throughout morning hours.